-----------------------------------------------------------
Last Updated 29th July 2006
29th July 2006
IT'S BACK
Falcon Theatre presents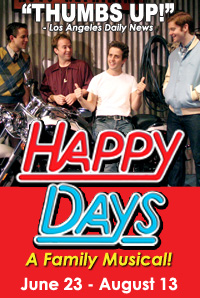 Music & Lyrics by Paul Williams
Book by Garry Marshall
Music Supervision, Vocal & Incidental Music Arrangements by Phil Reno
Choreography by Randy Skinner
Directed by Garry Marshall

June 23 - August 13, 2006
Wed. & Thu. at 8, Fri & Sat. at 7,
Sun. at 3 & 7
Tickets $30 - $35
(Discounts available for Falcon Subscribers)

Falcon Theatre is located at
4252 Riverside Drive
in Burbank, CA.
Here's what Paul Williams had to say on 3rd July, 2006, about the way Happy Days has developed:
"The show's been trimmed, tightened and balanced. As Garry Marshall says ... the fat's been removed and it's a lean, mean little musical. It's a half hour shorter than it's first fully staged incarnation this spring. I LOVE these wonderful actors. They're high energy, focused, talented beyond words and always fun to be around. The audiences have been so complimentary and I'm delighted with the end result. "Ayyyyyeeeee" It's all a gift!!!"
Read Rosanne Galletta's review of the show here
For further information, including ticket sales, go to the Falcon Theatre web site here.
-----------------------------------------------------------------------------
19th March 2006
CORRECT-A-MUNDO, INDEED
Read a review in the LA Daily News of the show here
-----------------------------------------------------------------------------
1st October 2005
CREATIVE PHILANTHROPY: A SONG FOR YOU
TO: Editor
Press Contact: Mariana Hastings
FOR IMMEDIATE RELEASE


Creative Philanthropy: A Song For You

The auctioneer's nasal voice rings out, piercing the din of the crowded banquet room. People waving sticks with printed numbers respond with enthusiasm. The black tie event marks the end of the golf tournament and precedes the evening's star-studded show. Tension builds and the excitement is palpable.

The last item of the charity auction is an unusual item, and although it has the room in a frenzied bidding war, it is not on display. In fact, at that moment it doesn't even exist. People are committing thousands of dollars, tens of thousands, for an intangible item.

Proving how creative philanthropy can be, Oscar, Grammy, and Hall of Fame Songwriter, Paul Williams has put up for auction a custom song he will write for the highest bidder, with the proceeds going to the charity.

"Over the years I've written songs that benefit a variety of causes. They're usually love songs, but sometimes truly exotic love affairs. Like the woman who wanted a song for her elephant sanctuary in Arkansas. Bob Goen's Denver-based 'Make a Wish' event attracted a fan of the Salvation Army. He wanted a song that documented the beginnings of that organization, so Jon Vezner (a Nashville co-writer) and I wrote 'Army of Angels' for him. At another event, singer Pat Boone wanted a chance to co-write a fiftieth wedding anniversary gift for wife Shirley. I'm told she cried when he sang it."

Each song has raised over ten thousand dollars, but the amounts and the charities vary. Certainly one of the most exciting auctions took place at Michael Bolton's Charity, in Westport, Connecticut. In this case, Williams/Bolton wrote the touching ballad, "The Voice of Love" with Michael singing. This raised $135,000, benefiting a shelter for abused women and children. On September 19th, those who attended the annual event were treated to Bolton performing the song. In most cases Williams writes, produces, and sings the gift.

In the last two years he has raised over $350,000 for various charities including Joe DiMaggio Children's hospital in Palm Beach Florida, Parasol Community Foundation in Reno Nevada and Hilton Head's Beaufort County Children's Charities, to name a few.

The prolific writer has been busy with other projects as well. Paul Williams' DVD, "I'm Going Back There Someday" was released by AIX Records earlier this year. (See here for details)
He also completed the original score, words and music to Garry Marshall's new musical Happy Days, based on the popular TV show. This Broadway-bound musical will debut at the Falcon Theatre in Toluca Lake, February 15th. (See here for details)
Williams will be performing his pop hits and classic love songs in concert at Pepperdine University Center for the Arts, Saturday, Oct. 15th. (See here for details)
See here for more information on Michael Bolton's Charities.
-----------------------------------------------------------------------------
LATEST BIOGRAPHY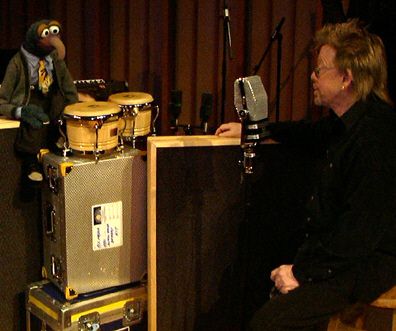 Paul with Gonzo during the recording of Paul's DVD
Last Updated 27th September 2009
Paul Williams is an Oscar, Grammy and Golden Globe winning Hall of Fame songwriter. He is a recipient of The National Music Publishers President's Award and is President and Chairman of the Board of ASCAP (the American Society of Composers, Authors and Publishers). ASCAP is the first and leading U.S. performing rights organization, representing the world's largest repertory totaling over 8.5 million copyrighted musical works and is the only U.S. performing rights organization owned and governed by its 360,000 plus writer and publisher members.

Recognized as one of America's most prolific and gifted lyricists and composers, Paul's standards have been recorded by such diverse musical icons as Elvis Presley, Frank Sinatra, Barbra Streisand, Ella Fitzgerald, Ray Charles, David Bowie, Tony Bennett, Sarah Vaughn, Johnny Mathis, The Carpenters, Luther Vandross, REM, Mel Torme, Anne Murray, Diana Krall, Gladys Knight and Diana Ross. His songs have also found favor with Country legends including Chet Atkins, Kris Kristofferson, Charlie Pride, Crystal Gayle, Lynn Anderson, The Oak Ridge Boys, Diamond Rio and Neil McCoy.

When asked which song is his favorite, Paul is quick to respond, "That's easy! It's "The Rainbow Connection". It's a thrill to hear my words interpreted by such inimitable talents as Willie Nelson, the Dixie Chicks, Sarah McLachlan, Judy Collins, Jason Mraz and Kermit the Frog!" "The Rainbow Connection", from the children's classic The Muppet Movie, is one of two Paul Williams' songs that grace the American Film Institute's list of the top movie songs of all time; the second, "Evergreen," is from the award winning Streisand/Kristofferson remake of A Star Is Born. Additional song scores include the cult favorites Phantom of the Paradise and Ishtar, as well as The Muppet Christmas Carol, Bugsy Malone, and Emmet Otter's Jugband Christmas, the latter of which has now been adapted for the stage. His recent work has remained wonderfully diverse, from creating and writing the songs and story for Disney's A Muppets Christmas: Letters To Santa, to writing with the Scissor Sisters, to penning the music and lyrics for Garry Marshall's theatrical sensation Happy Days.

Although most people came to know the witty Mr. Williams as one of Johnny Carson's recurring favorites on The Tonight Show, or as an actor in dozens of films, television comedies and dramas, it is his musical legacy that continues to inspire. "We've Only Just Begun", "Rainy Days and Mondays", "You and Me Against the World", "An Old Fashioned Love Song" and "Let Me Be The One" all remain pop classics and are performed by Paul in venues from New York to the Philippines.

Publicly lauded for his work as a songwriter, performer, actor and humanitarian, Paul predicts he'll be remembered for playing Little Enos in the Smokey and the Bandit trilogy and for his lyrics to "The Love Boat" theme, although it is the lyrics from Bugsy Malone, recast for a recent Coke commercial, that aptly sum up his philosophy: "You give a little love and it all comes back to you; You're gonna' be remembered for the things that you say and do". As a devoted husband to writer Mariana Williams and proud father, Paul considers his son Cole, and daughter Sarah, to be his best work.

See information on where to see the Happy Days stage show here
See information on Paul's CD ' Evergreens' here
See information on Paul's DVD 'I'm Going Back There Someday' here
See information on Paul's live CD 'Love Wants To Dance' here
Thanks to Nancy Munoz for this information.
-----------------------------------------------------------------------
Last Updated 4th May 2005
Paul Williams
I'm Going Back There Someday
with special guests
Willie Nelson, Melissa Manchester, and Gonzo (the Muppet)

AIX Records

a DVD/CD of the music and life of Paul Williams
Produced by Mark Waldrep and John McEuen

Paul Williams*, one of America's favorite love song writers, brings us this 12 song set of his music - both new and classic - in a 5.1 Surround music setting with his special guests: Willie Nelson, Gonzo, and Melissa Manchester. Willie and Paul's version of Rainbow Connection (2003 Recording) (Java 'PopUp Lyrics' here) and the performance with the Muppet Gonzo of I'm Going to Go Back There Someday (2003 Recording) (Java 'PopUp Lyrics' here) captured here are, according to Paul, "two of the best things I have ever done!",

Over 3 hours in length, this two disc DVD set features extensive interviews with Paul (and individual ones with all the artists involved), rehearsals and backstage footage… and Gonzo interviews Willie (he thinks). At a piano with his conductor, Chris Caswell, Paul talks about how all the songs came about - We've Only Just Begun (2003 Recording) (Java 'PopUp Lyrics' here) (a bank commercial) - Rainy Days And Mondays (2003 Recording) (Java 'PopUp Lyrics' here) (a funny conversation with his mother), as well as the other songs on the DVD, and it brings you even closer to the man and his music.

In a live duet with Melissa Manchester they create magic that makes you feel like you are at a live show - and you are! In fact, Someday .. features both live concert with audience and Paul's hilarious song introductions (showing off Paul as a performer), and songs in an intimate setting, recording on a stage in an empty auditorium .. with the addition of a string quartet and different guest players of note.

Accompanied by great known hot musicians (that include Laurence Juber, Mickey Raphael, Cliff Hugo, John Lewis, John McEuen), shot with 5 cameras, and produced by Mark Waldrep, owner and founder of AIX Records and DVD pioneer and Grammy winning musician/producer John McEuen. Someday is a fine night out.., an in depth visit with an old friend… a live performance with you at the show… a recording session with you as V.I.P. guest… a great sounding set of music…. and available on AIX Records. This is a double-sided dual disc set (four 'sides'), with DVD audio, surround mixes, and one side for CD, and is distributed by Image Entertainment - also available at aixrecords.com.

See full information on Paul's DVD 'I'm Going Back There Someday' here
-----------------------------------------------------------------------------
1st May 2005 - Las Vegas Appearance
PAUL WILLIAMS AT SUNCOAST, LAS VEGAS
WHAT: PAUL WILLIAMS & Kicken 6 Piece band led by Kaz Caswell
OSCAR, GRAMMY GOLDEN GLOBE WINNING HALL OF FAME SONGWRITER AND ALL AROUND ENTERTAINING-DUDE
WHERE: SUNCOAST HOTEL & CASINO 702 636-7111
9090 W. Alta Drive, Las Vegas
(north of the strip about 20 minutes, across the street from a golf course)
WHEN: June 3-5th Friday, Sat. & Sunday Showtimes are 7:30
HOW: Call for show reservations soon 702 636-7075 and press #1 for a live attendent
WHY: Answer A - You've got to make the good times, cuz the bad times come by
themselves.
Answer B - Life is a cabaret ol chum
Answer C - You need to gamble, eat too much, and party, Look at yourself? That fun- meter may be running low...consider sun, swimming and golf
Accommodations: Regretfully, the first weekend in June is already sold out for rooms, except for Sunday. Here are two alternatives, minutes from the Suncoast.
JW Marriott (across the street) 702 869-7777
La Quinta Inn & Suites Lakes West 702 243-0356
DIRECTIONS TO SUNCOAST: From L.A. take 15 North into the city, and in the middle take 95 north to Summerland Pkwy. It goes only one way. Second exit is Rampart and go Left. The Suncoast Hotel & Casino is 3 lites down on the right.
-----------------------------------------------------------------------------
10th January 2005 - Uncasville, CT
A RARE PERSONAL APPEARANCE BY PAUL WILLIAMS

Paul Williams, the man who gave the world some of the best-loved songs of the past few decades, will make a rare personal appearance at Spin Street in The Shops at Mohegan Sun at 9:15pm (approx) on Saturday, February 12th following his performance in The Cabaret Theatre.

The occasion celebrates the release of two new projects: Williams' recently-released CD Evergreens: The Best of the A&M Years; and the DVD I'm Going Back There Someday which is tentatively scheduled to be available during Williams' appearance at Spin Street.
Williams' songbook contains a jaw-dropping number of hits that have become familiar standards. Along with Barbra Streisand, he won an Oscar for "Evergreen," the love theme from the 1970s film version of A Star Is Born. Other notable Williams tunes include "Rainy Days and Mondays," "An Old Fashioned Love Song" and the perennial "We've Only Just Begun." Williams's own favorite song remains "The Rainbow Connection" which has been recorded by talents as diverse as Sarah McLachlan, Willie Nelson, Judy Collins and Kermit the Frog.

Recently, Williams composed "I Know Him By Heart" which was performed by Vonda Shepard as the Ally McBeal theme song; and he also collaborated with Carole King for "Stand Back" performed by Joan Osborne on the soundtrack of Garry Marshall's film Raising Helen. Currently, he is working with Marshall on a stage musical version of the hit TV series Happy Days.

Williams' engagement at Mohegan Sun is from Wednesday, February 9th through Sunday, February 13th. Tickets are now available at the Mohegan Sun Box Office or through Ticketmaster.

For more information on Paul Williams and other great events at Mohegan Sun, please call the Entertainment Hotline at 860.862.7163 or visit mohegansun.com.

Joe Smith
Publicist, Mohegan Sun
(860) 862-8425 Office Phone
(860) 857-1620 Mohegan Sun Cellphone
(860) 862-7174 fax
-----------------------------------------------------------------------------

PAUL WILLIAMS OUTSTANDING SHOWS
Paul Williams just had a heart-warming welcome back to Hollywood..at the beautiful Cinegrill and played to packed houses..all 4 nights..October 6-9.
His well known friends who attended included Garry Marshall who is writing the musical Happy Days with Paul. Others included Hal David, Sally Kellerman, Monica Mancini, Melissa Manchester, Lee Majors, Larry King and wife Shawn who is recording some of Paul's songs, Budd and Alexandria Friedman of the Improvisation, actor Ed Lauter, Bob Goen, John McEuen of the Nitty Gritty Dirt Band and Bill Medley of the Righteous Brothers. (See Fan's Reviews, and celebrity photo's, of the shows here)
Bill Medley will be one of the artists appearing at 'The Writer, The Singer, The Song' ... a very exciting evening benefiting the Blue Ribbon Society of the Los Angeles Music Center, which supports music education programs in Los Angeles (impacting about 40,000 students each year) and the Songwriters Hall of Fame music education programs in New York. The event is scheduled to take place on November 1, 2004 at the Mark Taper Forum at the Los Angeles Music Center.
Hosted by Paul Williams this year's line-up of songwriters features: Hal David, Jimmy Webb, Carole Bayer-Sager, Paul Williams, Bill Withers and Charles Strouse. Confirmed artists are: Marilyn McCoo and Billy Davis, Jr., Christopher Cross, Peabo Bryson, John C. Reilly, Herb Alpert, and Bill Medley
Sally Schaub
12/10/04
----------------------------------------------------------------------------------------------------------------------------
Posted: Mon., Oct. 11, 2004, 5:22pm PT

By ARMY ARCHERD
Paul Williams was welcomed back to Hollywood's Cinegrill by Garry Marshall(who is writing the musical "Happy Days" with Williams), Hal David, Sally Kellerman, Melissa Manchester, Lee Majors, Budd Friedman and Bill Medley; Medley appears with Paul Nov.1 at the Music Center's "The Writer, The Singer, The Song."
----------------------------------------------------------------------------------------------------------------------------
Posted: Thurs., Oct. 7, 2004, 2:01pm PT
Paul Williams

(Cinegrill; 150 seats; $60 top)

Presented inhouse. Opened and reviewed Oct. 6, 2004; closes Oct. 9.

Band: Paul Williams, Chris Caswell, John Lee Sanders, Peter Hume, Cliff Hugo, John Lewis.

Paul Williams, that impish, erudite purveyor of melodious '70s middle-of-the-road pop fare, has emerged from self-imposed exile to again wrap his reedy-voiced persona around his hits. Backed by an empathetic quintet led by music director-pianist Chris Caswell, Williams' vocal timbre has darkened, and he doesn't hold the notes out quite as long as in the old days, but he is the master at communicating the underlying story within the lyric of a song.
Williams doesn't waste any time establishing his credentials as he sails through such golden ditties as "Just an Old Fashioned Love Song," "I Won't Last a Day Without You" and "Rainy Days and Mondays," all scribed in collaboration with composer Roger Nichols. As he intros the latter number, Williams (looking quite fit and trim in a well-tailored three-piece suit) displayed the wry, self-deprecating humor that made him a popular guest on the TV talkshow circuit before a losing battle with alcohol. He recalls that his fading dreams of being an actor at age 27, and living with mother, gave him the inspiration for "Rainy Days."
Williams readily regales the audience with both the funny and the dark side of his years of dependency, which he finally kicked a decade and a half ago. As he recalled, "Fifteen years ago I woke up instead of coming to." And as a mantra to sobriety, he declared, "I can't drink -- it leads to unplanned nudity."
Williams is quick to admit that the dips and turns in his life have also been fodder for his wondrously literate talents as a lyricist. As a tribute to his early days of sobriety, he introduces a new tune, the hauntingly poignant "It May Not Be Today," in collaboration with J.D. Martin. As an ode to the awakening to the pleasures of newfound romance, he offers "Love Wants to Dance," with a melody by Quincy Jones. New love is also the subject of another new song, "We Fell Too Fast."
During a 15-number set, Williams made short shrift of two of his big moneymakers in a tossed-off medley that included the Academy Award-winning "Evergreen" and "The Theme from 'Love Boat.' " He is much more attentive to the audience pleasers "You and Me Against the World" (the Helen Reddy hit) and "We've Only Just Begun," preceded by a loving tribute to Karen Carpenter. The sultry ballad "Only a Fool" (from the movie Bugsy Malone") is highlighted by a soaring sax solo by the talented John Lee Sanders, who doubles on electronic keyboard and triples on backup vocals. Williams closes the show with the romantically hopeful "Let Me Be the One," also penned with Nichols.
Printed by kind permission of JULIO MARTINEZ
See Fan's Reviews, and celebrity photo's, of the show here
----------------------------------------------------------------------------------------------------------------------------
Michael Bolton & Paul Williams Raise $130K Penning For Charity With A Song
Sunday, September 12th, abused women and children-at-risk were honoured at the Michael Bolton 12th Annual Benefit Concert and Celebrity Golf Classic, in Stamford, Connecticut.
The highest item at the auction wasn't on display. It was a custom song to be written on any subject by Hall of Fame Songwriter Paul Williams and Grammy-winning singer/songwriter Michael Bolton. A brisk bidding war began with an opening bid of $15K, and in an exciting moment, Warren Trepp of Reno, Nevada took the stage and announced he would match the money raised for the song. The value of this unique item was enhanced by Michael Bolton's dynamic voice recording the song, as well.
"Going once, twice, three times at $65,000, sold!" Bill Austin, founder of the Starky Hearing Foundation in Eden Prairie, Minnesota was the proud winner. He expressed his commitment to the hearing impaired in commissioning a song for this cause. Although his life has not personally been affected by hearing loss, Austin has been working for forty years to help those impacted by hearing loss, and it's "where his heart is," says his wife Tammy.
When asked if not hearing music will be a challenging subject to write about, Paul Williams is undaunted. "I've been writing songs for charity auctions for a few years, and although it's usually a love song for the wife, I've written a song about how the Salvation Army got started, and even an elephant refuge in Arkansas." With a grin, he tilted his head skyward and sang, "Arkansas elephants are luckier than most…"
Earlier in the evening Joan Lunden, the Mistress of Ceremonies, and Michael Bolton gave stirring speeches enlightening the 1,400-member audience of the positive difference this charity has made in areas of education and intervention. Their goal is to eliminate violence against women and children. The thousands raised that night will pay for phone lines, emergency shelters and transitional housing, much needed resources for turning victims into survivors. Through the generosity of Austin and Trepp, the $130,000 will make a big difference in this effort, along with the creative talents and generosity of Bolton and Williams.

FROM: Mariana Hastings
17th September 2004
See here for more information on Michael Bolton's Charities.
-----------------------------------------------------------------------
2004
2001
Click on one of the small images to see a larger downloadable version of the picture ----------------------------------------------------------------------------------------------------------------------------
Management
Nancy Munoz
914-260-9838 (phone)
nancy.munoz@anamimusic.com (email)
Last Updated 27 September 2009
----------------------------------------------------------------------------------------------------------------------------
---