PAUL WILLIAMS
IN 2006
Last Updated 27th May, 2006
---
AT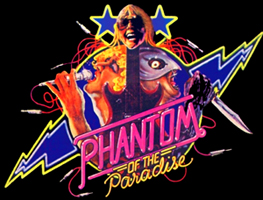 by
Last Updated 27th May, 2006
Hi David,
Phantompalooza 2 is over, and I'm finally beginning to recover. It was one of the joys of my life to be one of the people responsible for putting this event on.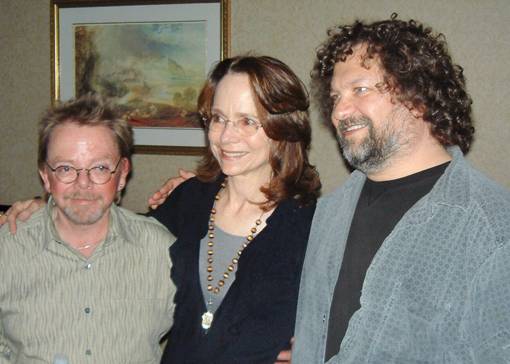 Paul put on a fantastic hour-long show, playing a lot of songs from Phantom, including Faust, Beauty and the Beast, The Hell of It....and of course many songs from the remainder of his catalog; he opened with Just an Old Fashioned Love Song, and closed with Rainbow Connection, and, in honor of his enthusiastic Winnipeg fans, played Me and You Against the World. He was accompanied by Dave Garland on keys and sax, Chris Caswell on piano, and a local Winnipeg drummer, Steve Broadhurst.
Paul graciously shared the stage with Jessica Harper, who sang "Old Souls" with his band...beautifully, I might add. (See Jessica's performance with Paul here)
Ari with Paul Williams & Jessica Harper
I have to believe that the reception he got at this show was probably the most enthusiastic he's had in years; he was actually in tears at least twice onstage, and was treated like he was all four of the Beatles, all night long. It was an absolute pleasure to be his host; to be a fly on the wall as he was reunited with his fellow Phantom cast members, most of whom he hadn't seen in over 30 years, is something I'll never forget. I was amazed that he remembered me from the one other time we had met, in Los Angeles, quite a few months ago.
Following his concert, he generously sat and signed autographs, along with the rest of the cast, for what seemed like three hours, for 800 rabid fans, chatting with each of them as if they were the only person in the world. Just a total pro, and an absolute gentleman.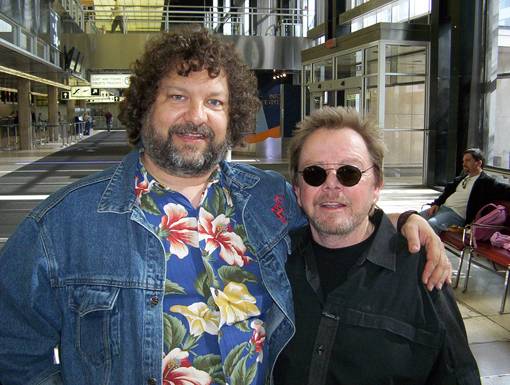 I happened to run into him at the airport the morning after his show (photo enclosed), as we were both heading out of town, and he made a point of coming over and thanking me for bringing him up to Winnipeg...just a class act all the way.
Thanks for your help with promoting our event! We (and Paul, I'm pretty sure) had the time of our lives.
Ari with Paul Williams
Best,
"Ari the Archivist"
Thanks Ari for a great account. I wish I could have been there
---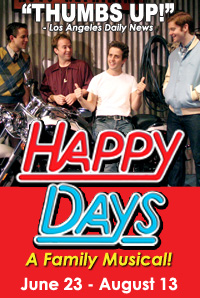 by Rosanne Galletta
Falcon Theatre, Burbank, CA
Saturday 29th July, 2006
Last Updated 2nd August, 2006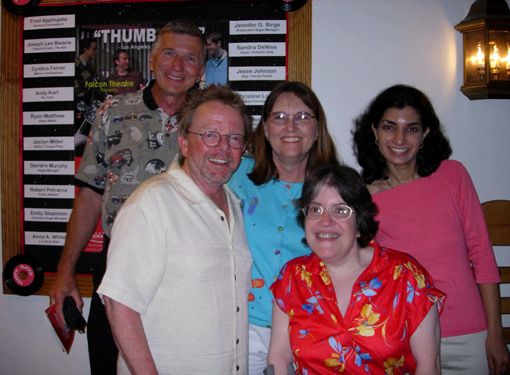 Last Saturday I had the extreme pleasure of being able to see "Happy Days: A Family Musical" at the Falcon Theatre in Burbank, California with friends JJ and Ron Jones and Mariam Tariq. The show was absolutely fantastic! Paul did an absolutely masterful job with the music and lyrics, but then again, he always does. I thought that the acting, singing and dancing was sensational. There was even a tap dance number and a barbershop quintet. Paul's music and lyrics made the show come alive. There were many fun and catchy up tunes, as well as several beautiful ballads. I'm sorry we were not allowed to take pictures during the show, because the set design and the costumes were really great. Here's a song list from the show. All were original compositions from Paul, except for the Happy Days theme song.

Ron, Paul, JJ, Rosanne & Mariam
Happy Days Opening
Aaay'mless
That's Opportunity Knockin'
Leopards Are We
The Power of the Plaque
The Pink's in Town
The Ghost That Lives on Memory Lane
It's What Men Do
Alas, Alack
What I Dreamed Last Night
Romeo Midnight
Message in the Music
Maybe It's Time to Move On
Run
The Saddest Surprise
Malachi
Wrestling
What I Dreamed (Tap)
Leopards Are We (Reprise)
Ordinary Hero
Dancing on the Moon
That's Opportunity Knockin' (Reprise)
The Saddest Surprise (Reprise)
Happy Days Finale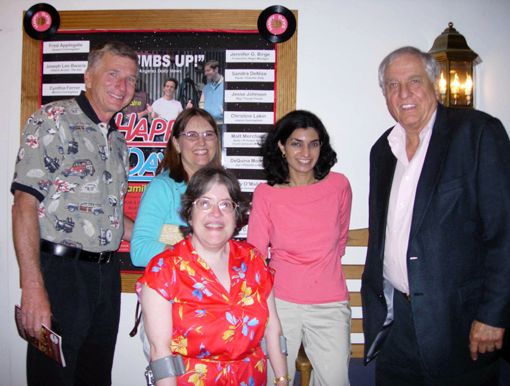 The best part of the evening for us was that Paul and his beautiful wife Mariana were at the show that evening, so we got to see them, and as an added bonus, we got to meet Garry Marshall! JJ and I also got to meet Christine Lakin, who plays Joanie. She played the part of Al in the TV show "Step By Step" with Patrick Duffy and Suzanne Somers. In the audience the night we were there was Richard Dean Anderson, who played MacGyver, but I didn't get to meet him.


Ron, JJ, Rosanne, Mariam & Gary Marshall
| | |
| --- | --- |
| | |
| Rosanne with Christine Lakin | Gary Marshall, Rosanne and Paul |
Thanks Rosanne, sounds like a great evenings entertainment.
Happy Days runs through August 13 at the Falcon Theatre. If at all
possible, I would highly encourage you to go see it. You won't be sorry!
June 23 - August 13, 2006
Wed. & Thu. at 8, Fri & Sat. at 7,
Sun. at 3 & 7
Tickets $30 - $35
(Discounts available for Falcon Subscribers)

Falcon Theatre is located at
4252 Riverside Drive
in Burbank, CA.
For further information, including ticket sales, go to the Falcon Theatre web site here.
Read more about Happy Days on the stage, including how Paul feels about the recent updates, here
---
READ ALL ABOUT PEOPLE'S WONDERFUL EXPERIENCES OF SEEING
PAUL WILLIAMS
Go to Paul Williams - Personal Experiences Index Page

Return to Paul Williams' Music and Acting Home Page
Email me, David Chamberlayne, at:
Davidswebpages@paulwilliams.co.uk