PAUL WILLIAMS
LOVE WANTS TO DANCE
PAUL WILLIAMS LIVE IN JAPAN
2003
NOW AVAILABLE ON LINE - 19th January 2005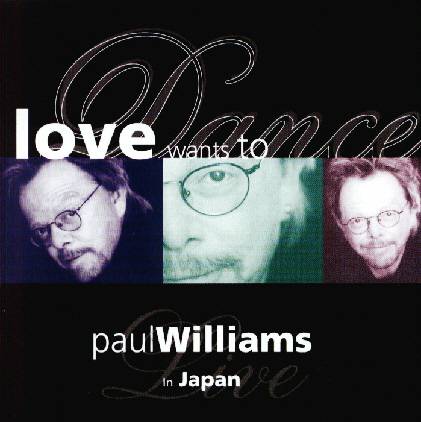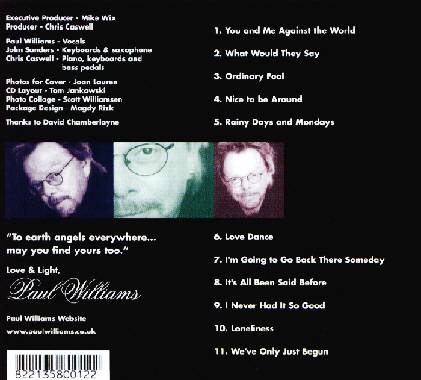 A new web page has been set up, here, on 2nd August, 2006, to order this album from.
If you have ordered it recently from the old web site, and have not yet received it, please email me and I will follow your order up.
Email me, David Chamberlayne, at:
Last Updates 2nd April, 2006
11TH APRIL 2003
On opening my email box, I was pleasantly surprised to find an email from Chris Caswell (Kaz), Paul Williams long-time friend and musical collaborator.
"Long time no speak. I've been producing Paul's new CD. It's called "Love Wants To Dance" Paul Williams-Live In Japan. It's Paul's first live recording and it's really great. I also need some help from you if you've got time. I need the lyrics and publishing info for the songs that appear on the CD."
You can image my delight at being asked to contribute to this project, and being able to use the resource information on my Paul Williams web pages to help Paul himself :)

8TH SEPTEMBER 2003
A further email from Chris:
"The CD is done. It took a while to mix and package. We'll make new copies as we sell them. To start with we are releasing and selling the CD ourselves. Mike Wix is the executive producer. A booklet includes the songs and lyrics. (See images from the booklet here)
Thanks again for your help. You and your website are thanked on the CD. I look forward to hearing your reaction.
The tracks are:

1. You And Me Against The World (Java 'PopUp Lyrics' here)
2. What Would They Say (Java 'PopUp Lyrics' here)
3. Ordinary Fool (Java 'PopUp Lyrics' here)
4. Nice To Be Around (Java 'PopUp Lyrics' here)
5. Rainy Days And Mondays (Java 'PopUp Lyrics' here)
6. Love Dance (Java 'PopUp Lyrics' here)
7. Iím Going to Go Back There Someday (Java 'PopUp Lyrics' here)
8. It's All Been Said Before (Java 'PopUp Lyrics' here)
9. I Never Had It So Good (Java 'PopUp Lyrics' here)
10. Loneliness (Java 'PopUp Lyrics' here)
11. We've Only Just Begun (Java 'PopUp Lyrics' here)
Thanks again
Chris"
PAUL WILLIAMS COMMENTS ABOUT THE ALBUM:
"For years Iíve surrounded myself with large groups of great musicians, hot rhythm sections, string arrangements and background singers. At some point it began to feel like camouflage. Musical ski masks.
This album is about intimacy and trust. Performing at a small venue in Japan with Chris Caswell on Keyboards and John Lee Sanders adding his brilliant sax. I felt wonderfully reconnected to the music. Spontaneous, inventive, flexible, Chris and John always moved me closer to the songs emotion and further away from that old ego driven need to perform.
When entrepreneur and friend Mike Wix suggested we release a few selections, I agreed. Understand, this album was recorded on a simple mini-disc. To compensate for the difficulty in mixing, a small amount of editing and re-recording has taken place. All the vocals and solos are untouched. The bass and synth were recorded live but the sound quality sometimes required a little mending.
Youíll notice Iím speaking very slowly and deliberately on the album. Itís my attempt to be understood by the Japanese audiences, who came to our shows with open hearts and a respect for the music that filled me with gratitude
Every dayís a gift.
Thanks for listening,
Paul Williams"
JUNE (J.J.) JONES'S REVIEW OF THE ALBUM:
One of the highlights of attending Paul's recent concert, was being able to purchase the new CD, "Love wants to Dance". We listened through the whole CD on our travels back home, and I've had it on continuously the last couple of days. OK, it's definitely my new favorite CD of Paul's!
During the Intro to each song Paul just speaks to us, in his beautifully emotional way, something about the song, what it meant to him, who he wrote with, and always acknowledging the frequent applause with "Thank you so much".
The recording quality is top notch, and the selection of songs is unique from his previous CD lineup. An example of his dialogue before a song is for the wonderful "I'm Going to Go Back There Someday". Here is what he says as the intro plays "There's a scene in the Muppet Movie where Gonzo is looking up in the sky & he's just lost in it. He's a bird ya' know, a bird. He wants to go back. So we wrote this song for Gonzo, Kenny Ascher and I."
Those of you who have been in Paul's presence will agree that dialogue such as this brings Paul right into your home or car all over again.. it's so 'Paul', so touching. Another thing I loved that Paul did at the end of the CD, as well as in the Songs & Stories concert, is to thank the audience for being such good listeners.. Isn't Paul so amazing!!!!!!!!!! Buy this album, you'll never be sorry. It just likely will be your new favorite too!
Thanks J.J. You can read reviews of Paul's Songs & Stories Tour, including one by J.J. here.
J.J. is the manager of THE RAINBOW CONNECTION MAILING LIST. Find out how to join the list here
J.J. also has her own "JJ's Mood Music Page". JJ's page is dedicated to not only the music of Paul Williams but also The Carpenters, Carol King and Bonnie Raitt.
Although I do not yet know how the CD can be ordered, it is available at Paul's live concerts. (See Deanna's review of one of those recent concerts here). I'll let you all know as soon as I hear how the CD's can be ordered.
GO to LOVE WANTS TO DANCE Images HERE
---
Return to Paul Williams Discography 1975 to 2005
Email me, David Chamberlayne, at:
Davidswebpages@paulwilliams.co.uk

Return to Paul Williams' Music and Acting Home Page