THE SONGS AND STORIES TOUR 2003
PAUL WILLIAMS &
MELISSA MANCHESTER
IN CONCERT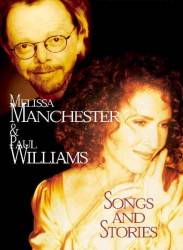 Last Updated 4th April 2004
PENNSYLVANIA - 30TH MARCH 2004
---
19th OCTOBER 2003
---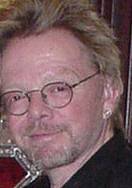 The Show!!
Prescott was the first official stop on the Songs and Stories tour starring Paul and Melissa Manchester. (I believe they had a ďtestĒ show in California) There were around 1000 people attending, a near sell-out.
The Band
Chris Caswell Ė Musical Director, Piano, vocals
Peter Hume Ė Musical Director, guitar, piano, vocals
John Lee Sanders. Ė Saxophone, flute, piano, vocals
Cliff Hugo Ė Bass
John Lewis Ė drums, percussion
Set List
1) Come in From the Rain (Paul and Melissa)
2) I Won't Last A Day Without You (Java 'PopUp Lyrics' here) (Paul and Melissa)
3) Evergreen (Java 'PopUp Lyrics' here) (Melissa) Paul was onstage watching
4) Rainy Days And Mondays (Java 'PopUp Lyrics' here) (Paul)
5) Nice To Be Around (Java 'PopUp Lyrics' here) (Paul)
6) Love Dance (Java 'PopUp Lyrics' here) (Paul, Melissa comes in at very end)
7) Midnight Blue (Melissa)
8) Through the Eyes of Grace (Melissa)
9) When You Said Hello (Melissa)
10) You And Me Against The World (Java 'PopUp Lyrics' here) (Paul and Melissa)
11) Donít Cry Out Loud (Melissa)
12) Mother and Fatherís Prayer (Paul and Melissa)†

Intermission
†
13) An Old Fashioned Love Song (Java 'PopUp Lyrics' here) (Paul)
14) Ordinary Fool (Java 'PopUp Lyrics' here) (Paul)
15) Out In The Country (Java 'PopUp Lyrics' here) (Paul)
16) You're Gone (Java 'PopUp Lyrics' here) (Paul)
17) We've Only Just Begun (Java 'PopUp Lyrics' here) (Paul)
18) Crazy Loviní You (Paul and Melissa)
19) You Should Hear How She Talks About You (Melissa)
20) Iíll Know You By Heart (Melissa)
21) Angelís Dance (Melissa)
22) Bend (Melissa)
23) Son of a Preacher Man (Melissa, in tribute to Dusty Springfield)
24) When Paris Was a Woman (Melissa)
25) Rainbow Connection (Java 'PopUp Lyrics' here) (Paul and Melissa)

Standing Ovation
Encore
26) Whenever I Call You Friend (Paul and Melissa)
The show was wonderful. Melissa and Paul were in top form and sounded marvelous together. If the tour is coming near you (or even not so near as it was in my case), I highly recommend going. (You can see a full list of concert dates here) The show was 2.5 hours and full of great songs and stories behind the songs. I was thrilled when Paul did ďOut In The Country (Java 'PopUp Lyrics' here)Ē. I had never heard him perform that live and it was a pleasant surprise. Of course, Paul was full of his usual humor. The band was incredible, composed of an exceptional group of multi-talented musicians. They were constantly switching instruments between songs. The same grand piano was played by 4 different people during the show - Melissa, John, Chris and Peter. John would switch to saxophone, and Peter to guitar, Chris to electric keyboard. There so many instruments played among that small group of musicians. John played and absolutely exquisite sax solo during "Ordinary Fool (Java 'PopUp Lyrics' here)" and Chris also performed a beautiful solo in that song on piano. Along with Paulís emotional vocals, it was one of those performances that gives you goose bumps. I also enjoyed Chrisí vocals. He did a great job singing backup and Paul and Melissaís songs. He also had a lot of energy and spirit in his performance and it was fun to watch him play and be so involved in the music.
I was not too familiar with Melissaís work other than some of her hit songs. I did not realize the number of hit songs she had nor knew that she was an accomplished songwriter and pianist. After the show, I became a fan. Her new material was very good with some slow songs and some up-tempo catchy ones, overall a wide range of material. Her rendition of "Evergreen (Java 'PopUp Lyrics' here)" was beautiful. She mentioned that she sang "Evergreen (Java 'PopUp Lyrics' here)" at the Golden Globes the year Paul won the award with Barbra Streisand for Best Song. Melissa and Paul had great chemistry.
Another highlight was being able to purchase Paulís new live CD, recorded in Japan. (Paul's new live CD "Love Wants To Dance"). This CD is a must have. The live recordings are quite different and a nice change from the studio material. Thereís an intimate feeling with the live songs, like Paul is right there singing. The beautiful ďOrdinary Fool (Java 'PopUp Lyrics' here)Ē featuring John Lee Sanders and Chris Caswell is included. Another beauty is ďLove Dance (Java 'PopUp Lyrics' here)Ē which I never heard performed by Paul. This song is new favorite, Paulís finest work with music written by Brazilian composer Ivan Lins.
Thanks Mariam, sounds like a great evening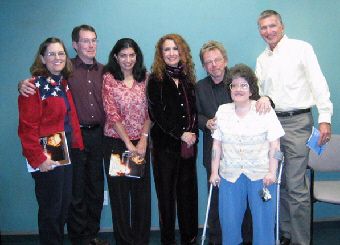 J.J., Ron, Mariam, Melissa, Paul, Rosanne and Ron
Thanks to JJ for the picture. JJ adds:
J.J.'S REVIEW
Hi David!!!!!!!!!!
I will give all of you a "JJ Review" of Songs and Stories.. the Paul Williams/Melissa Manchester concert that I attended Saturday night with 3 friends and my husband, Ron. Rosanne, Ron Browning and Mariam flew into Phoenix, and we traveled to Prescott together to see the show.

I want to simply let you know that the concert was fabulous.. Melissa and Paul were both giving top vocal performance.. it was so beautiful I found myself wishing that someone had professionally taped the concert to make a CD.. Truly, the concert did not lag one moment.. the interchange between Melissa and Paul was witty, fun and totally entertaining, as were all their 'stories', all different than any I have heard Paul tell before, and having never seen Melissa live, of course her personal stories were delightful to hear! I totally loved Melissa's new softer sound!!!

The Band, too, was in top form, with Chris Caswell totally relaxed and in his element, dazzling us with his piano solos.. John Sanders on Sax, flute and keyboard, and Melissa's own entourage.. Peter Hume on piano & guitar, Cliff Huge on bass, and John Lewis on drums & percussion. They worked together flawlessly, all of the instrumental solos and backing was thrilling to hear. Everyone seemed to have a delightful time entertaining the nearly full auditorium.

I bought one of Paul's new CDs, as did each one in our group. (You can see a review by J.J. of Paul's new album "Love Wants To Dance" here) His CD has David's website on it and a personal thanks to David as well... yeah David!!

All I can say is if this show comes to your town, don't miss it!!! We were able to see Paul and Melissa for a few minutes after the concert, and got one picture taken with them.

Love,

JJ
Thanks JJ
J.J. is the manager of THE RAINBOW CONNECTION MAILING LIST. Find out how to join the list here
J.J. also has her own "JJ's Mood Music Page". JJ's page is dedicated to not only the music of Paul Williams but also The Carpenters, Carol King and Bonnie Raitt.
LIN COBB'S REVIEW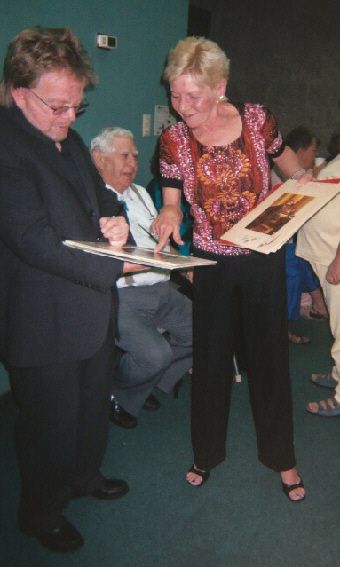 Well, my dream came true. I finally saw Paul Williams in concert. I have tried for years to get to see him and now I have. One year Paul was going to be the Grand Marshall at the Eloy Grand Prix. That's right, Eloy, Az. probably a population of 250 people but they had a race each year called the Eloy Grand Prix. So my son and I drove to Eloy from Phoenix, watched the race, saw Paul in his little racing suit, wow, what a treat!. We went home proud that we were that close to him. I lost track of him during the next few years but continued to play his vinyl over and over again.

The concert in Prescott was to start at 7:30 but we didn't get away from Phoenix until 5:30. Thanks to good roads and little traffic, we were only 34 minutes late; they hadn't taken an intermission yet so we didn't feel we had missed out on too much.. The entire presentation was casual but well done with good taste. Enough humor sprinkled throughout to off set some the the more serious stuff that caused us old fans to choke up a bit.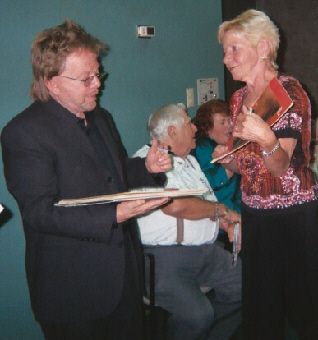 After the show, Paul was so very cordial about allowing us to have our pictures taken with him, he signed autographs one after the other. (All four of my vinyls plus two CD's I bought there) with out complaining or acting bored. He listened to my tale of seeing him in Las Vegas when he opened for Bob Newhart and on and on....We left feeling like we had been talking to a good friend after years of separation. What a wonderful evening that will last in my memories forever.

Thanks Lin
---
21ST OCTOBER 2003
JUDY INMAN'S REVIEW
ONE ENCHANTED EVENING
WITH PAUL WILLIAMS AND MELISSA MANCHESTER
Tuesday, October 21, 2003
by Judy Inman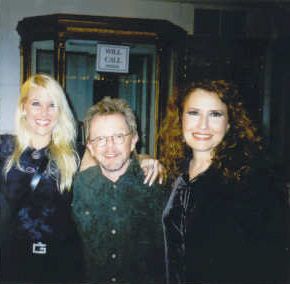 Kathy (Judy's daughter), Paul and Melissa
It was a warm, sultry Texas evening when Paul Williams and Melissa Manchester performed their Songs and Stories at the Perot Theater in Texarkana, Texas. Paul commented that the old theater reminded him of the one in his Phantom of the Paradise and warned the audience to be nice to any ghost they saw dragging around the place!

From the first story Paul told relating to his early ambitions, there was complete silence in the theater. Paul's magnetic charisma enables him to connect with others almost instantly. And paired with the multi-talented Melissa Manchester, the two of them created an aura of sheer magic! It was a match made in heaven...the voice of a beautiful angel singing in harmony with the master songwriter himself!

Vacillating between the romance of Paul's "I Won't Last A Day Without You (Java 'PopUp Lyrics' here)" and the toe-tapping "An Old Fashioned Love Song (Java 'PopUp Lyrics' here)", Paul rekindled old memories of the life I shared with my late husband, Jim. But with the introduction of Paul's, "Love Dance (Java 'PopUp Lyrics' here)", I felt totally immersed in another dimension of his musical genius. This mesmerizing song is reminiscent of the great rhythmic melodies that have endured over the past fifty or sixty years. I predict this song will be just as lasting in the years ahead. There is no one who can sing a love song like Paul Williams, especially his own songs, even though they've been sung by everyone from Karen Carpenter to Frank Sinatra.

For a detailed review of the evening's songs as well as accompanying musicians, please read the reviews of the Prescott concerts above. But I do have to applaud Paul's long-time conductor, Chris Caswell, for his outstanding performance...he was awesome! In fact, all the musicians, Melissa's as well as Paul's, were so amazing that the effect was simply electric! Like JJ, I agree that the show should have been taped for all of us to enjoy over and over again!

After a standing ovation and one last song, Paul and Melissa joined everyone in the lobby to sign programs and Paul's new live CD, "Love Wants To Dance". There were so many people in line that I waited until the crowd dissipated before I talked with Paul. I also introduced Paul to my youngest daughter, Kathy McGovern and together with Melissa, they had a photo taken. Melissa was very gracious and like Paul, kind to each person who expressed thanks for "coming to Texarkana". Kathy was very impressed with Paul's warmth and sincerity, and I told her that Paul never refused anyone an autograph...his heart is always open to others!

Those of us who enjoy Paul's music as well as his caring friendship share a great blessing in our lives. I'm so happy that he and Melissa made their tour via the Texas route...the show is not to be missed by any fan of these two great talents. I can personally guarantee you an enchanted evening you will never forget...so check out the dates and places and make your reservations early!

Judy Inman
Gainesville, Texas
Thanks Judy
Judy is an author, poet, and graphologist and has her own web page here
---
OVERLAND PARK, KANSAS.
Friday Night
October 24, 2003

I knew I had some pretty good tickets for the show, but until I was escorted to my seat, I had no idea how good they really were. Five rows from the stage - canít beat that for nothiní.

The stage set-up was very intimate. Piano on the left, part of it covered with what looked like a flowered shawl; next to that a chair with water bottles on top of one of the speakers; drums behind and to the left.

From my seat, I could see backstage to the left, and that is when I first saw Paul, waiting to go onstage. Paul and Melissa entered from opposite sides of the stage singing "Come in From the Rain." Paul wore a dark suit and a dark grey shirt; Melissa wore black pants and a long sleeved white button-down dress shirt.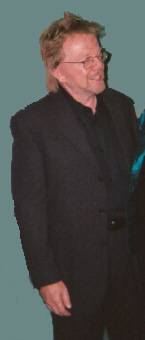 Paulie was in rare form, and I spent the rest of the concert grinning like a crazy person.

Paul and Melissa shared vocals on

I Won't Last A Day Without You (Java 'PopUp Lyrics' here)



Before she sang

Evergreen (Java 'PopUp Lyrics' here)

Melissa talked about how she had the good fortune to perform the song at that yearís Golden Globe Awards:

Melissa: "I remember they had a box set up on the stage."

Paul: "They must have thought I was singing."

Melissa: "and I was wearing shoes that really hurt."




After the song, Paul commented on how he had "the best seat in the house" and how cool it was to see the reactions on peopleís faces while they watched Melissa sing.

Melissa left Paul on stage and he talked about how he started in the movie business and how he thought he was going to be a big famous actor after his role in "The Chase" and how he moved his Mom out to Los Angeles and then the acting jobs stopped. He told the story about how his Mom was the inspiration for the "talking to myself and feeling old" line in

After the song he said, "I write co-dependent anthems."

During

The last song Paul sang before going offstage was



Paul left Melissa onstage and she did a jazzier and smokier rendition of "Midnight Blue" - guitar, percussion and great sax by John Lee Sanders.

She then sang a beautiful song called, "A Motherís Prayer."

As he walked back onstage, Paul said, "Every time I hear that song, every time, I cry."

Paul then told the audience about his two kids. I didnít know this, but Cole is on "8 Simple Rules for Dating My Daughter." Cole plays Anthony, the kid who thinks heís black.

Paul and Melissa then shared vocals on

The audience in Kansas was the fourth to hear a brand new song: "When You Said Hello."

INTERMISSION

One of my favourite songs was next:

Paul talked about what a great job he has. "Every time they play one of my songs, I get royalties. Look at that door. The guy who hung that door doesnít get money every time someone uses it. I have a good life."





During the most intimate part of the evening, Paul talked about getting into recovery, becoming a counselor at UCLA, and eventually getting back to songwriting in Nashville.

Paul then sang

Iím not sure of the next song, because I wasnít familiar with it, but I think it was called This Time (Java 'PopUp Lyrics' here) .

Paul said he hoped the weather was good for Saturday, because he wanted to go golfing. He said he had never loved a sport so much that he was so bad at. Golfing in Ireland was quite an experience for him "guys would come up to him and say things like, 'Whereíd you hide the gold, you little bastard?'"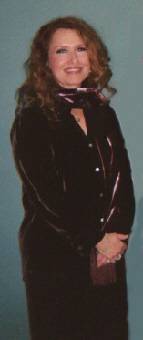 Melissa came back onstage dressed in black pants, a black leather jacket and a red top. She sang "Crazy Loving You" with Paul.

Paul left the stage and Melissa sang, "Angels Danciní", "You Should Hear How She Talks About You," and a beautiful song, "Bend." Her tribute to Dusty Springfield was amazing. She belted out a great rendition of "Son of A Preacher Man." The last song Melissa sang was "When Paris Was A Woman."

Paul came back onstage and sang

I was able to talk to Paul for a few minutes after the show. He was very gracious and gave me a hug. I told Melissa she had a great gig - she got to hang out with Paul every night.

I told him David had posted Mariam and J.J.ís account of the concert (here) along with pictures. Paul said it was great to see J.J. and Ron and Mariam and Ron and Rosanne.

I bought one of Paulís CDs and he signed it while we chatted.

He kept saying to me, "I canít believe you came!" It was very sweet.

A very wonderful night, and I have to say, if anyone of you has a chance to see Paul and Melissa, get your tickets and be prepared for a fantastic evening!
Thanks Vicki

---
PAUL AND MELISSA MANCHESTER TOGETHER
Concert Reviews from 2004 leg of the tour added here
---
READ ALL ABOUT PEOPLES WONDERFUL EXPERIENCES OF SEEING
PAUL WILLIAMS
Go to Paul Williams - Personal Experiences Index Page

Return to Paul Williams' Music and Acting Home Page
Email me, David Chamberlayne, at:
Davidswebpages@paulwilliams.co.uk