THE SONGS AND STORIES TOUR 2004
PAUL WILLIAMS &
MELISSA MANCHESTER
IN CONCERT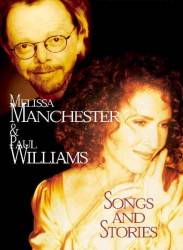 Last Updated 25th June 2004
Being back on the road with Melissa and our blended family band is like being at a family reunion .. It's as comfortable as it gets on stage ... The band is as good as any I've ever had the pleasure of singing with .. and I'm actually already beginning to grieve the end of the tour .. even though it's many shows away.
As wonderful as the performance experience has been .. meeting the fans after the show has been the best. Hearing the stories of how my songs have been a part of peoples lives is a payday for the heart.
Love from somewhere in America.....Paul
30th March 2004
PENNSYLVANIA - 30TH MARCH 2004
---
BRADFORD CREATIVE & PERFORMING ARTS CENTER
BRADFORD, PA
March 30th, 2004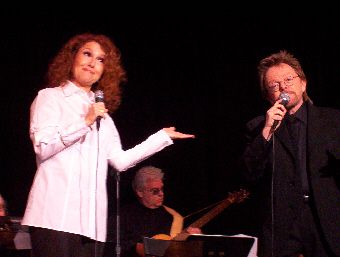 JUDY REBOY'S REVIEW
Melissa and Paul were greeted by a large and enthusiastic crowd at the PCPAC, located in the Bradford High School. Opening the show with duets of "Come In From the Rain" and "I Won't Last a Day Without You", they spent two hours charming the audience with a musical tag team that they perfected in a small club in New York. They both seemed to be having the time of their lives as they chatted in between songs, sometimes even finishing each other's sentences as they shared stories about their careers.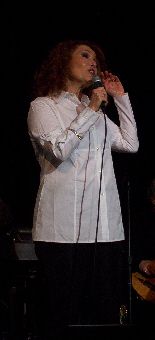 When Melissa sang "Evergreen", she spoke of the time she sang it at the 1977 Golden Globes, dressed in a beautiful gown…and standing on an orange crate!
Sitting in a chair a few feet back, Paul cracked, "They thought I was going to be singing it."
Paul joked that the show leaned toward "geezer rock," but the truth is, a very large portion of the show was devoted to new material, including several new songs that appear on Melissa's new CD, When I Look Down That Road. (See here for details). Paul seemed genuinely moved by "A Mother and Father's Prayer", which Melissa wrote with Karen Taylor Good.
In addition, they sang two songs on which they collaborated, "Crazy Loving You" and the as yet unrecorded "When You Said Hello", which Paul said closely paralleled his first meeting with his new fiancée, which occurred soon after.
The old favorites were in evidence as well. Melissa told a touching story of her last telephone conversation with the late Dusty Springfield before launching into a rousing version of "Son of a Preacher Man".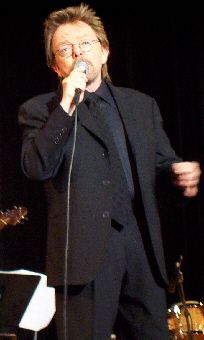 Introducing "Rainy Days and Mondays", Paul spoke lovingly of his years as a struggling actor living with his widowed mother, who constantly reassured him that God had a plan. Addressing the parents in the audience with a "late bloomer" at home, he smiled, "Don't worry, it'll all work out in the end."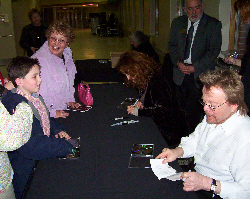 Melissa looked out in the audience and expressed pleasant surprise at the number of young people in the audience. When she asked the very young boy in the middle of the front row how old he was, the boy, whose name is Elliott, responded that he just turned eight that day…And his Grandma Carolyn, two seats over, was celebrating a birthday as well. This lead to an impromptu rendition of "Happy Birthday", and at the autograph session after the show, both Paul and Melissa presented Elliott and Carolyn with autographed CDs!
Paul and Melissa signing copies of their new albums for Elliott and Carolyn
When they finished the show with a beautiful duet of "Rainbow Connection", it was clear that the audience was not ready to let them go. Following a standing ovation, they came out to sing a warm rendition of "Whenever I Call You Friend" before heading out into the lobby to meet their fans and sign autographs.
The best part about the show was that these two seasoned pros were as fresh and energetic as they were when we first heard them. It had the reassuring feel of catching up with some old friends, and finding out that they're better than fine.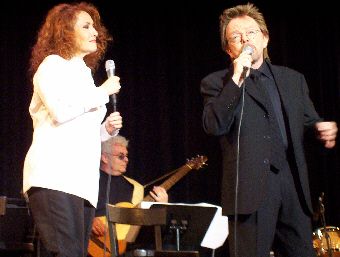 Thanks Judy for the report and pictures. Sounds like great fun.
After the show Judy's son, Colin interviewed Paul. Here is what Colin has to say about the interview: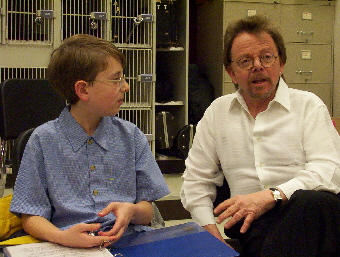 COLIN REBOY'S REVIEW
Hi, I'm Colin Reboy. I do celebrity interviews for my school, Fletcher Elementary in Tonawanda, NY. My station is called The Husky Report. Last year, at my suggestion, it was called WINN. If you're reading this webpage, I think you can guess why. (Hint: 1974's Phantom of the Paradise.)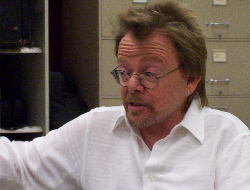 I interviewed Paul on March 30, 2004 after a great show at the B.C.P.A.C. My favorite part of the interview was his answer to the question "Who is your favorite Muppet and why?" For the record, it's Gonzo, because he's a land-locked bird who dreams of flying.
Paul is a nice person who remembered me by name from when I met him in January of last year. He even remembered that we talked about Phantom of the Paradise. I really enjoyed talking to him. It all added up to a great time.
Age 10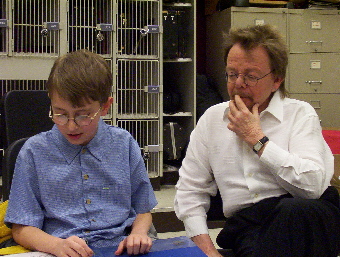 Thanks Colin. It looks as if you asked Paul some thoughtful questions.
---
April 2004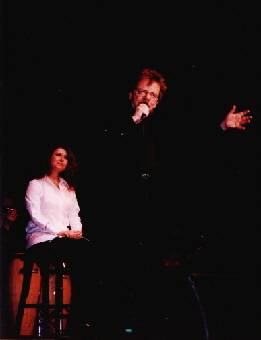 Last updated 25th June 2004
DEBBY BITTING'S REVIEW
During mid April, 2004, Paul visited Florida for two reasons. Firstly he did a series of concerts with Melissa Manchester as part of their highly successful 'Songs & Stories' tour. Secondly he made an appearance at the Cinema Paradiso in Fort Lauderdale, to receive the "Fort Lauderdale International Film Festival's 2004 Renaissance Award for Composing, Acting and Writing" for his work on Phantom of the Paradise.
Debbie was fortunate to be able to witness both. Below she shares some of her memories and photos from the shows and here she shares her experience of the award ceremony . Debbie even managed to get Paul to dedicate a copy of the programme to me :)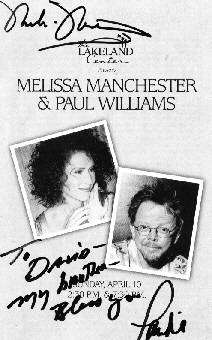 Saturday, April 10, 2004-—It's 2:00 in the afternoon and my husband, Dale, and I are sitting in the "Lakeland Center" waiting for the 2:30 concert to start. We were seated in the front row so we knew we would have a good view of the show and were looking forward to seeing Paul again. In the meantime we made friends with the woman next to us and her daughter who were both Melissa Manchester fans. They were very sweet people and we enjoyed their company and the chance to get to know them.

Once the show started it was so unbelievable. Paul and Melissa (whom I had seen in concert several years ago) were terrific. I couldn't have wished for a better match. They both sang beautifully and you could tell they were enjoying themselves. The audience was enjoying them as well. I think I enjoyed watching the people in the audience enjoying the show just as much as I enjoyed the show. Everything moved at such a nice pace instead of seeming to end too quickly and the people we had made friends with told me that they were really impressed with Paul and thought he was quite charming. They were now Paul fans as well.
| | |
| --- | --- |
| Paul | Melissa |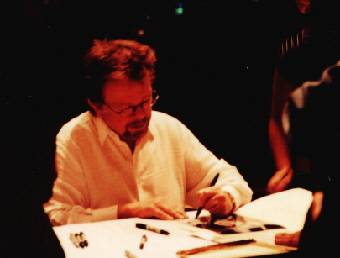 After the show we waited for the chance to see Paul, trying to hold back until last so that we could enjoy watching everyone else visit with him. When it was our turn it was so sweet... I handed him some sheet music to autograph along with a picture from my daughters wedding that she wanted him to have. Still looking down at the picture saying what a beautiful girl she is and asking me who he should make the autograph out to I said, "You can make it to .... .knowing that he still hadn't really noticed me, I added.. . "You know... report Amy" (in reference to a project he and my daughter had worked on together). At that he looked up and it was so funny.. .he jumped right out of his chair saying "Debby it's so good to see you!" came over and gave me a big hug and apologized for not noticing who I was at first. We just laughed it off and continued to visit for a bit.
I handed him a letter that a special little friend of mine, asked me to give to him if she couldn't make it to the concert (she was supposed to attend it with us but God had other plans for her). One thing I can say for her, is she knows how to greet people, be it in person or in a letter and managed to move Paul to tears. After visiting a bit more I told Paul to get some sleep and we would see him that night. . .poor guy looked exhausted! He smiled and admitted that he was tired and looking forward to some sleep. It was great to see him.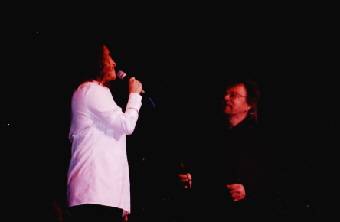 ...Still Saturday, April 10, 2004— It is now 7:00 at night and my husband and I are sitting in the exact same seats as we were in during the afternoon show! (GREAT SEATS!) This show would answer a lot of questions that people asked me once they found out that we had attended both shows. So, here are the much anticipated answers to the most frequently asked questions! LOL!


1. Yes, they do wear the same outfits during afternoon and evening shows.
2. Yes, they do sing the same songs.
3. No, they do not hold back in the afternoon shows. Both shows were equally fantastic and enjoyable.
4. No, I don't get tired of seeing the show a second time (good thing they didn't know I was going to a third show) I could watch it over and over and never get tired of it. Both Melissa and Paul had a way of making it so pleasant!
5. Yes, the people that attend the evening shows do dress up more than they do for afternoon shows…. .but not much more.
| | |
| --- | --- |
| Paul | Chris (Kaz) Caswell |

My husband and I were so thrilled to have the opportunity to see the show again and have the chance to meet up with Paul afterwards. Even though it was the same show I think I even enjoyed it more the second time around if that makes since to you! Chris Caswell had his daughter there that night and she is such a cutie, she was sitting behind us. As the show was coming to an end it was Paul's turn to have me in tears. He dedicated "The Rainbow Connection" to my little friend that wasn't able to make it. He has no idea what that meant to me and my friend!!!
Paul as you've never seen him before!!
| | |
| --- | --- |
| Paul & Melissa | Paul & John Lee Sanders |

We hung out again after the show and visited a bit more with Paul catching up on things. Although he looked a bit more rested you could tell he was still tired. Paul said they were going to get on the bus and head to Ft. Lauderdale that night so he would sleep along the way as well as some at the hotel before hopefully getting in a game of golf on Sunday morning. So we said our goodbyes and said we'd see each other again tomorrow.
Thanks Debby for a wonderful account and some great pictures. See here for Debby's experience of attending the viewing of Phantom of the Paradise where Paul received the "Fort Lauderdale International Film Festival's 2004 Renaissance Award for Composing, Acting and Writing".
---
PAUL AND MELISSA MANCHESTER TOGETHER
Concert Reviews from 2003 leg of the tour added here
---
READ ALL ABOUT PEOPLES WONDERFUL EXPERIENCES OF SEEING
PAUL WILLIAMS
Go to Paul Williams - Personal Experiences Index Page

Return to Paul Williams' Music and Acting Home Page
Email me, David Chamberlayne, at:
Davidswebpages@paulwilliams.co.uk