PAUL WILLIAMS LIVE IN 2004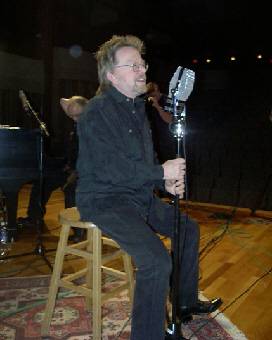 Paul during the studio sessions of his forthcoming DVD - "Begun Again". See here for details.
Last Updated 10th October 2004
CALIFORNIA - 14TH FEBRUARY 2004
CALIFORNIA - 6 - 9TH OCTOBER 2004
---
BREA, CALIFORNIA
14th FEBRUARY 2004
by Mariam Tariq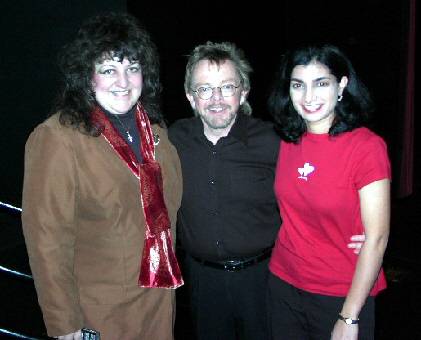 Mariam (right) with Paul and her friend Brenda
Last Updated 8th March 2004
On Valentine's Day 2004, Paul performed two shows at the Curtis Theater in Brea, California. These shows were taped for a DVD that should be coming out this summer. (DVD NOW AVAILABLE...SEE HERE FOR ALL THE DETAILS)
In addition to Chris Caswell and John Lee Sanders, Paul was joined by three members of Melissa Manchester's band… Peter Hume (vocals and guitars), Cliff Hugo (electric and upright bass) and John Lewis (drums/percussion). The theater was fairly small, holding about 200 people. It made the show feel very personal.
First the band came out without Paul and went to their positions. They started singing "Old Fashioned Love Song" pretty much ac cappella and in harmony with some light percussion and keyboards. They sang a few lines and then Paul came out "You swear you've heard it before …", the instrumentation still soft. Then they get to the chorus and BANG! All the instruments turn up in volume and Paul and the band are singing together. It was a very nice effect. I really enjoyed this rendition.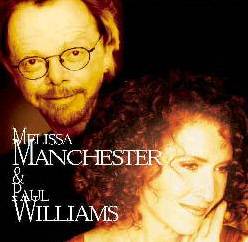 The show was advertised as having a "special guest star". The audience was absolutely delighted when out came Melissa Manchester. Everyone was very pleased and excited to see her. Paul and Melissa sang two songs that they had written together. The first was called "Crazy Lovin' You". It's a very different type of song than any written by Paul or Melissa. It had kind of a deep jungle beat and Paul described it as "edgy". I loved it. The other song was "When You Said Hello" a beautiful love song. Paul and Melissa danced together on stage during the instrumental part. Melissa has a new album coming out March 9th , her first in over 10 years. I hope these two songs are on it. Melissa talked a bit about their experience writing together at her house and how she would make lunch and then they would start writing.
"Ordinary Fool" was another well done song with the multi-talented John Lee Sanders once again performing on sax, a very rich, moving solo … he makes his saxophone sing. Chris Caswell's expressions in this song were something to watch. It's enjoyable to see him so into the music. Another treat was hearing Chris Hugo play upright bass in this song. The whole performance, in such an intimate setting, gave the feeling of being in a jazz nightclub. A few times, I just laid my head back, closed my eyes and listened.
My favorite two songs of the evening were "Out in the Country" and "I'm Going to Go Back There Some Day". I was surprised to hear "Out in the Country". It's inserted very nicely in the middle of the otherwise, soft and light-mood set. The rhythm in this song is extremely sharp and fast. Overall, a very fun song and Chris Caswell's piano work on this was stupendous. He earned a well deserved enthusiastic applause for his solo work.
Paul Williams with Gonzo during the DVD studio sessions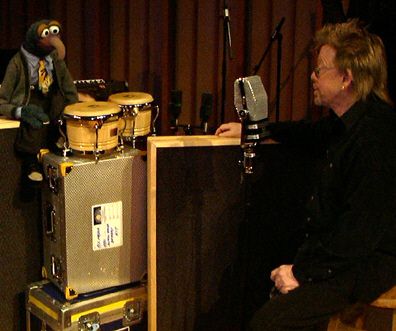 Paul asked for requests. Before anyone could think I yelled out "Gonzo's song" and was so happy he sang it. ( I learned from past experiences that you can't be too timid or other people will beat you to it and yell out !) Paul describes it as a spiritual song. He talked about the scene in the Muppet movie where the bus breaks down and Gonzo reflects on his experience "flying" in the sky, holding on to the balloons he bought for his girlfriend Camilla, a chicken. Paul mimicked Gonzo putting his arm around Camilla… very cute.
I've been fortunate enough to see Paul perform several times this past year. This time, unlike others, I spent a lot of time watching Chris Caswell on stage. His facial expressions are priceless. He is so involved and engrossed in the music. His skills as a pianist and vocalist are tops.
A few other notes:
"You and Me Against the World": Paul said he didn't get why Helen Reddy sang this song with her daughter in mind. But now that he has children (Sarah, 19 and Cole, 22) he understands.
As Paul always does, he dedicated "We've Only Just Begun" to the "angel to whom the song belongs to" (Karen Carpenter).
Paul introduced "Out in the Country" as a song written in 1928. He later called it "Fossil Rock" and "Songs from the Edge of Geezer".
Chris Caswell & John Lee Sanders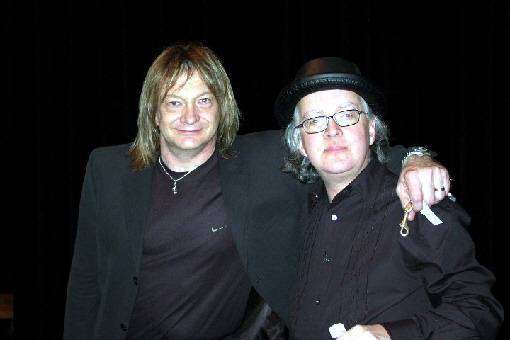 "Rainy Days and Mondays": John Lewis played a variety of different percussive instruments like shakers in addition to the regular drums. It was a very subtle touch but it brought the song out even more. John Lee Sanders performed another amazing sax solo.

"Waking up Alone": Paul and Chris gave one of those performances that leaves you teary eyed. So full of deep emotion.

"I Never Had it So Good": This song written by Paul and Chris, was written for Chris' wife who was in the audience.

I have to mention Peter Hume who played a number of different acoustic and electric guitar that nicely complemented the songs. My only wish was that they would have turned up the volume a little more on his instruments since it was almost too soft to hear.

There were two 2 shows, one at 7 pm and the other at 9 pm. Each was supposed to be one hour but Paul being the trooper he is, stayed on 1.5 hours. Then he signed autographs and posed for pictures, warmly and gratefully until each person who wanted to visit with him did. There had to be at least 50 people in line to meet him after each show. Although tired, towards the end, he hung in there, making many, many people very happy.

Paul had so many wonderful stories to tell. There was one time that I was laughing so hard my stomach hurt and I quite literally had tears running down my face. I can't recall the last time I laughed so hard.

There were three cameras filming the two shows. One on each side of the stage and one backstage.

Here is the full set:

1) An Old Fashioned Love Song (Java 'PopUp Lyrics' here)




2) I Won't Last A Day Without You (Java 'PopUp Lyrics' here)




3) Ordinary Fool (Java 'PopUp Lyrics' here)




4)

Crazy Loving You (with Melissa Manchester) (Java 'PopUp Lyrics' here)
5) When You Said Hello (with Melissa Manchester) (Java 'PopUp Lyrics' here)
6

)

Out In The Country (Java 'PopUp Lyrics' here)


7

)

Rainy Days And Mondays (Java 'PopUp Lyrics' here)


8

)

This Time (Java 'PopUp Lyrics' here)


9

)

You're Gone (Java 'PopUp Lyrics' here)


10

)

You And Me Against The World (Java 'PopUp Lyrics' here)


11

)

We've Only Just Begun (Java 'PopUp Lyrics' here)


12

)

Rainbow Connection (Java 'PopUp Lyrics' here) -

(According to Paul, one of the greatest singers he worked with was Kermit T. Frog)
13)

I'm Going To Go Back There Someday (Java 'PopUp Lyrics' here)

I'm Going to Go Back There Someday - Gonzo's Song
14

)

I Never Had It So Good (Java 'PopUp Lyrics' here)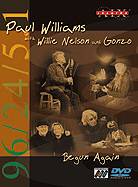 The second show was similar but instead of "You're Gone", he did

"Waking Up Alone" (Java 'PopUp Lyrics' here)

(a request from the audience). Of course, Paul and the band received a standing ovation for both shows. It was a wonderful show and I am so happy to have had the privilege of being there for this taping.

Thanks Mariam for another wonderful report and pictures.

Read all about Paul's DVD here, and see more wonderful pictures of the day Gonzo and Willie Nelson popped into the studio.

Read all about Paul's 2003/4 "Songs & Stories" concerts here.
---
PAUL RECEIVES AWARD FOR PHANTOM OF THE PARADISE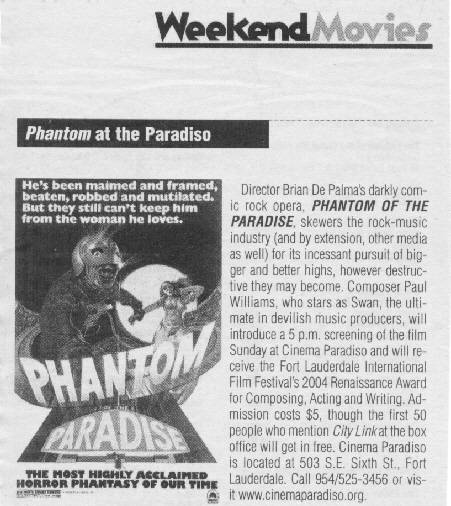 by Debby Bitting
Sunday, April 11, 2004— HAPPY EASTER!!! It's now 4:30 and my husband, daughter, son-in-law and I are at the Cinema Paradiso to view a showing of "Phantom of the Paradise" and see Paul receive the "Fort Lauderdale International Film Festival's 2004 Renaissance Award for Composing, Acting and Writing". My husband and I went out to the concession stand to get some bottled water for the kids and who do we pass, but Paul. As we passed I said, "Hey, long time no see.. .catch ya in a bit." He laughed and said hello and that he'd see us soon.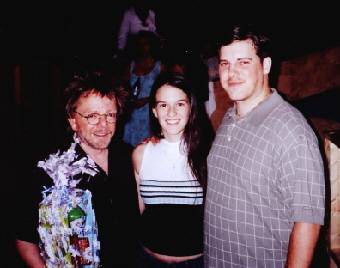 When we got back to our seats I told the kids to go say hi.. .we had made Paul a special Easter basket with a musical Kermit the Frog Pez dispenser that Amy was going to give him. Dale and I sat back as Amy & Lawrence went to say hello. I heard Amy say, "Uncle Paul!" to which Paul responded, "Is that Amy?" So he finally had the chance to meet her husband and visit a bit. Needless to say, the buzz was that Paul's niece was in the audience. Dale and I were a bit surprised to see Paul looking so exhausted, as we thought he would have had the chance to rest up. I have to be honest, I was starting to get a bit worried about him. We said our goodbyes for the day and said we would see him the next night.

Paul with Amy & Lawrence

Paul received his award and took some time out to answer questions from the audience. It was amazing how many people that were there had not seen the film before. Paul really wanted to stay and see the film but the fact is he was so tired that he was going back to the hotel to get some sleep. You could tell it was all he could do to keep his eyes open. Needless to say, he didn't get in his game of golf that day, but said that he was going to catch up on his rest and for sure get in a round of golf the next morning.
| | |
| --- | --- |
| Paul receiving his award | Paul answering questions |
Thanks Debby. See here for Debby's experience of seeing Paul in concert.
---
NEW YORK CITY
15th MAY 2004
-----------------------------------------------------------------------------------------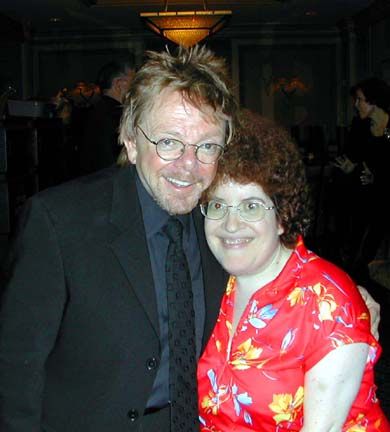 by Rosanne Galletta
Last Updated 23rd June 2004
On Saturday May 15th, I was lucky enough to be able to go to New York City to see Paul at Feinstein's at the Regency for his last show there with Carol Welsman. I met Claire and her friend Jean at the hotel before the show, and we had a wonderful evening!

It was my first solo trip to N.Y.C., so I was really excited! I took the train up from Baltimore and arrived at the hotel around 4:30 in the afternoon. The show was scheduled for 8:30 p.m. I sat in the hotel lobby from the time I got there until about 5:30 or so, then decided to go into the lounge and wait for Claire (see Rosanne's account below) and Jean to arrive. Well, a little after 6:00, I checked and found that they were already in the restaurant waiting for ME. Claire had gotten us a wonderful table right next to the stage! Another Rainbower, Paul Leonetti was there too, so we visited with him quite a bit. The food was wonderful but EXPENSIVE. The show didn't start until almost 9:00, so was only an hour (much too short, but then any time spent with Paul is too short).
Chris (Kaz) Caswell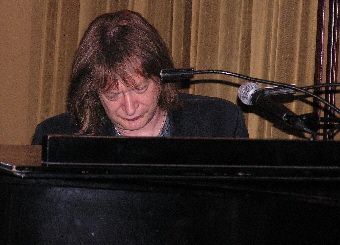 We kept waiting for Chris Caswell (Kaz), Paul's pianist, to come out, as he usually comes out first to set up, but John Lee Sanders and a couple of other guys came out first, and then Kaz came out shortly before they announced Paul. Just before Paul came out, the announcer came on the PA system and requested that there be no flash photography during the show. Then we heard Paul's voice saying "At these prices, let 'em take pictures!", and everyone laughed, but nobody took pictures during the show anyway.

I thought he saw me when he came out, as he had to go right by our table to get to the stage, and he said hello to Claire as he made his way toward the stage but I guess didn't really pay attention to who else was at the table. Well, his first song was "Won't Last a Day", and he kept looking in my direction, but not really seeing me. Then during the last verse, he finally looked directly at me and really saw me for the first time, and the look on his face was priceless! In the middle of singing, he jumped down off the stage and came over and gave me a big hug and kiss, and the audience went "Awwwww!" Needless to say, I was in heaven! :-) Wish I could have had a picture of that. It was so sweet of Paul to greet me like that.

Paul with Carol Welsman and his fiancée Mariana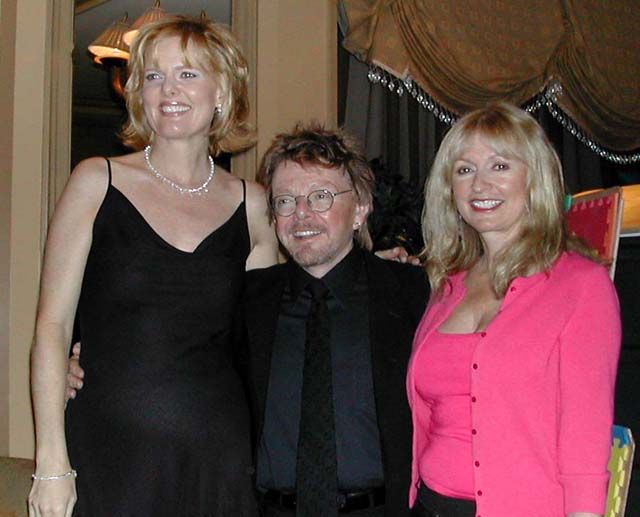 Paul shared the stage with a wonderful singer and pianist named Carol Welsman. She was awesome, but of course we would have liked to have heard Paul more. The songs I remember that Paul did were Won't Last a Day, Ordinary Fool, Old-Fashioned Love Song, You and Me Against the World, We've Only Just Begun, Rainbow Connection (which he sang with Carol at the end), Rainy Days and Mondays, Let Me Be the One, This Time, and a couple of new songs.

After the show, we were invited backstage, where we were able to talk to Paul, his fiancée Mariana, and the rest of the performers. I met Mariana in Arizona when I went out there to see Paul and Melissa Manchester last October. She is such a sweetheart, and she very graciously took the time to pose for pictures and chat with us. It was a whirlwind trip, up and back in one day, but it was a day I will never forget. It was SO good to see Paul again, and I can't wait until next time!

Rosanne
Thanks Rosanne for the account and Rosanne and Claire for the pictures
-----------------------------------------------------------------------------------------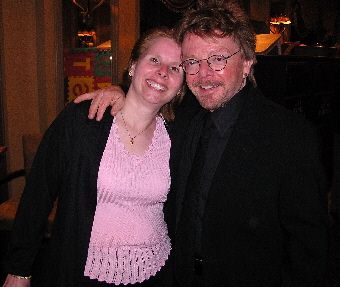 by Claire Carpentier
Last Updated 23rd June 2004
On Saturday May 15th a friend and I took the train into NY to see Paul perform at Feinstein's at the Regency. We arrived at our hotel at 5 checked in got ready and walked to the Regency and surprisingly enough we were there on time. A few days earlier Rosanne Galletta (see Rosanne's account above) had emailed me asking to sit with me if she went… I said sure…but when we arrived I didn't see her so we asked to be seated and mentioned that we were still waiting for someone and to please seat her when she arrived. A few minutes later Rosanne arrived at our table which was excellent. We had front row seats to the show. Then a few minutes later Paul Leonetti a friend and fan club member came over to say hello with his girlfriend… We had a great visit but Paul went back to his seat and we ordered our dinner…The dinner was wonderful but we were all waiting for the show to begin but we still had a half an hour left to go. My friend Jeanne is a riot…I'm so glad she came with me.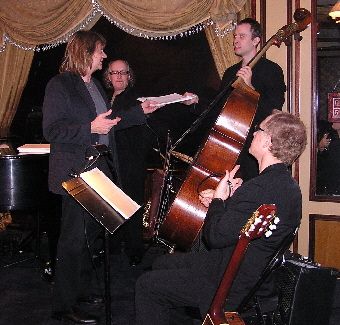 Before the show out came John Lee Sanders, Paul's Sax player and Kaz Paul's arranger, piano player and friend for years. Also on stage were Jay Azolina and Mike McWerk. Jeanne took pictures of them as they came out and on stage. It was past the time Paul was supposed to come out but Jeanne was ready with her camera. The waiters were teasing her saying he's coming soon. She wanted to get his picture coming through the back. Then the announcer/sound guy Jim Cascade came to her and mentioned to her that she shouldn't take his picture because Paul doesn't like that (so he said). So she put her camera down and then he announced please not pictures or recording devices during the show and then you could hear a voice from the darkness… at these prices snap away…everyone laughed and then Paul's name was announced. He came over to me and held my hand and gave me a kiss and said hi baby and then went on stage. His first song was I Won't Last A Day Without You. I mentioned to Rosanne that he didn't know she was going to be there and he'll be so surprised…but I didn't elaborate cause after all Paul was singing. The last time Paul and I spoke was when he was on tour on April 2nd and I mentioned to him about me coming to NY…of course at that time Rosanne didn't know and didn't tell me she was going so there was no way Paul knew.
Anyway as he was singing he looked over to our table and then spotted Rosanne and the look on his face was priceless. He came right off the stage and gave her a hug and a kiss and everyone in the room went AWWWW. He then got back on stage and kept singing.
Paul, Carol Welsman & John Lee Sanders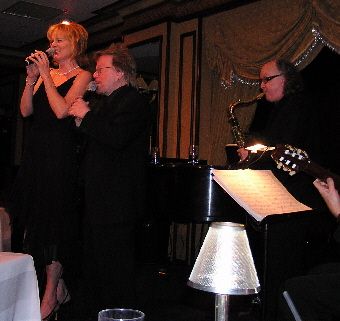 The show was wonderful. Paul also sang We've Only Just Begun, Let Me Be The One, Rainy Days and Mondays, Love Dance, This Time, Close Enough For Love, The Rainbow Connection and they really kicked butt without drums mind you on Just an Old Fashioned Love Song. After Paul sang his first song he talked a bit with the audience with his natural charm and wit. But he asked the audience to yell out if there is a song they'd like to hear and after Paul said that I heard Kaz say oh no…which was too funny. Paul always does that to him, and he was worried that someone would yell out a song he didn't know how to play but that didn't happen…we heard a voice from the back yell out Just An Old Fashioned Love Song. So they really rocked and it sounded great. I found out later that the announcer Jim Cascade was the culprit behind the request and he mentioned to me that he had wanted Paul to put it in his show but Paul thought it might be too rock and roll for Feinstein's so it never made it to any other shows but ours of course. Made me feel so special J But the truth is each show had different songs. They mixed it up for the 2 weeks they were there. Okay back to the songs… Paul sang a brand new song that he wrote about sobriety and getting sober. It was such a touching song and it's called It May Not Be today and goes like
I've been lost ..
I've been broken
beaten by the road ...
searching for a willing hand
arms to share my load
I am a true believer
I hope to find my way ...
Hold me faith ...
It may not be today ...
Paul, Carol Welsman & John Lee Sanders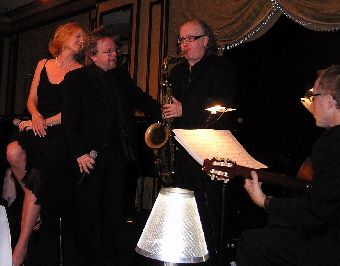 The entire song just drew you in. Actually the entire show was so moving, touching and funny. You know I can't say enough about Paul but I also have to praise the band and Carol Welsman. Carol is from Canada and is a Jazzy piano player who also scats and as Paul put it her scat alone is worth the price of admission. She is this beautiful tall tall tall blond woman with this wonderful personality, and boy can she sing. She actually sang Love Dance and did a few duets with Paul as well as sings a few solos. I thoroughly enjoyed the entire show as did my fried Jeanne. Chris Caswell on piano and John Lee Sanders on Sax doesn't get any better than that. Jay and Mike were also great on base and Chello. I've been to a few of Paul shows now and before going in I know one thing… I will witness a fantastic show from beginning to end not with just Paul but with everyone that's on the stage…they all give 110 %
The end of the show was near and we gave them a standing ovation and they sang another song ('The Rainbow Connection') but when my friend thought the show was over she started taking pictures and got some great shots of Paul, Carol, Kaz, John Lee, Jay and Mike on stage performing. Paul didn't' mind though he even posed for one and waved to the camera but Jeanne forgot to put on the flash so that picture didn't come out but plenty of other did.
Jeanne, Claire, Paul and Rosanne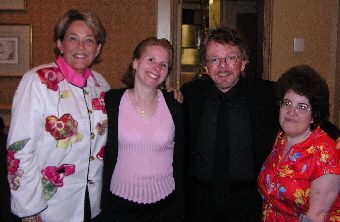 After the show I asked Kaz if Paul was coming back out he said he'd check…a few minutes later Kaz came and motioned us in. We went back stage and took tons of pictures and talked with Paul, Mariana, John Lee, Kaz, and Carol…actually we 3 stayed longer than Paul and Mariana…I think we closed the place down but it was fun talking to everyone and everyone was wonderful and indulged our photographs.
Rosanne was leaving at 2 AM so we were going to hang out with her until it was time for her to leave. Paul had asked us to hang out with her but of course we were going to anyway…didn't' want her to be alone in NY for hours. We were going to go to our hotel down the street but it was pouring out and we decided to stay there and go and have a drink in the lounge (they call it the library). As we were walking towards the library we saw Paul and Mariana talking to someone but Paul waved to us and we waved back but then we were unsure about entering…didn't' want him to think we were going to intrude. But we walked in and found a nice area on a couch with a table. It was cozy and so nice to sit down and relax. We showed each other the pictures we had taken…ah the digital age. A few minutes later Mariana came and sat down with us and talked…Paul had gone and got a cab for a friend they were talking to.
Claire with Paul
It was a wonderful surprise and we were doubly blesses when Paul came in and sat down with us as well. They stayed for about 10-15 min. It was late and Paul was understandably tired and he had to get up early the next day. So we said our goodbyes for a 2nd time. After they left we hung around for awhile until Rosanne had to leave. We went out side (it was still raining) to try to get her a cab but we couldn't' get one. The bellman of the Regency came out to help but then a taxi down the street was dropping someone off and we hailed him and walked towards the cab. The bellman got an umbrella and held it over Rosanne's head till she got in. Jeanne and I were discussing if we should get a cab or walk the 8 blocks to our hotel. Then the bellman said we could use the umbrella and we said we'd return it and he said no you can keep it and let me get another one. He actually gave us two umbrellas. They have wooden handles and say the Regency on them. They look expensive…needless to say our entire weekend was spectacular. Seeing Paul in the library and having him and Mariana sit with us was like the icing on the cake or the cherry on top. I know my friend had a blast and now she gets why I keep going to see Paul. She put it best when she said you're made to feel so special…by everyone. So if any of you get the chance to go and see Paul at a show please do…it's well worth it…you won't be sorry.
Claire, Carol and Jeanne. Claire with John Lee Sanders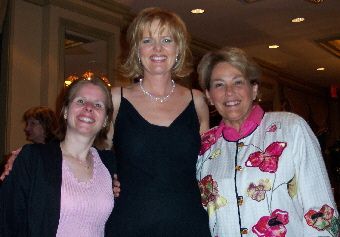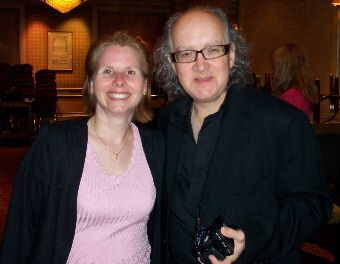 Claire Carpentier
Thanks Claire for a great account and some wonderful pictures
-----------------------------------------------------------------------------------------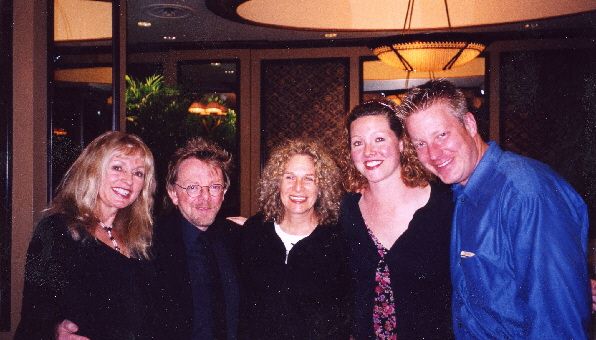 Mariana (Paul's fiancée), Paul, Carole King, Steve and his wife
by Steve Arch
Last Updated 23rd June 2004
My wife and I had the pleasure of seeing Paul Williams this past May at Feinstein's at The Regency in New York...

My wife and I are both in our mid 30's, so we were by far the youngest people in the small, intimate audience. When Paul took the stage, everyone clapped politely, while my wife and I cheered loudly. Paul must have found this amusing so he immediately made a comment stating that "my grandkids are here tonight!"

After the 3rd song or so, Paul asked if there were any requests. I shouted out "Phantom...Old Souls!!" We're HUGE fans of all of Paul's work, but his Phantom work is by far our favorite. He told a little story about working on the film with Brian De Palma before going into a beautiful rendition of the song...seemingly just for us :-). He dedicated "We've Only Just Begun" to Karen Carpenter's memory which was very touching.

Much to our astonishment, Mr. Williams came right up to our table immediately after his performance to thank us for coming...a very classy gesture. He took time to chat with us and he was extremely friendly and thankful. He signed my Phantom DVD and told a few quick stories about making the movie. I jokingly told him that Edna Unger said hello (a slightly obscure joke pertaining to his guest appearance on The Odd Couple way back in '74). I asked him about the song he sung on the show to the character Felix's daughter. He immediately sung it to us and he said that he wrote that song about one hour prior to actually shooting it that day!!

We also had the pleasure of meeting another legend that night...Carole King. We took pictures of all of us together and we even took a few snapshots for Paul and his fiancée with his camera! All in all, a great experience.

Steve Arch
Thanks Steve for a great account and a wonderful picture
---
LAS VEGAS
4th JUNE 2004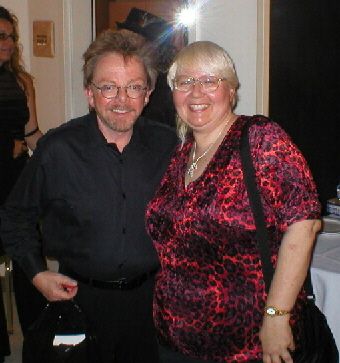 by Elaine Manning
Last Updated 23rd June 2004
I got to double my pleasure with Paul's first show at The Suncoast Hotel/Casino in Las Vegas last night, 4 June 2004. The show was scheduled to begin at 7:30 P.M. I got to the hotel at 4:00 intending to do some gambling and have something to eat. As I was walking past the showroom, I heard some unmistakeable music coming from inside, so being the "shy" (ha-ha) person that I am, I just walked in. Turns out that Paul and associates were performing their sound check, so I got to sit in on a full hour of Paul's practicing and choosing different songs for that night's performance. I also had the pleasure of very briefly meeting his fiancée, Marianna.

The show opened with a short video showing scenes from many of Paul's movies -- PHANTOM OF THE PARADISE, THE LOVED ONE, PLANET OF THE APES, SMOKEY AND THE BANDIT, THE DOORS and a few others. Paul said that the video had been Marianna's idea .... "...you've been gone for a while, maybe you should show some of your movies to reminds folks....". It was great seeing SWAN again!
My seat was the best in the house (my opinion) -- front row, center. The man seating me joked that "one more step and you'll be on stage with Paul". :)

Paul started off with OLD FASHION LOVE SONG. The next was I WON'T LAST A DAY WITHOUT YOU. Then a ballad from Bugsy Malone - ORDINARY FOOL.

Paul told us how he originally wanted to be a movie actor and after getting his part in THE LOVED ONE figured that he'd be well on his way to stardom ... so he invited his mom to come out and live with him. Well, things didn't exactly work out like that. First the phone stopped ringing with offer, then the phone company came out and TOOK OUT the phone, and then his mother went and got a JOB. She'd tell him GOD HAS A PLAN ... and then would go out the door to work, mumbling under her breath. Which years later was the inspiration for Paul's song RAINY DAYS AND MONDAY -- the next song sung. After that he sang THE FAMILY OF MAN.

Paul has taken up the sport of golf too! He said he'd recently been golfing in Ireland ... he really enjoyed it, but said that people kept grabbing him and yelling "where'd you hide that pot of gold you little bast---!!" Yes, he's our favorite Leprechaun!

The next songs were "the melody that has never been done before" -- his two songs with the words LOVE in the titles. He started with EVERGREEN (and made several comments about how he could never hit the notes that Streisand could hit), and then went into the theme from LOVE BOAT. One song earned him an award and the second put his children through college. :)
The next song was a new one from the Japanese CD - LOVE WANTS TO DANCE (See here for details).

Paul took a very short break while John Lee Sanders (saxaphone) did a jazz number on the piano to entertain us -- excellent!!

When Paul came back it was time for "Devil Lighting" (great purple and other colored lights) for his song THE HELL OF IT from PHANTOM OF THE PARADISE. He told how the song was originally supposed to be for a funeral scene from that movie, with people dancing around Beef's coffin ... I would have LOVED to see that!

Next another PHANTOM song ... a beautiful ballad - OLD SOULS. (Wouldn't it be incredible if at some show JESSICA HARPER "Phoenix" could come out and sing that!!?

The rest of the evening was filled with songs like OUT IN THE COUNTRY; YOU AND ME AGAINST THE WORLD; WE'VE ONLY JUST BEGUN; THE RAINBOW CONNECTION and the finale of LET ME BE THE ONE.

Paul was originally going to sell Cd's and sign autographs after the show, but unfortunately the cd's didn't make it on the flight out. I went backstage for just a minute to say hello to Paul and have a photo taken with me -- my first photo with him in 25 years! I had to leave, but I'm sure Paul went outside to sign autographs for any fans who were still waiting.

He's BETTER THAN EVER!! An excellent performance. And as he said, this was the first time he's ever done a show on a Las Vegas stage SOBER. He's celebrating 14 years of continuous sobrity. CONGRATULATIONS PAUL. Love & Light!!

Elaine Manning
Thanks Elaine for a great account and a wonderful picture
---
HOLLYWOOD
CALIFORNIA
6 - 9th OCTOBER 2004
Last Updated 14th October 2004
Hi David

The shows at the Cinegrill were among my favorite ever. It's a fabulous little club and we played to packed houses. Too much fun.

God bless..
Paul
12th October 2004
Julio Martinez Account in Varity.com
-----------------------------------------------------------------------------------------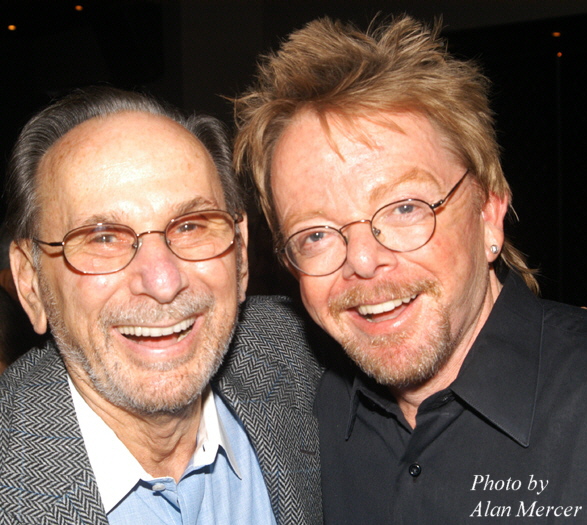 Paul Williams with Hal David
by Rod Reynolds
Last Updated 14th October 2004
Just got home from seeing Paul Williams at the Cinegrill in Hollywood. I actually went down there just to get him to sign some items, but there was one seat left so I took it. That it happened to be in the centre (albeit at the back) was the clincher. And despite the fact that I hadn't had dinner yet.

Paul came out to the opening of Just an "Old Fashioned Love Song" (a hit for Three Dog Night), and then did "I Won't Last a day Without You", which he described as a classic "co-dependant anthem". He said, "I mean, really. I won't last a day without you?!!" He had a five piece band, including his long time pianist Chris Caswell and two members of Melissa Manchester's touring band. (Melissa is playing at the same place next week, I wonder if she will have some of his band members with her.) He told a story before almost every song, some of them quite lengthy and all quite funny. He was completely entertaining, even though his "singing" is part Willie Nelson croak and mostly spoken word over music.

Paul Williams with Monica Mancini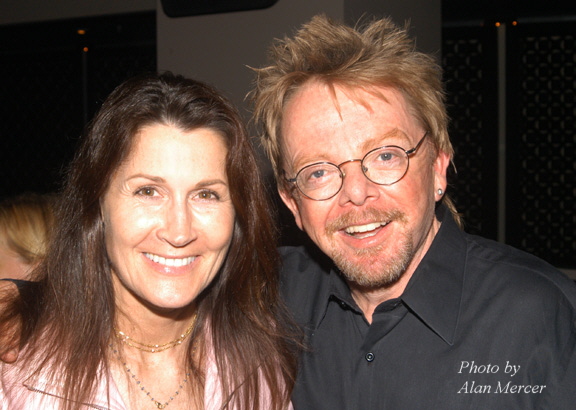 He talked about coming to Hollywood in the sixties and getting a part in a movie. He had his Mom move here, now that he was going to be a big star, he would buy her a big house to live in. Then his part got cut down to one line, and he didn't get any more acting gigs, so was very discouraged. He said his Mom was always mumbling to herself. Then he started singing, "Talking to myself and feeling old... " which was of course "Rainy Days and Mondays."

Next he mentioned that he had written a soundtrack for the movie Bugsy Malone, and the song had since been covered by Ella Fitzgerald, and he sang "Ordinary Fool." Then he said, "I'm going to play two of my biggest hits and both of them start with the word 'love'. One of them won me an Oscar and the other one put my kids through private school." So he sang "Evergreen" and it was so funny, about half way through he started comparing himself to Barbra Streisand's vocals, and ended up abandoning it, and started right in with "Love, exciting and new, come aboard, we're expecting you..." which was the theme of course to Love Boat. He said that his wife said, "you may as well face it, you're going to be remembered for just two things: for playing Little Enos in the 'Smokey and the Bandit' and for writing that damn Love Boat theme!"

He then talked about becoming sober. Sipping from his bottle of Evian, he said, "Something miraculous happened to me fourteen years ago. I woke up one morning, instead of coming to." And then, "You know you're an alcoholic when you misplace a decade," and he mentioned his over-use of drugs at several points in the show and some of the predicaments he had gotten into, including some "unplanned nudity." It was hilarious.
Paul Williams with Garry Marshall's daughter.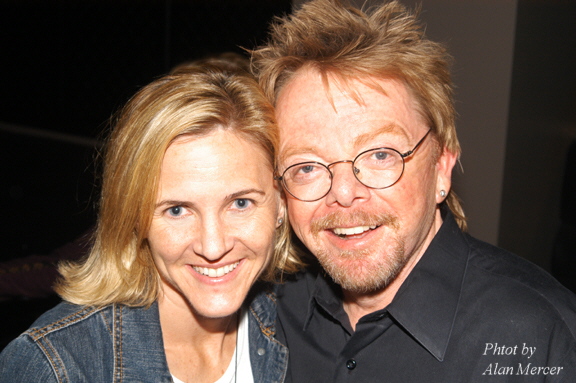 He then told a great story about his fiancée and the song "Love Dance" recorded by Vanessa Williams, but I don't want to spoil it for you. He also did "Let me be the One," and told some funny stories about opening for Raquel Welch in Vegas, how much he loves Japan because he can go into a store and buy clothes size 'medium', and how he is currently working on a musical version of "Happy Days" with Gary Marshall.

Someone shouted out for "The Hell of It" which seemed to surprise him, and he said, "So you're the one who saw it. Are you sure, that's kind of rowdy," as the band launched into it and rocked the joint. It was awesome. He mentioned that "Vegas" was interested in a music version of Phantom of the Paradise (which that song is from) and that he thought Jake from Scissor Sisters would make a great Swan, because now he would have to play Swan's grandfather.

When he introduced "You and me Against the World," he said that Helen Reddy had done it sung to her daughter, which he had always thought was wrong. But then he said that last night in the audience was his son, and he sung it to him, and that it turns out Helen had been right all along.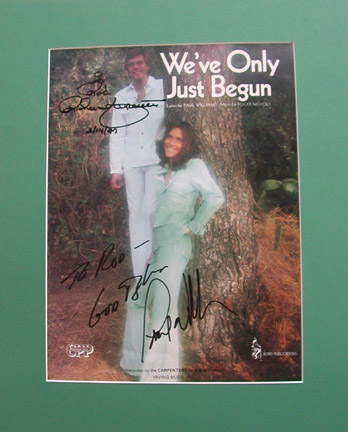 He then talked about a bank commercial that he had written a jingle for, and that they had gotten a call for the complete song. He said, sure, and then quickly wrote the rest of the song. He said, "When I wrote this song, the number one song was 'Inna Gadda Da Vida', and there was no way it was going to be a hit. But then an angel sang it..." and he started into 'We've Only Just Begun." The crowd went wild. As it was ending, he looked up and said, "this applause is for you Miss Karen Carpenter" and a purple light shone down from above.

He also did "Old Souls" (also from Phantom of the Paradise), and a few songs that I didn't know, including one that he said was his first hit, recorded by Three Dog Night, and another called "Waking Up Alone". He introduced Bill Medley who was in the audience, and noted that they were born the same day. "Yet," he said, "you get to be 6' 2" and sing "You never close your eyes any more when I kiss your lips" and I get to be 5'2" and play Little Enos in Smokey and the Bandit."

At the end of the show, he said that working with Kermit and the Muppets was wonderful, and recommended it whenever possible, and sang "Rainbow Connection," which he dedicated to Jim Henson. After rapturous applause, he did two encores, "Loneliness," and "Nice to be Around" which he mentioned was from the movie "Cinderella Liberty" starring Marsha Mason in her first role, and was co-written with John Williams ("no relation," he said.)

After the show, he was out in the hallway signing autographs and shaking hands. I told him, "You wrote two of my favorite songs in the world." He said, "Oh, which ones?" and I showed him my sheet music for "We've Only Just Begun" which was signed by Richard Carpenter. He seemed really touched/impressed and looked at Richard's autograph, then amongst all the ruckus, he was quiet and he signed his name, asked my name, which he added and then a "God Bless" underneath.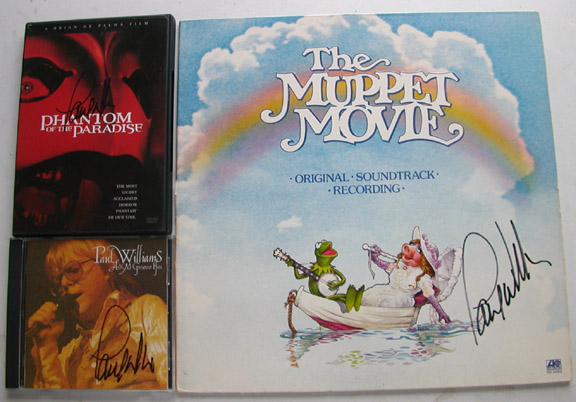 Then I said, "and the other favorite song is this" and I pulled out my Muppet Movie soundtrack LP, and he asked, "which song?". "Rainbow Connection!" I said, "I have the sheet music and I love playing this song on the piano." He seemed happy with that, and later I found out that that is his favorite song. He signed a few other things for me (including the DVD for Phantom of the Paradise, the "Old Fashioned Love Song" LP (original gatefold die-cut cover), and a couple cds" and shook my hand and said "thank you."

It was awesome.

He then turned to the huge line up of people wanting to meet him, many with records and a few with cds. He was selling a cd they recorded on this tour in Japan, called "Love Wants to Dance" which has a lot of the songs he played tonight (although not the Rainbow Connection). (Read all about "Love Wants to Dance" here). He also mentioned that Universal (actually Hip-O Select) is releasing a compilation of his A&M music, called "Evergreens: The Very Best of the A&M Years" in November. (Read all about "Evergreens: The Very Best of the A&M Years" here)

Rod Reynolds
Los Angeles
Thanks Rod for the account and the pictures of your memorabilia that Paul autograph.
Thanks to Alan Mercer for the celebrity photos.
-----------------------------------------------------------------------------------------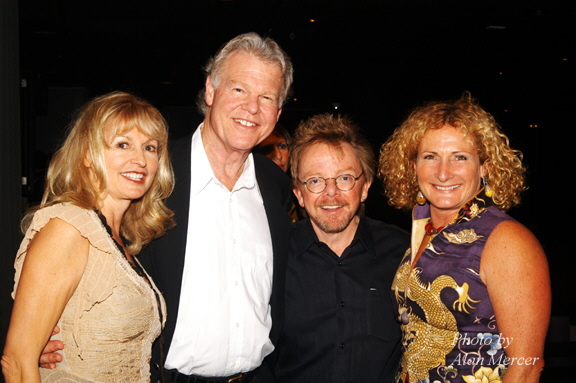 Paul Williams with his fiancée, Mariana, and friends

-----------------------------------------------------------------------------------------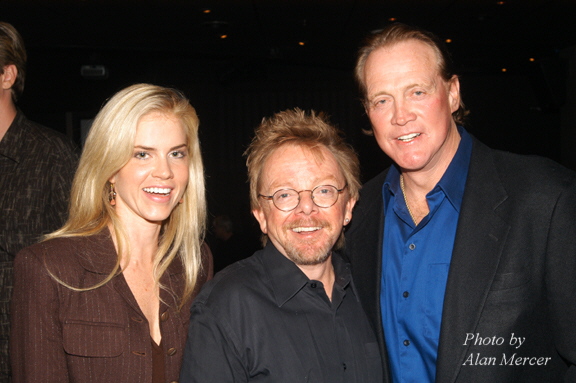 Paul Williams with Lee Majors and his wife
by Larry Post
Last Updated 10th October 2004
We just saw Paul at the Hollywood Roosevelt Hotel's Cinegrill. What a show! Fantastic! He is one of a kind. He kept singing one amazing song after another and never took any credit. He always credited someone in the band, his collaborator, etc. After the show, Paul went out into the hall to greet the audience. Talented, humorous, poignant and class all the way!

Feinstein's at the Cinegrill is a fairly small caberet/night club in the Hollywood Roosevelt Hotel, in the heart of Hollywood. Although I am not a Paul Williams follower, I had seen and heard him enough to know that this could be a very entertaining evening. I wasn't disappointed. What a show!
Paul Williams with Bud Freidman.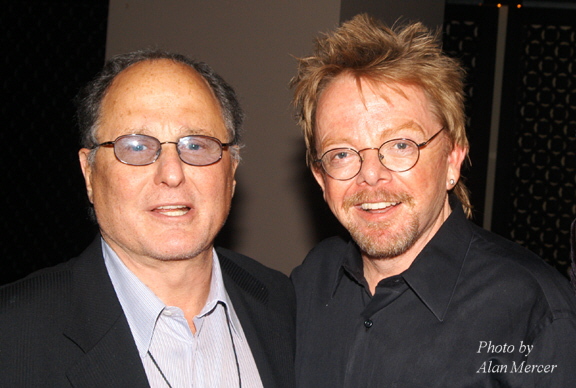 Paul combines great talent with a keen sense of humor and a big dose of humility (giving others credit when they were part of his songs, etc.). By the end of the evening, he had the audience enchanted. He started by saying that he had been nervous that attendance would be low because it was the night of the second presidential debate. He was also nervous that whoever reviewed him (Variety?) would be unkind but that wasn't the case. (See the Variety Review here). He also commented that the venue had six support columns that obstruct views.

Paul and his band pretty much played his entire songbook of popular songs. Each was laced with anecdotal stories that made it very personal and interesting. He mentioned his age (64) and, of course, his short height. He also alluded to his battle with alcohol (he has been sober for 14 years), and his marriage (his kids and ex-wife were there). He joked about the alcohol saying that once he met someone and introduced himself and the man said "Don't you remember? We spent a weekend together."
Paul Williams with Sally Kellerman & Bob Esty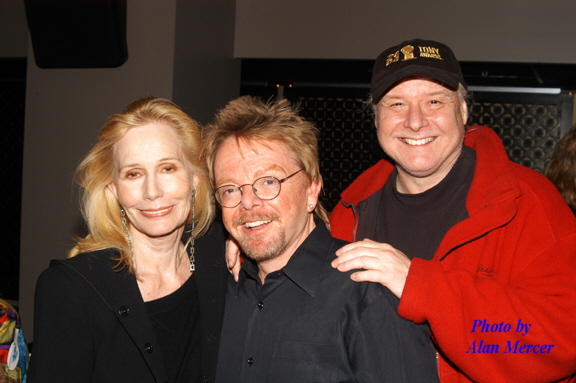 The audience included Larry King and his wife, Peter Marshall ("Hollywood Squares" host), producer Gary Marshall, a major actor from Seabiscuit (whose name escapes me) and Melissa Manchester, who he has done concerts with Paul and shares some band members with him.

At the end of the evening, as we left, the first person in the hallway was Paul himself!! He asked us our names and how we liked the show. What a sweetheart! I am fairly involved in local charities and my goal is to find a way to hire Paul to perform at one of the events.

Larry Post
Thanks Larry for the account.
Thanks to Alan Mercer for the celebrity photos.
---
PAUL AND MELISSA MANCHESTER TOGETHER
Concert Reviews from 2003 leg of the tour added here
Concert Reviews from 2004 leg of the tour added here
---
READ ALL ABOUT PEOPLE'S WONDERFUL EXPERIENCES OF SEEING
PAUL WILLIAMS
Go to Paul Williams - Personal Experiences Index Page

Return to Paul Williams' Music and Acting Home Page
Email me, David Chamberlayne, at:
Davidswebpages@paulwilliams.co.uk