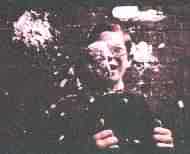 New York, 1929. It is a dark, rainy night. Roxy Robinson rushes across the wet side-walk and takes refuge in a deserted alleyway. Suddenly, he realises his four pursuers have trapped him in a blind alley. What's more, the hoods are carrying a dreaed new weapon: The Splurge Gun. In seconds Roxy is splurged. New York City is a tough place to live in 1929.
Gang Leader Fat Sam (John Cassisi) explodes when he is told the fate of one of his best men. What makes it worse is that Dandy Dan (Martin Levi), his dreaded rival, is behind the dirty deed.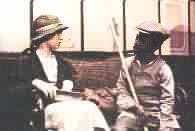 As Fat Sam rages inside the office of his Speakeasy, Blousey Brown (Florrie Dugger), a newcomer to the Big City, is told that she is unable to have an audition for a singing spot in Fat Sam's Speakeasy show. Fizzy (Humpty Albin Jenkins) the speakeasy cleaner, tries to cheer her up, but to no avail.

On her way out Blousey meets a sympathetic Bugsy Malone (Scott Baio). With an Italian mother and Irish father, Bugsy had naturally grown up a little confiused but he is always ready to help a pretty lady in distress.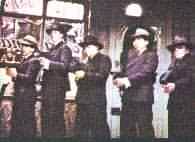 Suddenly, their meeting is interrupted when five hoods burst through the door of the Speakeasy and chaos erupts as they begin to splurge the place.
Dandy Dan continues his harassment of his opponent's various enterpnses throughout town and Fat Sam's best men fall victim to the splurgings.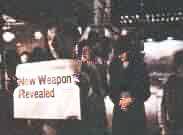 New York is thrown into a state of confilsion as the news of this latest gang war spreads throughout the city. Captain Smolsky (Paul Chirelstein) and Lieutenant O'Dreary (Andrew Paul) are assigned to the case, but offer no solutions.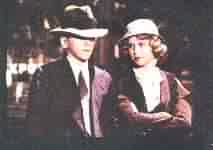 Bugsy is fascinated by Blousey. She even confesses her dreams of Hollywood and stardom and after another unsuccessful attempt to land a part in a Broadway show, Bugsy promises Blousey to fix up a job for her at Fat Sam's.
Bugsy visits the Speakeasy the following day and is confronted by Fat Sam's cool and sharp tongued girlfriend Tallulah (Jodie Foster).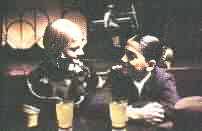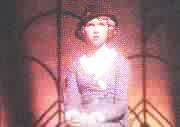 She turns her attention on to Bugsy. Blousey walks in on the scene. Out of jealous rage she forces Fat Sam into auditioning her and wins the job herself.
How can Fat Sam fight Dandy Dan as long as Dan's gang possesses the dreaded splurge gun? His efforts to acquire the guns end in his whole gang being splurged at a Chinese Laundry. With his gang-land position threatened Fat Sam, with the help of an out-of-town hood, Looney Bergonzi, sets up a face-to-face confrontation with Dandy Dan. Bugsy decides to take on the job as Fat Sam's driver. The money would come in handy to buy two tickets to Hollywood for himself and Blousey.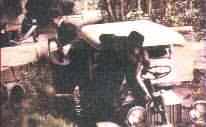 The meeting ends up with both sides double-crossing one another and an all- out splurge attack by Dandy Dan's hidden gang. Bugsy saves Fat Sam from certain splurge and in so doing is handsomely rewarded.
Bugsy proves his affections for Blousey and they plan to leave for Hollywood the following day but on his way home Bugsy is jumped upon by a group of down-and-outs and although saved from physical harm by Leroy (Paul Murphy), the down-and-outs make off with all his money.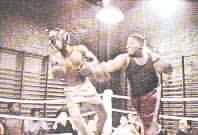 Leroy a large lad with a jacket full of muscles, has just about the best punch Bugsy has ever seen and Bugsy knows a great punch from way back. To recoup his losses Bugsy decides to manage Leroy and turn him into a champion boxer.
With his gang all gone Sam is convinced he can only beat Dan with Bugsy's help. Bugsy has brains. He sends Tallulah to entice Bugsy into working for him, but Bugsy doesn't want any part of it, but is won round by Sam's bank roll.
Bugsy and Leroy discover the whereabouts of the guns: Dock 17, East River.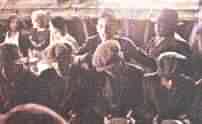 Bugsy decides he must form a gang of his own if he is to be successful in capturing the heavily guarded splurge guns. He enlists the help of a group of down-and-outs from a nearby missionary hall.
Together they attack the warehouse defeating the remaining gang members and making off with the guns.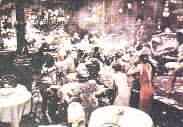 Dandy Dan, thinking Fat Sam is now left totally defenceless, decides to move in on the Speakeasy. But he is surprised by Fat Sam's new found gang and a major splurge battle ensues.
Bugsy rescues Blousey from the turmoil and the two of them drive off into the sunset, leaving Razamataz and the Band to raise the spirits of the be-splurged Speakeasy combatants.

The Main Players

ALAN PARKER (Writer and Director)

Alan Parker, who won both an American Emmy and a British Academy Award for his film "The Evacuees", says, "I wrote 'Bugsy' because my own kids kept nagging me that going to the pictures wasn't as special as I kept telling them it ought to be." On directing a cast of 200 kids, "I said from the beginning we weren't making just a kid's film. I treated them like adults and so expected them to behave like adults. And, all in all, it worked out very well. Perhaps they didn't hit their marks as often as they ought to, but there again we didn't get any grown-up tantrums eithel''

PAUL WILLIAMS (Words and Music).

Successful singer/composer he is best known, outside the States, for his million-selling songs for The Carpenters: "Rainy Days And Mondays" (click here for the lyrics of this song) and "We've Only Just Begun" (click here for the lyrics of this song). His other number one compositions include Helen Reddy's "You And Me Against The World" (click here for the lyrics of this song) and Three Dog Night's "Just An Old Fashioned Love Song" (click here for the lyrics of this song). His songs have been recorded by scores of different artists including Andy Williams Tom Jones, Frank Sinatra and Barbra Streisand. (He has just completed the song score for her remake of "A Star Is Born"). His previous work on film have both resulted in Oscar nominations. He says, "It would be nice if it was three times lucky with Bugsy because it really has been a labour of love."

The Soundtrack Album

Polydor Records will be releasing the Paul Williams soundtrack for Bugsy Malone. All ten numbers will be included and the sleeve will open up to reveal a spread of colour stills from the film.

"Every so often we get a soundtrack album that's not just the score from a film but a hit record in its own right. I believe this to be just such a record.''

Freddy Haayen (Managing Director, Polydor Records)

See the following for more information on the Soundtrack Album:

- Comments on the ten songs in "Bugsy Malone"

- Where To Buy The "Bugsy Malone" Album

The Paperback Book

"Not just another film tie-in paperback best-seller/ but a novel to delight a million readers - adults as well as children. Bugsy in print is as funny as on the screen - a great read in its own right. Published first in the U.K. by Armada Books, and by Bantam in the U.S.A. Illustrated with 8 pages of stunning stills, the book will be launched on film release to maximum trade publicity."

Marion Dickens (Editor, Armada Books)
A big thank you to Andy Langran for sending me all the information and many of the images on these 'Bugsy Malone Press Kit' pages. Andy himself has Web pages dedicated to
Ralph McTell, Harry Chapin and Crosby, Stills & Nash
---
Click on one of the headings below to find out more about
"Bugsy Malone"
- Paul Williams Personal Reflections on Bugsy Malone
- "Bugsy Malone" Press Kit (Part Two) - including 'The Cast And Film Crew,' 'The Cast Biographies,' and 'The Film Fact File'