A Detailed Account of Paul Williams Contribution To His Tribute Concert.
" What I desperately needed was to hear the things tonight that I heard all in a row like that, included songs that were never even recorded, songs that were on Demo albums." See what Paul had to say on the night by clicking here.
Last Updated 12th October 1998

"I will briefly tell you about the night. He (Paul) got a bit tear-eyed on "We've Only..." and couldn't finish it. He said it will always be Karen's song." See Brendas report on the night here.
Last Updated 12th September 1998
"He was so sweet at the concert, and so sincere, as he talked about the work of the MAP (Musicians' Assistance Program), and how much it meant to him to be able to help other Musicians come back from drug/alcohol addiction." See JJs report on the night here.
Last Updated 3rd October 1998

"Also on hand, of course, was the man himself,Paul Williams--who enthusiastically chatted with enthusiasts of his music" See Lisa Derrick's review on the night here along with some photos of Paul in concert in Canada - date unknown.
Last Updated 13th October 1998
---
DAVID B PONAK (OF MELLO CADS) OWN ACCOUNT OF THE EVENING HE HELPED ORGANISE
Last Updated 31st August 1998

"While everything's fresh in my mind, I've decided to write a detailed, completely non-objective review of the evening of August 15, 1998, the night of the Paul Williams tribute concert which I co-produced and m.c.'d. While the show had been in the works for months, the bulk of the preparation happened in just the last three weeks, which have been one of the most intense times of my life. The initial idea for the show came from Stew from the incredible Los Angeles band, The Negro Problem. Stew was really inspired after hearing "To Put Up With You" for the first time on my KCRW radio show, The Nice Age, and asked me if I'd be interested in putting on a Paul Williams tribute show.
TNP's manager, Brian Bullen, came up with the idea of it being a benefit for MAP (Musicians' Assistance Program), a great organization that helps music industry people cope with drug and alcohol addiction. Paul is on the board of MAP, and was very enthusiastic about the project, agreeing to perform and help in any way. After a meeting between myself, Brian, Paul and MAP's Buddy Arnold and Carol Fields-Arnold, the project was underway.
Stew rounded up most of the artists from the local community, with my task being the coordination of song choices and staging. While some performers had specific songs which they wanted to do, many were open to tackling songs they'd never even heard before. Surprisingly, few people requested the big hits. My ideal was not to present a "greatest hits," overview anyway. I just wanted an evening of great songs, including many rarities and obscurities.
Here's a rundown, artist by artist, song by song, of the entire evening. I'm sure some of you will note that I won't have a bad word to say about any of the performances. That's not just me being biased. Every performance was truly special.
Mello Cads "The Drifter"
Since this is my band, what can I say. Being the host, I offered us as the opening "sacrificial lamb." The club was already packed at the early hour of 9:20 (bands don't usually start till 10) and the crowd was receptive. We did a very straight version, based mostly on the Steve Lawrence recording.
Skip Heller "Ordinary Fool"
Local jazz/lounge/rockabilly producer & performer Skip gave the evening its only dose of simmering r&b with an emotional reading of this Bugsy Malone track.
Sissy Bar "I'm Going Back There Someday" and "Movin' Right Along"
Sissy Bar are funny, loose, jangly, and very pop punk. "I'm Going Back..." was supercharged to pogoing speed. Totally fun and charming.
Tony Perkins "Waking Up Alone"
Tony stripped down the pub pop rock sound of his regular act, Martin Luther Lennon, to just piano and voice for a heartfelt version of Paul's first solo hit.
Michael Whitmore Quartet "Park Ave"
This wins the award for the most "out there" performance of the evening. Very dark, brooding, and dissonant. And it worked!
The Rex Dakota Allstars "Inspiration"
Rex Dakota is the cow-punk alter ego of Scott Taylor from the band Velouria. This was great, starting as a loose country arrangement, and ending as a thrash metal song.
Sunshine Club "What Would They Say"
SC came all the way from San Francisco just for the show. A great, haunting performance. Just keyboards and a stunning vocal from Denise Bon Giovanni.
Charlotte's Bionic Blimp "Let's Ride" and "Evergreen"
CBB are a B-52s and Stereolab influenced and are always fun, kitschy and bouncy. After a perky version of the oldie "Let's Ride," they burned through a thrashy version of "Evergreen" that would have had Babs screaming her way to the emergency exit (and that's a compliment.)
PG-13 "You And Me Against The World"
PG-13 gave a very sweet and charming performance of the Helen Reddy hit. Both whimsical and melancholy.
Single Bullet Theory "Trust"
SBT surprised me by basing their arrangement on the version by Peppermint Trolley. They really captured the delicate nuances of this complex song well.
Carolyn Edwards "Somebody Waiting"
Carolyn, keyboard player for The Negro Problem, gave a haunting solo performance of this super obscure song, written by Paul and Roger Nichols for a children's hospital public service spot.
Probyn Gregory "When Love Is Near"
Ubiquitous local player Problyn, who played with at least 5 acts this night, rounded up nearly all his friends for a truly inspirational version of yet another obscurity with this unrecorded early Paul/Roger song.
The Negro Problem "To Put Up With You" and "Out In The Country"
This performance was amazing. "To Put Up With You" was very laid back, with Stew really laying behind the beat with his vocals and having fun with the phrasing. "Out In The Country" was done as a funk song, featuring many of the other performers joining along on the chorus, in addition to jazz veteran and MAP maven Buddy Arnold doing a searing sax solo. This felt like a finale for the entire evening, but we'd only just begun. (sorry!)
INTERMISSION
Phantom Of Paradise Segment
The second set started with a performance of 5 songs from Phantom. This music was obviously a crowd favorite, judging from the cheers just the title received from the audience. Jupiter Effect, featuring ex-Three O'clock singer/bassist Michael Cuercio starting with a rousing version of "Goodbye, Eddie, Goodbye" followed by WACO's intense version of "Faust", performed with a chamber sound. The Bell Starlings gave a rocking, intense take on "Phantom's Theme (Beauty And The Beast)" followed by a beautiful reading of "Old Souls" by ex-child actor Robbie Rist and his better half, the lovely Lisa Marie Michaels. Lisa's moving vocal was further dramatized by a fake wrist slashing. Simon Glickman, the lead singer of local pop rockers Spanish Kitchen closed the segment with a rockingly flamboyant version of "The Hell Of It", backed up by the Mello Cads.
The Mello Cads "Traveling Boy"
I had the daunting task of following up the very popular "Phantom" segment, but managed not to get the cold shoulder with an overly melodramatic version of "Traveling Boy," one of my favorite lesser known Nichols/Williams songs.
Kristi Kallen "Let Me Be The One"
The Cads once again acted as house band backing up ex-Wednesday Week singer Kristi Kallen on a lovely version of this Carpenters track.
Wondermints "Bitter Honey" and "Morning I'll Be Moving On"
This was pure pop heaven, with the Wondermints delivering meticulously arranged and performed versions of these two rare classics, the former a single from Paul's first group The Holy Mackerel, the second from Paul's classic debut album, Someday Man.
Lisa Jenio "Bugsy Malone"
Backed by the Wondermints, Lisa gave a cute yet gutsy performance of the theme from the Alan Parker film.
Double Naught Spy Car "An Old Fashioned Love Song"
DNSC are an all instrumental band featuring lap steel guitar that sound like the Ventures being arranged by Frank Zappa. Their version was barely recognizable, but amazing.
Cockeyed Ghost "Do You Really Have A Heart"
Adam Marsland and his band tackled this Someday Man classic having never heard it before getting involved with this show, and did a great, rousing and rocking version.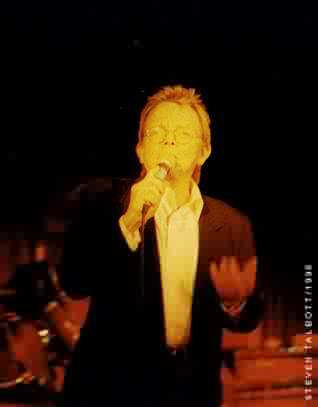 Paul Williams ended the evening with a touching and emotional set. Performing with longtime keyboardist Chris Caswell, he started the set with "I Won't Last A Day Without You." Spaceland is normally a pretty noisy club, but you could hear a pin drop. He continued with versions of "Nice To Be Around" and "Loneliness", peppered with emotional but funny between song banter. Paul then brought the house down with an incredible "Rainbow Connection", which he says is his all time favorite out of his own songs. Paul nearly came to tears during a medley of "Rainy Days And Mondays" and "We've Only Just Begun" remembering Karen Carpenter. This was followed by "That's Enough For Me", and after goofing around with an impromptu bit of "The Love Boat", Paul closed his set with a version of his new song "You're Gone", a current hit for country group Diamond Rio.
The crowd not yet satiated, the Mello Cads came back on stage along with many of the other performers to back up Paul for a rousing finale of "Someday Man". Paul told me he hadn't sung that song for 20 years.
And that was that!
This was great night for all the musicians involved and for the audience, but most important was the effect it had on Paul himself. All night, he was dancing and singing along to every song. He loved even the most out there performances, and was blown away by the obscurity of some of the songs performed. His reaction was my biggest reward of the night. Not to sound sappy, I'm so happy that I could contribute to such a great gift to one of my musical heros.
If you were there, thanks for joining us. If not, "wish you were there.""
Take care,
David Ponak
(Thanks to David Ponak for providing us with such a full account so soon after the event. An obvious labour of love.)
-----------------------------
Back in 1998 David Ponak of the Mello Cads organized the first Paul Williams Tribute Concert in LA. (See here for full details)

This was followed by the Losers Lounge organizing a similar tribute to Paul in New York last year
(See here for full details)
On 22nd May 2002, I received the following exciting news:

The Mello Cads album, Soft As A Rock, was released this week and features Paul Williams. He does a duet on the record, and a spoken part. The album contains 2 of Paul's early tracks sung by the Mello Cads. The Drifter, which can also be found on the recent 'We've Only Just Begun' album (see above), as well as To Put Up With You from the Someday Man album .
What is exciting is that one of the three bonus tracks is another version of The Drifter - featuring Paul himself
For more information on the CD go to:

http://www.franklincastle.net/mcads.html

To purchase the album, go to:

http://www.darla.com/catalog/catalog.asp?alpha=M
Thanks to George Faulkner for the above information
--------------------------------------------------------------------------------
To find out more about the 'Musician's Assistance Program', where Paul Williams is on the Board of Directors, click here
---
READ ALL ABOUT PEOPLES WONDERFUL EXPERIENCES OF SEEING
PAUL WILLIAMS

Return to Paul Williams' Music and Acting Home Page
Email me, David Chamberlayne, at:
Davidswebpages@paulwilliams.co.uk