THE LOSER'S LOUNGE PAUL WILLIAMS  TRIBUTE CONCERT
WESTBETH THEATRE - 151 BANK STREET, NEW YORK CITY
15TH JUNE 2001
I have added an MP3 sound file of part of Paul Williams thank you to the performers for all they did to make it a very special evening. (You will need to view the page for a few minutes whilst the file downloads - so take a look around whilst you're waiting) If you want to hear it again just press the reload. If the sound file does not load, you can play or download it from here.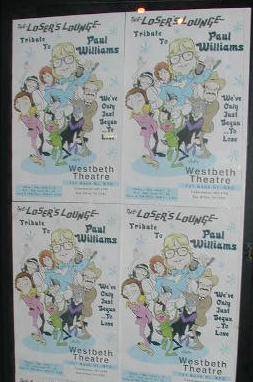 Last Updated 29th June 2001
(When you click on the red/green below you will be taken to a page with more detailed information. If you click on the song titles mentioned, you will be taken to a list of Paul Williams' albums/singles/TV shows where that song appears. When you click on any of the pictures below you will be taken to a larger version of the image.)
On 15th June 2001 Paul Williams attended, and performed at a 'Loser's Lounge' Tribute concert to his music. The Loser's Lounge group of musicians have performed Tribute Concerts to many musicians over the years, but this is the first time the 'Tributee' has attended and performed. I was fortunate to attend the event whilst in New York. It was a wonderful event and I will endeavour to give a flavour of the event in words and pictures below. To find out more about the amazing group of musicians who are 'The Loser's Lounge' take a look at their web page here. Also see:
The Loser's Lounge Artists Picture Gallery
---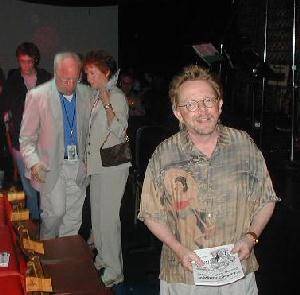 Paul arriving at the 'Loser's Lounge' with friend Richard Dreyfuss
Last Updated 14th July 2001
Cathy Cervenka with Paul Williams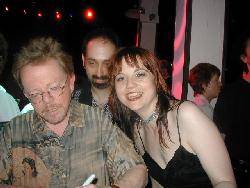 The idea of the Loser's Lounge doing a tribute to Paul has been around for some time. I was delighted therefore when I heard from Cathy Cervenka, one of the organisers and performers at the Tribute Concert, announced that there were to be 5 Paul Williams Tribute Concerts in New York in June. Since my wife Ann and I were due to be in New York to help celebrate Paul's induction into the Songwriters Hall Of Fame we were therefore able to attend the Loser's Lounge Tribute on 15th June.
The concert was extra special to me as it would provide me not only my first taste of seeing Paul Williams singing solo on stage, but would also give me a chance to meet many Paul Williams Fans I had been corresponding with over the past few months / years. Were these horror stories about meeting Internet friends going to come true :)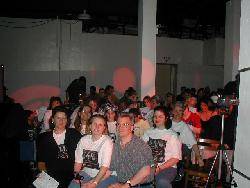 I suspected however that because of our common love and respect for Paul and his music that I had a real treat in store being able to put faces to names. I also knew that I would be able to recognise my fellow Fans because they would be wearing the wonderful T-Shirts that Claire had designed to celebrate Paul's induction into the Hall Of Fame. (Although I have an aversion to wearing any form of 'common uniform', I swallowed my pride and made an exception in this case!!)
After we had said our greetings at the door we were ushered into our seats. A corner of the theatre had been reserved for us so we were able to sit together and continue our 'getting to know you chatter'.
Ann, my wife, with Richard Dreyfuss
Shortly after our arrival Paul arrived along with his daughter Sarah, and a number of friends including Hal David and actor Richard Dreyfuss and his family.
Both before the concert, during the interval and afterwards, Paul and his family and friends were happy to chat to the audience as well as have their photos taken. Having met Paul now on a few occasions it reminded me of the first time I met Paul and how anxious I was. Paul is wonderful however in ensuring that everyone who want to speak with him or have their photo taken with him gets the chance.
There was also time during the evening for us all to get pictures as mementos of the event.
Ann & I

Claire & Marc Carpentier

Ann & I with
Norma Capocci
Soon the concert itself started. It was truly amazing. All the acts performed with such professionalism and dedication to the music. At the same time it was all done with a great sense of fun, particularly the songs from the films 'The Muppet Movie', 'Bugsy Malone', 'Phantom of The Paradise' and 'Ishtar'.
Rather than list all the songs I have created a 'Picture Gallery' here which has pictures of all the artists who performed, as well as the songs they performed.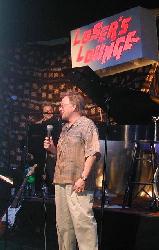 At the end of the evening Paul himself performed 5 songs "Nilsson Sings Newman", "Love Dance", "Loneliness", "You're Gone" and "Rainbow Connection". He then joined in with the other artists to perform the closing song from 'The Muppet Movie' - "Finale – The Magic Store". Here is what Paul had to say whilst he was up on stage:
Joe McGinty: And now I have to say, this is a very special moment in Loser's Lounge history.
We've been doing these tributes for about 7 years or so, and you know along the way we've got some encouraging responses from Neil Diamond…he left a message on our answering machine once….never called back the second time round. Said he was going to call back.
But this is the first time a Loser's Lounge Tributee has ever appeared on stage at the Loser's Lounge…let's hear it for Paul Williams…
Lottts of applause
Paul: You call that losing, you haven't seen nothing yet
Song – "Nilsson Sings Newman"
Paul: That's too high a key…that's not the key I usually do it in. In the spirit of losers everywhere I did it in the wrong key. We've never, ever performed this song, ever, on stage before…this is Chris Caswell.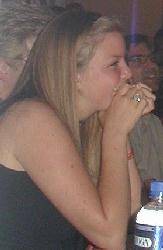 I don't know, I'm probably too emotional to sing. To be able to sit through both an unplugged version of Ishtar… and the Green Day Ishtar. You know my beautiful daughter Sarah is here. She's 16. Honey you're the impact of the lyrics of Ishtar. You know now why I missed your second birthday.
What are we going to do? Shall we do 'Love Dance', shall we do 'Loneliness'? Which one? Play something. When I recognise it I'll start singing.
Song – "Love Dance" (Stops half way through to check with Claire Carpentier what the words are) (Claire has a web page of her own here)
Paul: It was just absolutely amazing to watch your face when I couldn't remember the words. I've never seen somebody have a child without actually having a child. He's lost his mind.
Song – "Loneliness"
Paul: Mr. Chris Caswell.
It's getting late. We can't do that many songs. Major welcome to friends from….there's a gentleman named David Chamberlayne sitting down here, who's come from as far away as Wales to be with us here tonight…and his beautiful wife Ann. David has an amazing web site called "The Paul Williams Music and Acting Pages". I love the fact that you put acting in there too with my parts in "Smokey and The Bandit"…it's fabulous.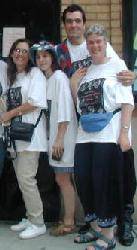 All the people from the Rainbow Connection. The Paul Williams Connection (The Paul Williams Connection closed down Sept 2002) is essentially..it started out as a Fan Club and it has evolved into a service organisation. Most of what these guys do….and look at them they've got my picture on their chest…what more do I need to say about them. It's just fabulous. They've done amazing things to raise money for causes around recovery. I celebrated 11 years sobriety…the world is a safer place you know. Yes the songwriter can be really destructive you know. What if I'd been a pilot or an eye surgeon. You can write in that condition, but by god don't operate. Anyway I love you guys, I'm so glad you've here. I want to give you a special welcome.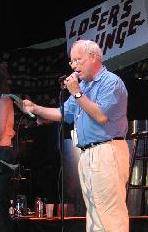 And Richard (Dreyfuss) you are in the will. I will spend a life time paying you back for that moment (when Richard sang "Rainy Days and Mondays"). You were spectacular. You have a natural talent. My friend Richard Dreyfuss. Thank you Richard.
Audience request (I couldn't decipher what was said)
Paul: There are a few years I don't remember. I don't remember that one at all.
This is a song I wrote with a man named John Vezner, a brand new song, about 2 years old now, it's on the new album 'Back To Love Again'. It's a song I wrote in Nashville, Tennessee, my new home.
Song – "You're Gone"
Paul: Cathy and Joe McGinty, all the Losers on this stage. You know there were a lot of songs a lot of you have never heard before. I know. I wrote all those songs except one that I'm sitting there going…I'm listening to 'Drift Away' and I go Mentor (Paul's brother), are you sure I wasn't in the room when I wrote it. It's such a great song.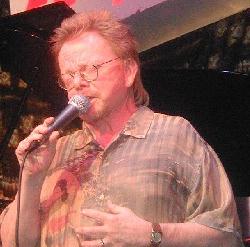 The amount of work that went into this night. This has been like Christmas and I just got to tell you that it's been a week in New York that we will never, ever forget. We've never experienced….
I have never been prouder to be a true Loser than I am here, and I hope that I will be considered the kind of Loser that belongs at your kitchen table.
(Over the Introduction to 'Rainbow Connection')
I'll tell you today I'm a little closer to understanding what the Connection is. I have a wonderful life.
Song – "Rainbow Connection"
You can download an MP3 File of the following Finale HERE
Paul: If you saw 'The Muppet Movie' you'll know that there were some special lyrics written for the end of it. This is probably my philosophy stated in frog. Incidentally all the songs I wrote for 'The Muppet Movie' I wrote with Mr. Kenny Ascher, a fabulous talented man. So many of these other songs with Roger Nichols, great, great songwriters. OK guys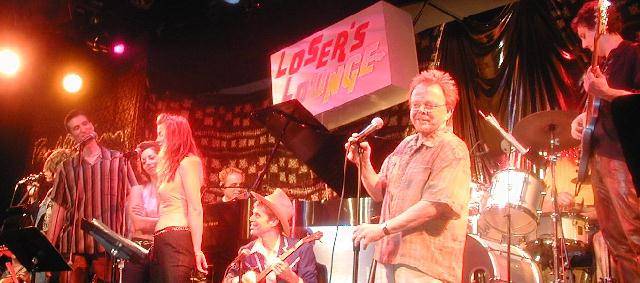 Song – "Finale – The Magic Store"
Why are there so many songs about rainbows,
That's part of what Rainbows do,
Rainbows are memories, sweet dream reminders,
What is it you'd like to do
All of us watching and wishing we find it,
I've noticed that you're watching to,
Someday we'll find it, the rainbow connection,
The lovers, the dreamers, and ..
Life's like a movie, watch your own ending,
Keep believing, keep pretendindg,
We've done just what we set out to do,
The lovers, the dreamers and you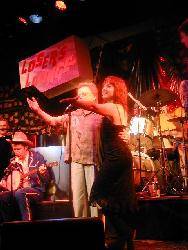 ---
The Loser's Lounge Artists Picture Gallery
Paul Williams In New York Home Page
Songwriters Hall Of Fame Induction
---
READ ALL ABOUT PEOPLES WONDERFUL EXPERIENCES OF SEEING
PAUL WILLIAMS
Go to Paul Williams - Personal Experiences Index Page

Return to Paul Williams' Music and Acting Home Page
Email me, David Chamberlayne, at:
Davidswebpages@paulwilliams.co.uk