PAUL WILLIAMS  IN NEW YORK HOME PAGE JUNE 2001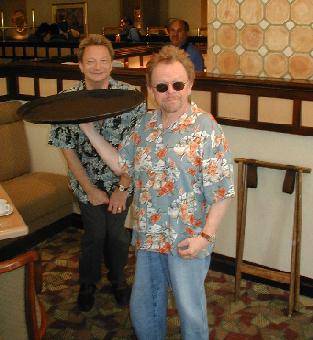 Paul with his accompanist Chris Caswell
Sheraton Hotel & Towers, New York City, 15th June 2001
Last Updated - 29th July 2001
(When you click on the red/green below you will be taken to a page with more detailed information. If you click on the song titles mentioned, you will be taken to a list of Paul Williams' albums/singles/TV shows where that song appears.)
MY INTRODUCTION
Where to start....
Left to right: Ann (my wife), Judy, Paul, me, Claire and JJ at the Songwriter's Hall Of Fame Induction
I guess the above picture sums up many of the elements of an amazing week for my wife Ann and I in New York between 11th and 17th June 2001 (or should I be saying 11th through 17th since we were in the US!!)
During the week we: attended Paul Williams Induction into the Songwriter's Hall Of Fame; had lunch with Paul, two of his collaborators (Chris Caswell and Kenny Ascher) and the group of admirers who had attended the Induction; and went along to the Loser's Lounge Tribute concert to Paul, at which Paul performed. We also had the privilege of meeting many internet friends 'face to face' and slipping in a bit of sight seeing round the Big Apple.
| | | |
| --- | --- | --- |
| Induction Finale | Paul and Kenny Ascher | Paul and the Loser Artists |
| Ann at the World Trade Center | Christine Schott and I over the road from the Sheraton Hotel & Towers where the induction was held | JJ and I visiting Liberty |
You can see larger images of the above by clicking on them
This therefore is the 'Home Page' of my New York pages. I will endeavor to give a flavour, through text, pictures and sounds of my experiences in New York. I will start with pages dedicated to 1) The Songwriter's Hall Of Fame Induction, 2) The Loser's Lounge Tribute Concert.
At a later date I will add accounts and pictures of: Meetings with friends I have made on the Internet through our mutual admiration of Paul and Views of New York for anyone who is interested in that kind of thing. I will start off below, however, with accounts from some of Paul's other admirers about their time in New York.
Added 15th July 2001
Added 15th July 2001
Added 29th July 2001
Added 3rd August 2001
---
Last Updated

15th July 2001

Spent several months e-mailing David during our production of Bugsy Malone.
Suggested he come to Ohio before leaving the states. He suggested me coming
to NY and then the wheels in my head started turning. Once I decided to go
to NY, I had 5 goals:
1 See Paul Williams perform at the Loser's Lounge
2 Meet David Chamberlayne and his wife Ann.
3 Tap dance on the stage of Radio City Music Hall
4 Spend time in NY w/my good friends John DeMase & Chris Burke
(formerly of "Life Goes on")
5 See 42nd Street

I did it all and much more with three friends, Linda Cavella (choreographer
for Bugsy Malone), Joyce Stoll (a fellow tap dancer) and Sandy Sells.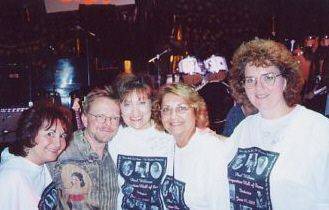 The Ohio Connection - Joyce, Paul, Norma, Linda and Sandy

Arrived Wednesday and got to meet Claire. What a lady! Found David & Ann in
the lobby also. What a treat. Can't miss David... he is soooo tall! They
were every bit what I expected - so, so nice and we hit it off immediately.
Ann is a lovely lady and so personable. I felt like I knew her for years!
Shopping and a horse/carriage ride in Central Park topped off the night.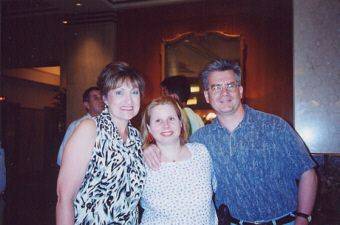 Norma with Claire and Marc Carpentier

Thursday was spent in lower Manhattan seeing the Statue of Liberty, Soho
district, Chinatown & Little Italy. Found a perfect Father's Day present for
my husband. A CD with Italian accordion music in a little shop where no one
spoke English! The CD was in Italian. I wasn't sure what I bought but it
looked good. It was a hit when I got home. I also found a music book with
all Italian Songs for piano or accordion. My husband plays keyboard and
accordion... I did good!

We got back to the hotel too late to see all the celebs arrive for the
Induction. Darn! Missed seeing Paul in his tux! Went to see 42nd Street
and arrived back too late to see all the celebs leaving - missed Paul again!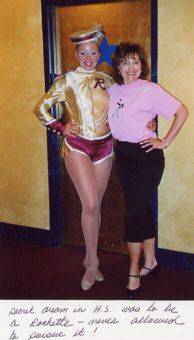 Friday a.m. visited St. Patrick's Cathedral (Beautiful! Put everyone in my
prayers and lit many candles.) Got back to the hotel to find David and Ann
in the lobby. They had lunch with Paul - missed seeing Paul again by about 5 minutes! I've got a good batting average going here!

Off to the Tribute. Lots of waiting and anticipation of Paul's arrival. Got
to meet so many other Fans.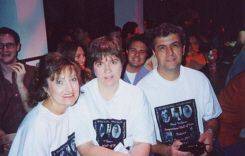 Norma with Analia and her husband Juan from Uruguay
Lucky for me I had to use the Ladies
Room. On my way out stopped to talk to Marc Dottore and there he was (had
just arrivied)....tapped him on the shoulder and got a long awaited hug from
the man who came all the way to Ohio at my request to appear in Bugsy Malone.
The least I could do was go to NY to pay tribute to someone I grew to love
in such a short period of time. Got to meet Sarah.
Got pictures with Richard Dreyfuss & Chris Caswell.
Norma, JJ and Paul Williams friend
Richard Dreyfuss

Norma and Chris Caswell, Paul's accompanist at The Loser's Lounge Concert
The tribute was wonderful. All those very talented
artists performing Paul's works. The crowd was wild! The smile on Paul's
face as he watched...he beamed! The warmth and joy he was experiencing as he
received all the acclaim just radiated from his being. One word describes
the Paul Williams, the generous, gentle man, I have come to know.....Charismatic!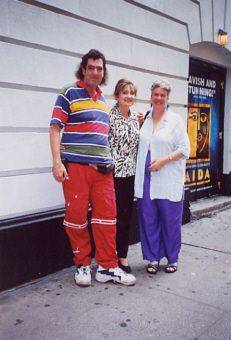 Norma with Ann and I

Spent Saturday with David & Ann. After dinner they were off to Little Italy
and we Ohio ladies were off to bed. Left at 5:30 am for Ohio.

David, I am off to sleep. Tell Ann I said hello.... wish you guys lived
closer!

Your friend,
Norma
Thanks Norma for the great report and pictures
---
ANN CHAMBERLAYNE (MY WIFE)IN NEW YORK

Ann
Last Updated 15th July 2001
Sometimes, for me, words are not enough to say how I feel about a moving experience.....so how does Paul "capture" us with his words? Maybe if you play one of his songs while you're reading this!?......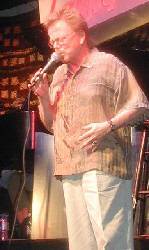 We're all individuals with characters of our own - and boy did I encounter some in New York ! But uniting us there is a flowing undercurrent. It seems to me, Paul floats with that current and brings it to the surface through his words and voice. Reminding us all of...our common humanity, God, the Spirit - whatever each of us chooses to call it. It is also known in some parts of the world as the "Rainbow Connection" I believe!!
So for me it was a very special week feeling open to link with some beautiful souls.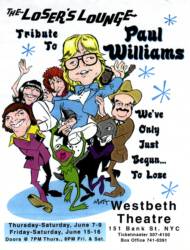 There are too many highlights to write about, but the Loser's Lounge night was very special. A time when all Paul Williams Fans and friends finally gathered together from as far afield as Uruguay & Wales (a country stuck on the side of England). Most of us wearing our shared interest in the form of Paul Williams T-Shirt.
Each performer threw their own inimitable life energy into Paul's enduring songs. What an evening of fun, exuberance, tenderness & seduction. 3 songs in particular stood out for me.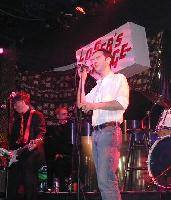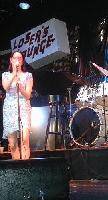 One of my all time favourites "That's Enough For Me", sung with such delicate tenderness (by Josh Tyler) - almost a sigh. One gutsy lady (Lianne Smith) flirted shamelessly with the audience with "I'm Feeling Fine". I've never enjoyed that song so much. And an emotional Paul Williams himself tore at my heart with another favourite "You're Gone".
Claire, JJ, Judy, Chris Caswell, Ann, David, Paul and Kenny Ascher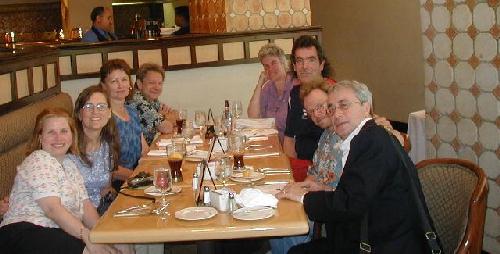 There was a feeling of nervous anticipation - people who were meeting each other and Paul for the first time. I felt fortunate to have 'touched base' with half the group, and Paul before that night. But I was looking forward to seeing Paul perform live.
This being the first time in the Loser's Lounge that the artist himself was not only present but going to perform, there was an electric energy amongst the audience and performers. His presence being another example of his generosity of spirit towards those touched by his songs and by the man himself. His accessibility as an ordinary, down-to-earth person - a delicate balance between his public and private life. Paul was there to the end posing for hundreds of pictures, with queues waiting to meet him.

Happily exhausted, but unwilling to let the evening end, we lept on an invitation from Michael, to spontaneously ferry us around Manhattan site-seeing at night. A fitting end to the evening, was a romantic horse-drawn carriage ride at 2.00 am back to the hotel - courtesy of our new-found friend. New York has a special atmosphere of its own at night.
I felt I was meeting people with a lot of barriers already taken down, with admiration of Paul our common bond. Of course, I vicariously knew the Committee members through David and the video of last year's Meet. I was, however, touched by JJ and Claire's warmth and enthusiastic welcome, as if I were an old friend.
Judy, Ann, Claire and JJ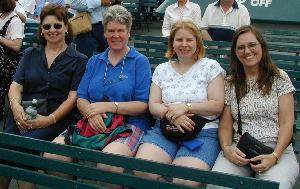 With site-seeing a minor consideration for me, I had such fun getting to know them all. I felt an instant affinity with Judy, who was with Claire and JJ. I formed a particularly strong bond with her. It was beautiful to have shared such quality time with them all and to feel we can pick up again at any time.
David, Juan, Analia and Ann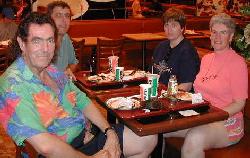 My only regret from this week? That it wasn't longer to enable us to spend more time with everyone, such as: Marc (another Committee member who we met so briefly), Norma and Sandy from Ohio, Christine from New York and Analia and Juan from Uruguay, whose kind and gentle nature is palpable. Having said that, I was ready for home - my senses and emotions overwhelmed and physically drained from nursing a sinus infection throughout my stay.
A big thank you to Claire for her unstinting drive in liaising on the Fan's behalf for two very successful events - The Songwriters Hall Of Fame Induction and The Loser's Lounge Tribute Concert. I look forward to meeting them all again and Sarah, who unfortunately could not make the trip this time. And my love goes to David for openly inviting me to share in this special part of his life.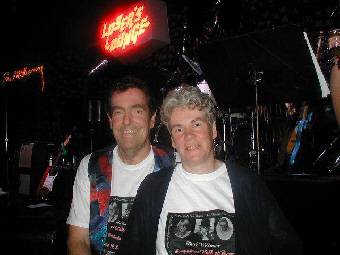 Thanks darling for sharing your memories
---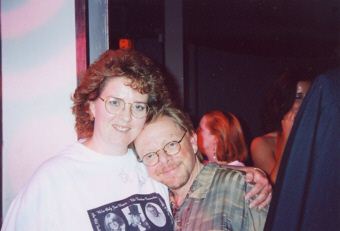 Sandy with Paul
Last Updated 29th July 2001
An Evening With The Losers

Ann, David, Sandy and Norma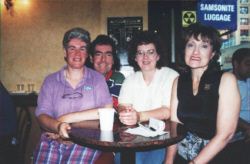 I have admired Paul's music since the 70's and when I found out that he would be appearing at the Losers Lounge in New York, well.. it didn't take much to convince me where I needed to go. My lifelong dream has always been to see him in person singing those songs from my past. That left me with only one thing to do. New York.. here I come!

On June 13th I headed for New York on a little adventure that would take me to see the most gifted and talented artist of all time.. Paul Williams.

Sandy, Linda, Norma and Joyce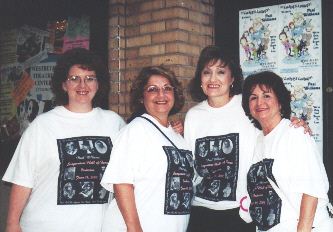 I drove up with Norma Capocci, Linda Cavella, and Joyce Stoll. Norma and Linda worked with Paul on the production of Bugsy Malone which is where I had the privilege to first meet Paul earlier this year. Joyce had never met Paul, so she was in for a big treat!
When we arrived at our hotel I ran into Claire Carpentier. She had just arrived a few hours earlier and was waiting for J.J. (June Jones) and Judy Inman to arrive.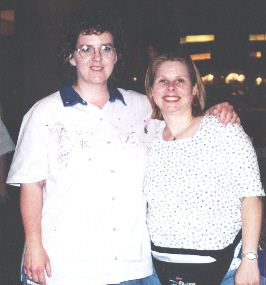 Claire is an absolute sweetheart. She does so much for The Connection (The Paul Williams Connection closed down in Sept 2002) and when I first joined I remember how welcome she made me feel. She knows everything there is to know about Paul and it's always fun to talk to her about something we both enjoy... Paul and his music. I felt as if I already knew her from all the e-mailing we do back and forth. The only thing I regret about my stay in New York is the fact that I didn't get to spend more time with Claire. During our four days there, I would occasionally run into Claire, J.J. and Judy, but everyone had their own schedules to follow so it made it hard to get together. Hopefully the next time we see each other, we can spend some more time together.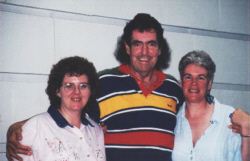 I also met the one and only David Chamberlayne and his adorably sweet wife Ann. They are the most wonderful caring people you would ever want to meet. ( I'm not just saying that because this story is going on David's webpages.. Ha! ) Truth be told.. David and Ann are one of the cutest couples I have ever met. They have a beautiful, warm and loving way about them that makes you feel so welcome.. as if you've known them for years. We had so much fun together.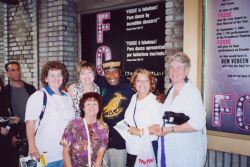 We went to breakfast one morning, saw the Broadway show "Fosse" where we met actor Ben Vereen and had lunch in a cute little restaurant where we had the entire upstairs all to ourselves. And of course.. we musn't forget.. we also spent the evening with the Losers.... and Paul.
Sandy, Norma, Joyce, Ben Vereen, Linda and Joyce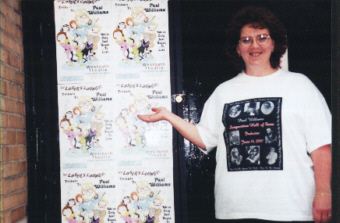 The Losers.... what a roomful of talent! There were thirty two songs performed that evening by some of New Yorks finest! They started out singing "The Love Boat" and ended with "I Won't Last A Day". There were little skits performed here and there and some changes in the style of a few songs and the way they were performed. It added a little twist and some variation to these classic songs.

Our seats for this spectacular event were the best! We sat directly in front of the stage a little off to the right. Pauls table was front and center about twenty feet from where we sat. He was with his lovely daughter Sarah, and good friend Richard Dreyfuss with his two children. Also with them was Chris Caswell ( Pauls accompianist ), his manager, publicist and a few others.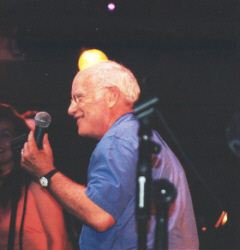 After an intermission break, Richard Dreyfuss came up on stage and sang "Rainy Days And Mondays" to Paul. It was wonderfully heartwarming, funny and came as a big surprise to us all. Richard did an excellent job and also deserves a big hand of appreciation for putting up with all of us members coming up to him before the show started and asking to have pictures taken with him.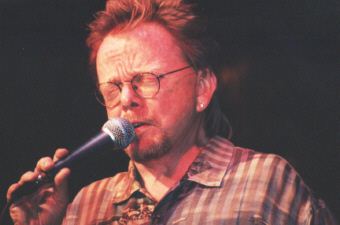 The highlight of the evening and the moment I had waited for all my life finally came about. Paul got up on stage and I was about to see him sing! He started off with the good ole pick-me-up tune of "Nilsson Sings Newman" and also sang "Loneliness", "You're Gone", "Love Dance", and "The Rainbow Connection". He has a voice that soothes the soul with a deeply emotional and intense way of singing his songs. He pulls you right up there with him as you sit there and watch him perform, leaving you mesmerized and wanting more. Never has there been anyone who can captivate the audience like Paul Williams can.
What a treat it was to see him perform live up on stage and work his magic on us all.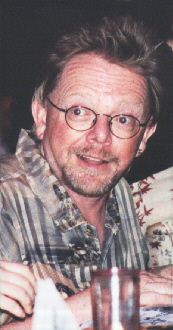 His never-ending thoughtfulness shined like a beacon in the night at the end of the show as he waited around to talk to all who had come to see him. Even when it was past midnight Paul and his unselfish nature kept on talking to everyone and signing autographs and getting their pictures taken.

I had a great time in New York and so much enjoyed meeting Connection members from all around the world! They are a terrific bunch of people who have all been drawn to a man who has shared his heart and soul with us over the years through his music and also shares his words of wisdom as he speaks of his past.
Thank you Paul for making dreams come true...

Thank you Paul for just being you.
Thanks for letting me air my thoughts on your website
Talk to ya later..
Sandy
Thanks Sandy for the great report. Thanks Sandy for the pictures and Norma for the one with Ben Vereen.
---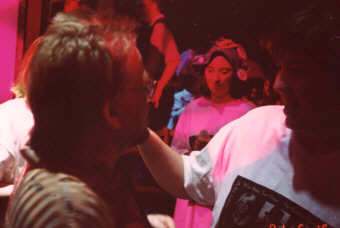 Analia sharing a personal moment with Paul

Last Updated

3rd August 2001

I must confess it: back in March when David mentioned that Paul was being inducted into the Songwriters' Hall of Fame on June 15, the idea of being there came to my mind. But I immediately got rid of it, it was so crazy just to think of traveling to the States to take part of the celebration. So it wasn't until my friend Pepo González said "It would be great if we could go to NY" that I let myself dream of the chance of joining other Fans in this adventure. Hey, Pepo, I acknowledge you all recognition for what happened after that conversation. The only pity is that you couldn't be there yourself this time .

I invited my husband, Juan, to make the trip, and to my surprise he agreed at once: I have realized my PW virus has infected all my environment.

So we tried to combine a few days of vacation in NY, Washington DC and Niagara Falls with the experience of meeting other Paul Williams Fans, attending the Tribute concert and seeing Paul on stage. It was undoubtedly a great experience.

Cathy Cervenka standing in the background
behind Paul's daughter Sarah, Paul and Paul's
manager Marc Dottore at The Loser's Lounge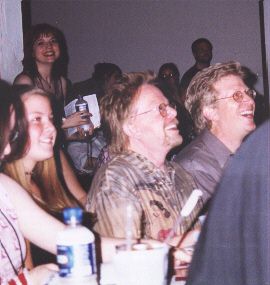 I had been in contact with David, Claire, Cathy Cervenka and Paul himself during the previous days by e-mail, and I was as excited that I couldn't wait to board the plane and arrive in NY. Cathy, who is one of the artists of the "Losers' Lounge" and one of the organizers of the Tribute concerts. She was very kind to me, giving me all information about the concerts and that's why we could attend the first one when Paul appeared on stage: June 8.
We were sitting at the Westbeth Theatre, when Paul arrived and just sat down a few meters far from us. I was astonished nobody in the audience seemed to feel like approaching Mr. Paul Williams to say hello. Ha, these Americans are really different, in my country people would have harassed him with hugs and other expressions of love. I am a shy person and didn't dare to go towards him, when my husband told me "Go there, if you want. Haven't you come all the way here to see him?".
Paul with Analia when he visited
South America in November 2000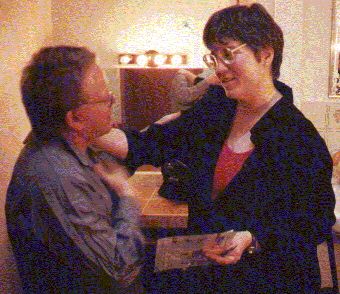 Paul was sat down at the first line of seats, so I went there, I kneeled down in front of him (what an image, certainly), I said I was Analía from Uruguay, and a second after, I had done it: I don't know how, but I had imprinted a kiss on his cheek. I completely forgot that's not the way Americans are used to say hello to strangers. The fact is that he's not at all a stranger to me, though he's probably not aware of it. His voice comes out of my CD player almost everyday, his autographed picture is at a honour place in my living room, my picture with him in November 2000 is on the bookshelf, my daughters know him as "the Phantom's man": he is a constant presence in my life in many ways.
Anyway, Paul didn't seem to be bothered for my Latin explosion, and he talked to me in that lovely way of his, so warm, so nice, that way that makes you feel special. He introduced me to his wife (this time I remembered how to behave and shook hands with her, though I couldn't say anything but "Pleased to meet you", as nervous as I was). She was very nice, and Paul also asked me about my holidays, whether I had had the chance to do sigthseeing in New York. I told him I was going to be back to the concert of June 15, together with David, Claire and the rest of the gang. He said "you are coming with the family, they're family to me". I said goodbye ("see you on next Friday"), shook hands again and went back to my seat, where I prepared myself to enjoy the concert.
Joshua Tyler singing
"That's Enough For Me"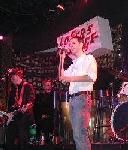 All artists are very good, and I found all parodies to movies very funny. My favourite performances turned out to be those by "our" Cathy (what a great singer she is!), by Lianne Smith (she's terrific on stage) and Joshua Tyler. I had read Tyler was going to perform my favourite PW song, That's Enough For Me, and I didn't have much expectation since I believe nobody can sing it as Paul does. But Mr. Tyler surprised me with a version full with tenderness and emotion. Great job!
Analia with Ann and I on the Staten Island Ferry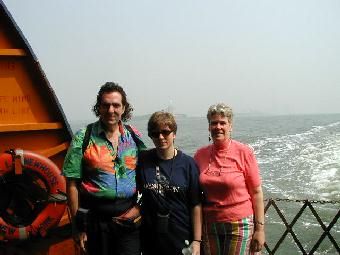 After that concert we left NY for a few days and came back on June 12. On the following morning we had the chance to meet this incredible couple you all already know: David and Ann. How could I say about them that hasn't already been said by who met them during those days? We had been exchanging e-mails for almost a year and it was like meeting old friends. They're very, very nice people, so warm, so kind, that you feel you've known them for ages. And I'm touched by the way they treat each other, with so much evident love and tenderness.
We went to do some sigthtseeing to Staten Island and had a very nice time together. I hope we'll have more time to chat next time we meet (I don't know where, but I'm sure we'll meet again).
The Paul Williams Fans and friends:
Christine, Linda, Joyce, Norma, Sandy, Analia
Nancy, JJ, Hannah, David and Ann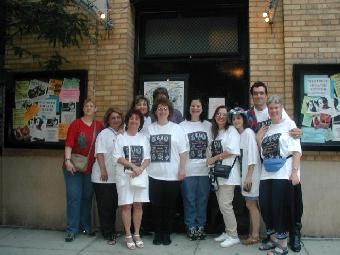 On June 15 evening we went once again to the Westbeth Theatre, in front of whose door we found a group of Fan's, wearing those incredible T-shirts Claire had designed (and that I had bought for ourselves and for my friends Pepo, Cecilia and Ale). We immediately joined them, introduced each others and took pictures there. I remembered having met Norma Capocci (the talented and beautiful lady who organized the Bugsy Malone performance last March), and her friends from Ohio: Sandy, Joyce and Linda. There were also Michael, Christine, Hannah and her sister (we were in NY, remember? J), JJ and her cousin, Judy, Claire and Marc, and of course David and Ann. There was also another young man but he arrived at the last moment and I couldn't talk to him.
Analia putting on her Induction T-Shirt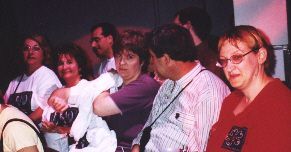 Juan and I got seats by the Ohio representatives and shared the concert with them. All the Fan's are very nice and warm people, but that didn't surprise me at all: we were all gathered around Paul Williams, a unique person who spreads gentleness.
Michael La Morte singing
"Waking Up Alone""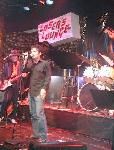 It was nice to see the acts once more, I enjoyed all performances again. It is sometimes difficult to appreciate versions of those songs that are part of one's life and that are made in such a different way. Michael LaMorte made a very special version of Waking Up Alone, which had been a smash hit in South America when released and continues to be probably the best known song performed by Paul himself.
Me entering the Loser's Lounge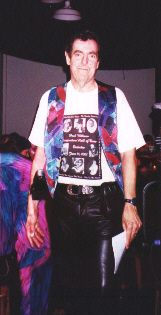 At the end of the Tribute concert, Paul went up to stage and gave us a bunch of songs. It was a magical moment and the vision of David while he was listening to Paul was so touching. This was the first time David could listen to Paul in person (apart from a couple of songs in Ireland), and I am sure he was living the moment in a very special way. He was not looking at Paul all time long; instead, during long moments his chin was resting on his chest, his eyes shut, and probably all his emotions and his memories were deeply moving him. I'm sure he's not at all aware of it, but David is the man who made all this possible: the man who devoted so much time and energy and love and admiration to Paul that he created the most impressive website dedicated to an artist I've ever seen. The man who has been in contact with so many fans all over the world during these years, spreading his love for Paul's music and his admiration for the little great genius. The man who has actually been the basis for all this movement around Paul. I felt really happy for David, he deserved every word Paul said about him and more.
Analia & Paul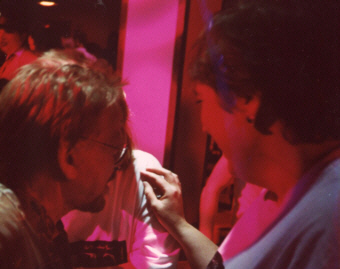 When the concert was over and the lights went on, I waited for my turn to say hello to Paul. I started introducing myself once again "I'm Analía, from Uruguay …", but he said "I know, darling, I know" and he gave me hug. Juan teases me saying poor Paul is already bored of my presence everywhere J . Juan took a couple of pictures of Paul and me but without advise and he ran out of film, so when I tried to be taken a traditional picture of Paul and myself looking at the camera, there was no chance at all. Anyway, I know I'll treasure all the images of that incredible evening for ever in my memory. Paul was so nice to take a couple of minutes with everyone of us and to have special words for everyone who approached him. I asked him when he is coming to South America as he's been planning, and he introduced me to his manager saying "this is the man you have to talk to".
I saw his lovely daughter Sarah there and I only could smile at her, she seems to be a very nice girl; I didn't dare to bother her in my style "I love your Dad's music, he's the greatest poet of our time", and all that. Afterwards, I thought, she's a teenager and she is probably tired of listening to the same things all day. However, when I read in other people's accounts that she is so sweet, I hated myself for being so shy. I didn't dare to meet Richard Dreyfuss either, what a silly woman I am. I think I was feeling Paul had already given so much to us that I just wanted to thank him and go away on tiptoes without interfering any longer with that incredible man, his family and his friends.
Juan, Analia and Ann sightseeing in NY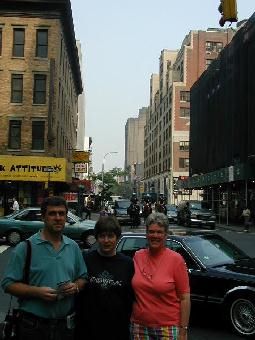 So we said goodbye to David, Ann, Norma, the Ohio girls, Claire, JJ and the rest of the crew. I've spent some time this last weekend sticking on an album all stuff I've lately collected about Paul, as well as the pictures of that unforgettable evening. I am now dreaming of another concert in South America, this time with the presence of all the Fan's who want to come. Does it sound crazy? Well, as I said at the beginning, going to NY sounded insane at first and turned out to be absolutely real and absolutely wonderful. Aren't we dreamers building a Rainbow Connection, after all?
Thanks Analia for a very personal account of your experiences in New York...let's hope we all meet before too long
David
---
If anyone else would like to send in a report of their experiences in New York I'd be pleased to add them to this page
---
Songwriters Hall Of Fame Induction
---
READ ALL ABOUT PEOPLES WONDERFUL EXPERIENCES OF SEEING
PAUL WILLIAMS

Return to Paul Williams' Music and Acting Home Page
Email me, David Chamberlayne, at:
Davidswebpages@paulwilliams.co.uk
>