PAUL WILLIAMS  INDUCTION INTO THE SONGWRITERS HALL OF FAME
14TH JUNE 2001
I have added an MP3 sound file of part of Paul Williams acceptance speech. (You will need to view the page for a few minutes whilst the file downloads - so take a look around whilst you're waiting) If you want to hear it again just press the reload. If the sound file does not load, you can play or download it from here.
If you want to hear part of Judy Collins and Kermit's introduction of Paul, and ALL of Paul's acceptance speech you can download an MP3 of it here. It could take between 5 and 10 mins to download, but it's worth the wait.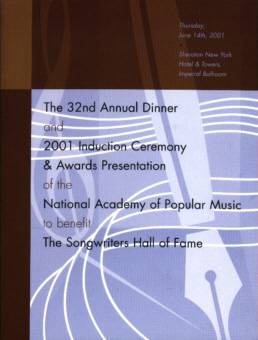 Last Updated 29th June 2001
(When you click on the red/green below you will be taken to a page with more detailed information. If you click on the song titles mentioned, you will be taken to a list of Paul Williams' albums/singles/TV shows where that song appears. When you click on some of the pictures below you will be taken to a larger version of the image.)
On 14th June 2001 Paul Williams received one of the greatest accolades for any songwriter...Induction into the Songwriters Hall Of Fame. Whilst you can find out all about The Songwriters Hall Of Fame here, below you will find 1) an account of my experience of attending the awards dinner as well as 2) a transcript of Judy Collins and Kermit's introduction of Paul and Paul's speech. You will also find a link HERE to my Hall Of Fame Induction Picture Gallery
LATEST - See the Official Photo's of Paul at 'The Songwriter's Hall Of Fame Induction dinner' below
---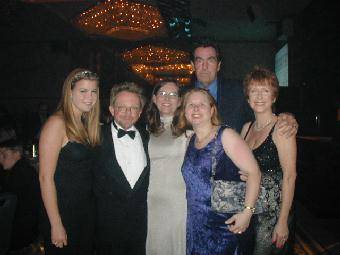 Left to right: Sarah (Paul's daughter), Paul, JJ, Claire, me and Hildy
Last Updated 29th June 2001
Three days after Ann, my wife and I had arrived in New York, the big day finally arrived for Paul's Induction. One of the main reasons for our trip 'across the pond' from Wales to New York. We had spent an enjoyable day combining sightseeing with getting to know JJ, Claire and Judy.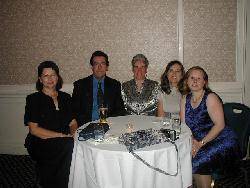 The first port of call was the reception. There were going to be five of us there to support Paul. JJ, Claire and Judy were staying in the hotel where the induction ceremony was going to be, whilst Ann and I were just down the road.
When Ann and I arrived we found the others dressed up in their finery waiting at a table in the reception area in the reception area. This whole experience being new to all of us we spent the next 30 mins 'people watching', eating our canopies.
We were watching out to see if there was anyone we knew, especially 'our Paul'. Since none of the celebs seemed to be there, we guessed that they must be at another reception with the press and other 'really famous people'.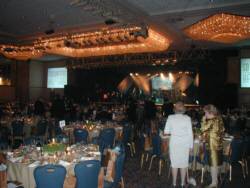 When the time arrived for us to go in for dinner we were first greeted with a room full of 68 tables, with table 1 at the front and 68 at the back. Although we had asked if we could have a table next to Paul's we were unfortunately seated in the 'cheap' seats on table...68.
After taking our seats we examined the 'goody bags' on our seats. As well as the program from the event, there were also three CD's. one of Eric Clapton, one of Dolly Parton and one of Willie Nelson. A nice little bonus.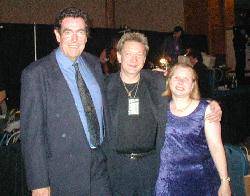 The first person we met was Paul's musical arranger, accompanist and friend Chris Caswell. I had heard a lot about Chris. It was great therefore to finally meet Chris and have my picture taken with him and Claire.
After we settled into our seats I went for a scout around to see where everyone was and see if I could find Paul's table in particular.
After weaving my way through the crowds coming into the room, not an easy thing for a guy of 6ft 4in!!, I found myself at the front of the hall. Who should be there at the front table but Paul and his party including his daughter Sarah. It was lovely to see them again, and especially to have the opportunity to meet with Sarah briefly. It was good to see Paul again and give him a welcoming hug.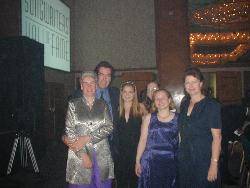 We then had a chance to all get together for a few minutes before the events began to chat and take some pictures. Sarah was very sociable and relaxed and happy to be part what was happening.
Too soon, we had to say our goodbyes to Paul and his family and take our seats for dinner and the award ceremonies. Whilst I have lost track of exactly who was up on stage when, the following took part in the evening ceremonies:
Inductees
Eric Clapton (although he did not show - I think because his partner was having a baby)
Willie Nelson
Dolly Parton
Diane Warren
Paul Williams
Jonny Mercer Award
Billy Joel
Sammy Caan Lifetime Achievement Award
Gloria and Emilio Estefan
Hitmaker Award
Dionne Warwick
Abe Olman Publisher Award
Ralph Peer
Patron Of The Arts Award
Iris Cantor
Towering Song
"Let Me Call You Sweetheart" by Leo Friedman & Beth Slater Whitson
Other Presenter / Performers
Marc Anthony
Richard Belzer
Blu Cantrell
Dminic Chianese
Judy Collins
Elvis Costello
Deborah Cox
Hal David
Clive Davis
Emmylou Harris
Maria Elena Holly (Buddy Holly's widow)
Kermit The Frog
Dave Matthews
Willie Nelson
Tony Randall
Jon Secada
Paul Shaffer
Rob Thomas
Jimmy Webb
Below you will now find Paul's Induction speech in full. I have also added here a picture gallery HERE of some of the people who were presenting and presented with awards on the night.
---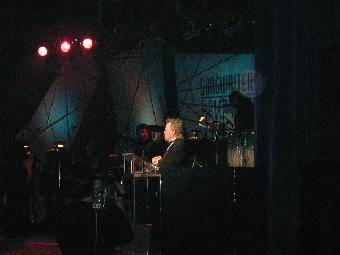 Last Updated 29th June 2001
When it came to Paul's time to be inducted, he was presented with his award by Judy Collins and Kermit The Frog. (You can also hear part of Judy Collins and Kermit's introduction of Paul, and ALL of Paul's acceptance speech you can download an MP3 of it here. It could take between 5 and 10 mins to download, but it's worth the wait.)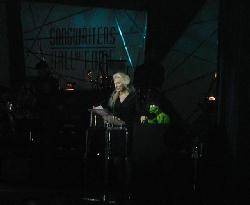 Announcer
Ladies and gentlemen please welcome Miss Judy Collins and Kermit The Frog
Kermit
Hi and thank you
Judy
Kermit, Kermit it's such an honour to be with you tonight
Kermit
Oh Judy it's been such an honour to be here with you too. I've been a very big fan of your work

Judy
Thanks, thanks, and I'm a great big fan of your green, I love your green…and I love what you do
Kermit
Oh really, which part exactly?
Judy
I love everything about you, particularly I like when you go "Hi ho Kermit The Frog"
Kermit
The songwriter does impressions too. That's great
Judy
I'll do my Willie Nelson for you pretty soon
Kermit
Gee I don't want to miss that…but right now, right now we are here to honour a great friend of ours…right, right
Judy
He's a wonderful man, Kermit you know that, everybody know that.
Kermit
Everybody know that
Judy
A wonderful man and, and a wonderful songwriter
Kermit
Well that's true, that's true he certainly is that and a talented performer, and a man I've always looked up to. And Paul that's not just because I'm 2 feet shorter than you are.
Judy
You know some 25 years we've know each other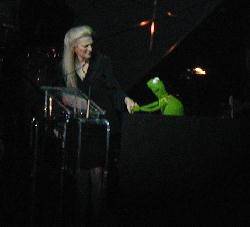 Kermit
You did the Muppet Show back in what…77
Judy
Yes very, very long ago
Kermit
Yes mam, yes mam
Judy
It's good to see you again
Kermit
Thank you
Judy
Paul Williams you know has written some of the most beautiful songs, and heartfelt songs, and wonderful songs. Songs about love and life and…frogs and the human condition
Kermit
He does a great job with the amphibian condition as too
Judy
Has there ever been…
Kermit
..sorry I saw Billy Joel back there…wow…I'm a little star-struck…I apologise for interrupting your speech...cool, cool
Judy
No it's OK, It's OK. Has there ever been a more passionate song…for instance than 'Evergreen'
Kermit
Naturally. It's my favourite for sure
Judy
And how about 'We've Only Just Begun'
Kermit
Oh ya, I hope you're talking about the song and not our presentation
Judy
No, no, no we've almost finished in fact. The song that perfectly captures the nature of love, don't you think? The promise of young love
Kermit
You know, I don't want to pluck my own banjo, so to speak, but I think that the 'Rainbow Connection' captures a lovely mood
Judy
There are so many songs, so many songs about Rainbows, and all the songs and so many more that have been written by Paul Williams. The man who is somehow able to write in such a simple, sincere and unique way about the moments of change in our lives.
Kermit
(Touching Judy) You have very soft skin…and you know getting back to Paul that's not bad for a man who started off as an apprentice race jockey and a ten buck a joke writer for Mort Sahl
Judy
I didn't know about the Mort Sohl
Kermit
I didn't either, I'm just reading the script
Judy
It's all part of the interesting, challenging and ultimately triumphant life of Paul Williams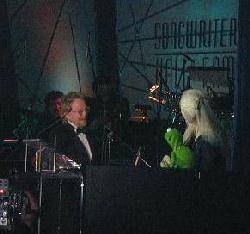 Kermit
The Songwriters Hall Of Fame is proud to induct our very talented friend "Mr. Paul Williams"...yaaaaaaah

Band plays "We've Only Just Begun" as Paul comes up on stage

Kermit
Hi Paul. Are you OK wearing my tux? I'm very naked of course. Thanks Paul



Presentation

Kermit
OK Bye, bye
Paul
Bye , bye Kermey

God I thought so much about what I was going to say here tonight, you kind of build it up in your head even bigger than it is. It's an imence honour, even to just eat with these other people. Being inducted into this amazing organisation is a great honour. I refused to write anything down, I said I'm going to open up my heart and let, and try to let God just talk to me and tell you what I feel about this evening. I wanted to look good, I wanted desperately to look good. I asked Hildy my beautiful wife if it was too late to start doing sit-ups tonight. She said it's too late, you'll just have to go and be authentic Paulie. But it is it's a gathering of (Equals? / eagles). It's a very special night for me. I think of Sammy Caan on a night like this. One of the great pieces of luck that I had is that I arrived in this business, at a time when I could meet someone like Sammy. I remember going to Sammy's house for dinner. It was so bizarre. You went up to his front door and just below the door bell it said "this house protected by WESTEC and supported by ASCAP" Sammy is the man who answered best the question "What comes first the words or the music?" Sammy said "What comes first is the phone call" You know for a lot of years the phone calls came a lot for me.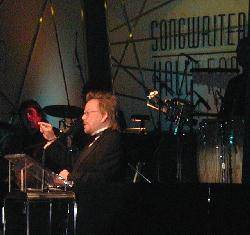 I want to talk about something a little different from maybe what everyone else is going to talk about tonight. I want to talk about some years when I wasn't around. I was an out of work actor who backed into songwriting. It was a great gift and it got me a lot of attention. It got me the great thrill of hearing my songs recorded by people like Karen Carpenter and Sinatra and Elvis. It was all possible because, because of one incredible talented man I started writing with named Roger Nichols.

Roger Nichols was my writing partner and he was my music school, because I didn't know what I was doing. He would lock me in a room and not let me out until I had finished a song. Occasionally Chuck Haywood would throw us in the back of a car and take us to play for somebody. I found a life in music that I didn't even know that I was going to have. It was spectacular, and in many ways I think I became better at showing off than at showing up. I got a lot of attention and I loved the life, and I leaned into it. I had my teeth capped and there are a lot of pictures of me grinning with a drink in my hand.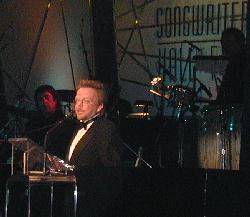 It's interesting to hear you say 11 years tonight because I just celebrated 11 years sobriety. The world is definitely a safer place you know, a safer place for all of us. I want to say something about the years that are missing. Those were years when I was lost in my disease. But I came out of it on the other end, and I want to thank Bill W and Dr Bob for giving me my life back. And I want to thank Nashville for leading me back to music again. I went to Nashville about 5 years ago to do a thing called Tin Pan South. It was an evening which was a celebration of songwriting. I went there thinking me life was over as far as my life in music was concerned. There's something in the water, it's a magic town. It's the only place in the world where you can go to a French restaurant and get Escargot and gravy.

In this magical city I discovered something that had been missing from my life for many, many years and that was the absolute thrill of collaboration. To sit down with another human being, to trust to have bad ideas in front of them. To hear their bad ideas, and if God is in the mood to write a song you write a song. It's a spectacular thing to (discover?).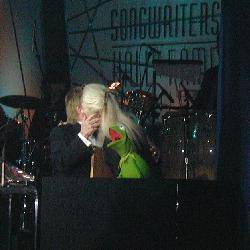 I live in Los Angeles but my hometown is Nashville. I want to thank Jon Vezner, I want to thank Gene Nelson, I want to thank Jim Photoglo, amazing writers who have been part of my life down there. Dianne (Warren), if I had the kind of discipline that you have, God knows what would have happened to me. Paul Williams was to discipline what gravel is to landscaping. My best work is sitting in the audience right now, my daughter Sarah. My son is working in a movie in Argentina, my son Cole. This is for them. It's an honour to have my name added to this great list of wonderful writers. It's beyond words. I'm finally, finally speechless. Thank you

Kermit
You know I want to tell you people what an honour it is for a simple frog to be here tonight. I see Dolly Parton out there, who lives just up the road a piece from a swamp. Paul Schefer who has the same hairdresser that I do. You know I was lucky enough for a moment tonight to get to meet Willie Nelson, just for a second, just long enough to say "hi". He seems to be one of the most genuine, nice, gentle people I have ever met in my life. I'm really proud to be able to introduce him to sing a song that was very good to me that Paul wrote, Rainbow Connection. Willie Nelson folks…
This was then followed by Willie Nelson singing 'Rainbow Connection' from his new album of the same name.
After further awards and speeches the evening finished with all those who received awards and were inducted singing Buddy Holly's 'Not Fade Away'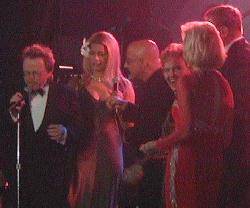 ---
OFFICIAL PICTURES
| | | |
| --- | --- | --- |
| | | |
Last Updated 29th June 2001
(When you click on the pictures above you will be taken to a larger version of the image.)
Thanks to Paul's management TBA Entertainment for the above images
---
Paul Williams In New York Home Page
Loser's Lounge Tribute Concert
Friends In New York - UNDER CONSTRUCTION
New York City Sights - UNDER CONSTRUCTION
---
---
READ ALL ABOUT PEOPLES WONDERFUL EXPERIENCES OF SEEING
PAUL WILLIAMS

Return to Paul Williams' Music and Acting Home Page
Email me, David Chamberlayne, at:
Davidswebpages@paulwilliams.co.uk
>