PAUL WILLIAMS
- PERSONAL EXPERIENCES
(PAGE TWO)
Last Updated 8th July 1998
<![if !supportEmptyParas]><![endif]>
(When you click on the red/green below you will be taken to a page with more detailed information. If click on the song titles mentioned, you will be taken to a list of Paul Williams albums/singles/TV shows where that song appears.)
<![if !supportEmptyParas]><![endif]>
---
MEETING WITH PAUL WILLIAMS FOR "DEXTER'S LABORATORY"
Last Updated 15th October 2000


Dexter's Laboratory
"The Musical Time Machine"
On the 16th June 1998 I received the following e-mail from Dave Smith about his meeting with Paul Williams:
"I'm writing to tell you about my meeting with Paul Williams.
I am an animation artist for the Hanna-Barbera Cartoon Studios and a great great fan of Paul. At the time I was working on an animated television series called "DEXTER'S LABORATORY"(1997). Throughout that year I had been asking my supervisors to let me come up with a story that had Paul in it. They were very nice and said yes. I came up with the story that Paul was a piano teacher to the main character of the show, and at the end the two would sing a duet together. (Dexter's voice is sung by Christine Cavanaugh ). It turned out great!
I was told that Paul drove a red Ferrari from a friend of mine who works at a recording studio in L.A. He has worked with him many times, so when I saw the red Ferrari in the parking lot at Hanna-Barbera I got pretty excited. I walked into the recording area where we recorded the dialogue that I had written for him, and the song that I had written for him. He made a small change in lyrics, he asked if that was O.k., I said you are the singer songwriter...not me.
Holy Cow! What an Honor to have Paul Williams sing my song!
When the session was over I asked him for his autograph, he was gracious, he signed my "Little On The Windy Side" Album......"To Dave, Thanks For Listening". That album is my favorite and now with his signature....a treasure. I've seen him a few times at a local golf course where i have said hello, he may or may not have remembered me...that's O.K. He told me to have a great game...and I actually did that day.
If anyone is interested in finding the song that I wrote and that Paul sang, it's called "Breathe In The Good Sunshine" and it can be found on "The Dexter's Laboratory" CD (Go to the "Musical Time Machine" page on Rhino to buy the CD and hear a clip of Paul singing.). It's also featured in the episode "Just An Old Fashioned Lab Song" of Dexter's Laboratory, on the Cartoon Network.
Thanks for reading."
(Thanks to Dave for telling us about his meeting with Paul. It must have been realy exciting having Paul sing your song.)
(Thanks also to Judy Reboy of "ANiMATO!",(a magazine dealing with animation), for the information in
white

above. Judy interviewed Paul for "ANiMATO!" on 3rd July. See an extract from that interview here.
---
TORDADO DISRUPTS PAUL WILLIAMS APRIL 1998 APPEARANCE IN NASHVILLE
Last Updated 24th April 1998
Paul Williams last appearance at the 'Tin Pan South' festival was in 1995. Paul was interviewed a week before that appearance by the

'Nashville Banner'.
Photo by Alan L. Mayor (This picture appeared in Volume 2 Issue 3 of the American Society of Composers, Authors, and Publishers 'Playback Magazine'- May/June 1995).
This year Paul would be in Nashville again for the 1998 Tin Pan South Festival and would be hosting "The Legendary Songwriters Acoustic Concert" at the Ryman Auditrorium on April 14. Appearing would be Lamont Dozier, Jay Livingston, Ray Evans, Dan Penn, Spooner Oldham, Melissa Manchester, Graham Gouldman and Dallas Frazier. This was to be followed by Paul Williams and Johnny Vezner (the co-writer of You're Gone from Paul's last album 'Back To Love Again') performing a show at the Bluebird Cafe on April 16.
Although I have had no report of the Ryman Concert (could anyone who attended it possibly send a report please to me David Chamberlayne, at:mailto:Davidswebpages@paulwilliams.co.uk), Pauls appearance at the Bluebird was prevented from happening in a most dramatic way.
Claire Carpentier, who has been a long standing Paul Williams fan, collector of some amazing Paul Williams memorabilia and source of invaluable information for this Web site, decided to make the 'trip of a life time' and fly into Nashville to see Paul perform at the Bluebird. After her trip Claire sent me an email, on 19th April, about her experience and has kindly agreed for me to publish it, so I'll let Claire now take up the story in her own words.
" Well I'm back, what an exciting trip I had. While I was in Nashville a Tornado hit and knocked the roof off my Hotel at about 3:15 PM. Then proceeded to wreck havoc in downtown Nashville 1/2 mile away from me. I still got ready for the show. I didn't know if it was still on as the phone lines were down, and I couldn't get a cab. The Blue Bird was 4 miles down the road, I was trying to find someone to give me a ride I was going to pay them. But no one was going that way. Then a cab drove up. I couldn't believe my luck. But he got lost and stoped to ask for directions and we finally found the place and he didn't charge me for the fare. I tried to offer him a tip but he wouldn't accept it.
Inside the cafe was small. In the center of the room is where the artist perform in a circular position. At the door while I was paying my cover. A man named Kurt was talking about Paul and said that he talked to Paul and said he will make it, that's what he came to Nashville for. So I asked him 'You talk to Paul' , he said yes I am Pauls publicist I talk to him all the time. I then told Kurt about how I flew from RI just to see Paul and how big of a fan I am of him. I also asked him if he would introduce me to him. He said sure.
The waitress sat me and I couldn't believe where I sat right in front there was an artist chair right next to my shoulder and if he sat there we would be touching shoulders and the other artist seats were just as close. Then about 1/2 an hour later the owner of the club said that Paul would not be able to make it as he was staying at the Doubletree hotel in downtown Nashville. But there will be a show and if anyone wanted to leave and get their money back they could. A lot of people left. But I decided to stay an enjoy the show anyway. After all I came 2000 miles to see a show. In walked Jon Vezner the only one out of the four performing who made it. He called some friends and they filled in. I found out that Paul would of sat shoulder to shoulder to me. Which made it worse. Anyway Jon said he just got off the phone with Paul and said that Paul had water dripping on his head from the open window that the tornado had ripped through and that he and his wife was huddled in the bathtub with a towel over their head because there was glass splattering everywhere. He would of still made it if it weren't for them not letting anyone out of the buildings and onto the streets for fear of fallen glass.
The songwriters procedeed to sing their songs they each took turns. A songwriter there named Jim Photoglo sang to songs that he and Paul wrote together new songs. They were awesome and after the show I talked to Jim and told him how big of a fan of Pauls I was and asked if the songs have been cut by anyone yet. He said no they haven't shown them yet. They are still pretty new. I then asked if he had the lyric sheets to them. He said yes and gave me the two songs he and Paul wrote together and it even has the date they were composed on the bottom. I gave Kurt my address and asked him to give it to Paul. He said sure and I know Paul will write you he's that kind of a guy. I also have a Tin Pan South booklet and a program for the show and I bought a shirt of Tin Pan South. Even though Paul wasn't there I still had a good time and it turned out to be a good show.
Back at my hotel my husband said that I should stay an extra night and go to Paul's hotel to try to see him. So I called Doubletree and asked if Paul was still there she then connected me to his room. It was 11:30 at night. He picked upthe phone. I was so shocked that I asked who it was, and he said you called me. I then said hi I' m sorry if I woke you but I was at the Bluebird tonight just to see him and he said they wouldn't let him out of the hotel. I told him I totaly understand. He said "isn't it rather late to be calling" I said yes I'm really sorry I didn't expect them to connect me to your room. He said that's allright and we hung up. I felt bad about waking him. So I didn't call him back the next day. Instead I booked myself into the same hotel he was staying at and left him a note at the desk. I sat in the lobby most of the day but didn't see him. I was disappointed but before I left I left another note the the desk and told the clerk that Paul will be checking out today and I would like him to have the note before he left. On the note I made sure I put my name and address and Phone # on it.
At about 4:30pm on Saturday (my plane landed at 1:00 Pm) I was tired and was just waking up from a nap when the phone rang. It was Paul. He acctually called me. He said he couldn't believe that someone would travel that far to see him, and get this he also said he read my letter on the plane and said 'that's the woman who sent me the photos of the P.W. Collection' I have to give her a call. I didn't mention my collection at all in the letter, and he remembered from 1 1/2 years ago. He put my name together with the collection. I thought that was awesome. He also asked if I was the one who called his room. I said yes it was me. He apologized if he was rude (I didn't think he was). He just woke up and gets cranky he had a very busy day. I said it was me who should apologize for calling so late. He couldn't believe my collection and he thanked me for being a faithful fan. I also mentioned in the letter that I too was a songwriter and I had a great time and that maybe next year I will go back to enjoy all the activities. He mentiond about me being a songwriter and said I had a great future ahead and there were some great people to colaborate with in Nashville. He said that he wanted to see me and he said the closest he would be would be Long Island. He wouldn't be singing he would be giving a speech about his life and about his drug abuse. He invited me and my husband, who listened in on the other Phone, to be his guest at this dinner. We could meet and take some pictures. He also asked if I had Kelly Newbys (Paul's agent) phone #. I said yes so he said to call her on Monday that would give him time to talk to her about me. He will be speaking on May 19th.
On Monday I will find out everything about that night. Wow this is so exciting, an invitation from Paul. He thanked me once again and said he had to go unpack, and do laundry and all that good stuf you have to do after you come back from a trip. I thanked him for calling, he told my husband to give me a big hug and a kiss for him. And we said our goodbys. We were on the Phone for about 15 min.
Needless to say this week was the best week of my life. I had a great time in Nashville tornado and all. I also said in the letter that meeting him was'nt meant to be. At least not at this time. I feel maybe I was meant to be in Nashville to find out about Tin Pan South and all the activities ascoiated with songwriting. I had gotton away from writing. I've been too busy with my sons school, being an officer of the PTA for five years, and working. There was so much energy in Nashville I'm going to go back to writing. As you can see I'm a big believer in fate."
19th April 1998
(What more can one say than 'What a trip'. Thanks Claire for giving Paul Williams fans everywhere a picture of the generosity and caring of the man.)
See below to see whether Claire did get to meet Paul?
---
PAUL WILLIAMS AT THE ANGEL BALL - LONG ISLAND 19TH MAY 1998
Last Updated 6th June 1998
Following Claire Carpentier's unsuccessful attempt to see Paul Williams in Nashville (see her report

above), she eventually got to meet him, at Paul's invitation, in Long Island in May 1998. Below is an account of Claire's evening with Paul at the Angel Ball.

Introduction to the Angel Ball 1998 (extract from the programme of the event)

We have all come together this evening at the Angel Ball to support the work of the Long Island Council on Alcohol and Drug Dependence. Through the support of friends like yourself the Council has been able to battle the disease of alcoholism, drug addiction, and related problems.
The Council's battle is carried out through its mission to educate and provide an information network for the community as it relates to this disease. If the Council cannot use a "hands-on" approach in solving the problems, there is an extensive referral service into any conceivable area that the alcoholic, drug addict and family member may need assistance with.
Thomas J. Fanning
Chairman of the Board
The 1998 Angel Ball Keynote Speaker Mr. Paul Williams (from the programme of the event)

Mr. Paul Williams, a man of many talents, among them singer, actor, award-winning composer and lyricist, comes to the Angel Ball to share his story of hope and recovery. After surviving a childhood marked by alcoholism and constant relocation and his own addiction as an adult, he has earned great success.
He began his career as an actor, appearing in films including "Smokey and the Bandit", as Little Enos, and as the voice of the Penguin in the animated "Batman" TV series. More recently, Mr. Williams has been seen in "Honey, I Shrunk the Kids", "Picket Fences" and HBO's new series, "Perversions of Science".
As a composer and lyricist, he has penned such classics as "We've Only Just Begun", "Rainy Days And Mondays" and the Oscar winning "Evergreen". Kermit the Frog sings Mr. Williams' "Rainbow Connection". A new song by Mr. Williams, "Party On", recorded by Neil McCoy, is currently climbing the charts.
Mr. Williams began his recovery from alcohol and drug addiction in 1989, attending rehabilitation and twelve step programs. He is very active in bringing awareness of addictions to the public on many levels, including the national Speakers Circuit, the Musicians' Assistance Program, and the local chapters of the National Council on Alcoholism and Drug Dependence. This past fall Mr. Williams became a member of the NCADD Board of Directors. Sharing from his own experiences and knowledge gained from his study and certification as a licensed drug and alcoholism rehabilitation counselor from UCLA, Mr. Paul Williams carries the message of recovery.
Claire Carpentier's account of her evening with Paul Williams at the Angel Ball 1998
"My husband Marc and I arrived at the Hallow Crest Country Club at about 6:45. We were to meet Paul Williams between 7:00 to 7:10. We were sitting in the lobby when Paul walked in at about 7:10 PM. He was talking to Adele Smithers the 1998 Angel Ball Chairperson. When it looked like they were done talking I went and introduced myself and said it was an honor to meet him. He said Hi and recognized my name instantly and said how nice it was to meet me. We shook hands and I kissed him on the cheek. Then he shook my husband's hand and invited us to sit down so we can talk. He excused himself for a few moments so he could finish talking to Adele. When he came back he apologized for that. I said that's quite alright. He sat down across from me, so we started talking. He asked me if I was surprised when he called me. I said yes and it was great hearing from him.
Just about then Donna Scarrimucci, one of the organizers of the Angel Ball, said hello and told Paul that there is a private room if he would like some private time. He said it would be quieter. She excused herself and said if there was anything we needed don't hesitate to ask her. Paul sat down across from me and we started talking as if we were old friends. He mentioned that he had great looking children and that he would show me pictures of them. He said his 16 year old son wanted desperately to be an actor and his 13 year old daughter wanted desperately to be Mrs. Leonardo DiCaprio.
Then he asked me to tell him about Nashville. I told him a shortened version of the events he said wow you must've been really upset and said son of a B. I said I was but then I thought I couldn't do anything about the Weather. He nodded and said you're right. He showed me pictures of his children and wife. He does have great looking children and a beautiflil wife. He sounded so proud of them. His daughter Sarah is daddies little girl. I could tell. Paul asked me if I was a Sinatra fan. I said I have 'Ole Blue Eyes is Back' because his song was on it. He then sat down and we talked some more I asked if he was doing any acting lately He said no not right now. He was spending most of his time in Nashville writing songs and on the speakers circuit talking about his drug and alcohol addiction and recovery. The last film he did was the 'Postal Worker'. It hasn't been released yet. He also mentioned that Pat McCormick was in hospital with a stroke and that he visited him.
I told him about the first time I saw him was on the 74 Songwriter Festival he said yeah it was taped in Saratoga NY. I said how he inspired me to start writing and that I would never of started writing if it weren't for him. He said that that's how it happened for him with Jay Livingston and Ray Evans writers of Silver Bells, Mona Lisa. I told him I wasn't aware of my options back then seeing I was only 11 at the time. He said you were 11. How old are you now? I told him 35. When were you born? In 1963. He said wow.
He asked if I received the Back to Love CD he sent me. I said oh yes thank you very much I love it. He said it was his newest and you can only get it in Japan. Did you hear it before? I said yes I did. He said you already have it don't you. I said yes but I love the one you sent me. He said how did you get it. I told him that I subscribe to 'Goldmine' and they advertised it in there and that my collection has almost doubled since the pictures I sent him. I told him I have 3 radio shows, 'Robert W. Morgan' in 76, 'Army Reserve' in 73, and 'What's It All About' in 77. He goes "really". I told him that 'Someday Man' is coming out on CD pretty soon. He said yeah, do you have the vinyl? I said yes the only vinyl I'm missing is the Best of Paul Williams. Then he mentioned about some cups he was looking for and asked if I have them. I said no not yet. They are a composer series cups from the U. S. store chain 7 Eleven. They have John Denver, Elton John and Paul Williams. He said he had one but it was old and cracked. He told me if he gets his hands on some he will send me one, and if I get some to send him one, and that I will probably find it before he does.
He asked me if I go on the internet. I said yes. There are a lot of web pages on you. Like the David Chamberlayne one, 'Paul Williams Music And Acting Page'. He said he was on the web page and saw my name. His facial expression suggested that he was very pleased with the web page.
I told him how I loved his performance in 'Headless Body in a Topless Bar'. He said he was most proudest of his performance in this film. It got great reviews but was never released in theaters and it hasn't been put on video yet. I said yes it has, I have it. How did you get that! I don't even have that! I also told him about how I loved 'Chillfactor', and that I had the video and the poster. He was so surprised and inquired as to how I got that. We talked a little about 'Phantom' and my husband mentioned that it was his favorite film and that it is far better than 'Rocky Horror'. And that it must've been bad timing for the film. Paul said it is doing well and that 'Rocky' and the 'Phantom' are shown together at the midnight theaters. Paul also mentioned to me that when he is singing in the area he will let me know so that I can go and see him sing.
He asked if I brought my camera. I said oh yes. We took some pictures first of me and Paul then of Marc and Paul. As an after thought I should've had someone take pictures of the 3 of us. Paul also said how touched he was at how big of a fan I was. I asked him to sign some things he said sure. I brought the booklet to Back to Love Again. He signed it, "Claire- You're like family-All my Love- Paul Williams". I also brought with me the two lyric sheets that Jim Photoglo gave me in Nashville that he and Paul wrote together. I told him how I loved them and that 'Your Love Calls Home' got great response and that everyone loved it in the Blue Bird Cafe. He signed it "Claire- Make my arms the place your love calls home-Love & Light-Paul Williams". The other lyric sheet he signed "Claire-next time no tornados-Love & Light-Paul Williams".
It was just about 8:00 and it was time we went to dinner. Paul said how nice it was talking to us. He excused himself while we were in the cocktail area. I told him how much this meant to me. He smiled and we kissed on the cheek. It was so great I can't explain it. I'm sure I left out some things. But you can't explain gestures, facial expressions, and the tone of the voice. He made me and my husband feel like family. My husband was impressed and had a great time.
Dinner started at 8:00. We sat in the front of the podium. We could see great. The people at our table asked us if we were related to someone in here. The head table consisted of the speakers and honorees. That was where Paul was sitting . We were close to him. But I didn't want to bother him at his table. I respect him and I want him to see that I'm not a bothersome person. That I was happy to spend 50 min. with him, although I could've talked to him all night. His keynote speech was great. He really has a way of blending humor and seriousness to his speeches. It was moving and inspirational. They taped it. So I called Donna and asked if I could purchase a copy of it. She said she will call me when everything comes back. The Angel Ball ended at about 11:30 Paul had to leave, but Marc and I stayed till the end. There was dancing, Auctions, and even a raffle. The raffles were $25.00 a ticket $100.00 for 5 tickets. But the prizes were worth $50.00-$4,000.00. The meal we had a choice of Chicken, Salmon or Filet Milnon. It was a posh affair and we were very happy to be a part of it. Everyone made us feel welcomed especially Paul. It was truly a night to remember."
20th May 1998
(Thanks again Claire for giving us such an enjoyable account of your talk with Paul.)
---
ROSS PLESSET'S EXPERIENCE OF PAUL WILLIAMS AT
'THE GIG' - 6TH FEBRUARY 1999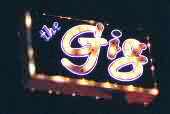 Last Updated 22nd February 1999
"Saturday, February 6, 1999, Paul Williams performed at The Gig in West Los Angeles as part of the "Poptopia 1999" festival. The performers started at 9 o'clock with Mr. Williams coming on at close to 11. Prior to his stage appearance Williams relaxed in the audience, enjoyed the other performers and talked to a few fans.

After being introduced by David Ponak to an enthusiastic crowd, Williams stated that he was nervous before coming on stage. He added that his "brain was fried" during most of his previous Los Angeles appearances and therefore he cannot remember them. It was nice to perform sober-minded so that he could remember the performance for a change!
Among the 7 or 8 songs Williams sang was Phantom of the Paradise's "Old Souls" at the audience's request. Naturally, he sang it somewhat differently in style than Jessica Harper did in 1974 and the words were changed slightly.
He proceeded to sing the Carpenter's "Rainy Days and Mondays" and closed with his personal all-time favorite achievement "The Rainbow Connection." With all due respect to Jim Henson as Kermit the Frog, Williams' rendition was very moving and quite a tear-jerker.
Fortunately, all of this was captured on video tape by the club. Although it is unlikely that the performance will become available commercially, at least there is a record of it!

Fans shouted out many other requests but Williams wrapped up his performance because there were so many other artists waiting to come on.
He introduced his keyboard player Chris Caswell and expressed his gratitude that a large portion of the evening's proceeds
were being donated to M.A.P - 'Musician's Assistance Program'. There was thunderous applause as Williams left the stage.
Many of the people present were fans and everyone was excited to see him. "(That's PAUL WILLIAMS!!" exclaimed a person behind me.) Some had attended his Tribute at Space Land in Los Angeles 6 months earlier. For a full account of the Tribute Concert see here. One fan was carrying a Phantom of the Paradise record album - presumably to have it autographed."
Learn more about Poptopia:

Thanks to Ross for sending me this account and the pictures of Paul on the night.
If anyone else saw this Paul Williams performance I would love to hear from you and include your account on this page
---
READ ALL ABOUT PEOPLES WONDERFUL EXPERIENCES OF SEEING
PAUL WILLIAMS
<![if !supportEmptyParas]><![endif]>
<![if !supportEmptyParas]><![endif]>
Email me, David Chamberlayne, at:
Davidswebpages@paulwilliams.co.uk
<![if !supportEmptyParas]><![endif]>