PAUL WILLIAMS
MY TRIP TO SEE PAUL IN LAS VEGAS
3RD - 5TH JUNE, 2005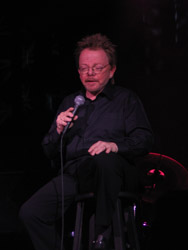 Paul Williams live in concert in Las Vegas, June 2005
Last Updated 10th March 2005
---
SUNCOAST HOTEL & CASINO
Las Vegas, Navada
3rd, 4th & 5th June 2005
by David Chamberlayne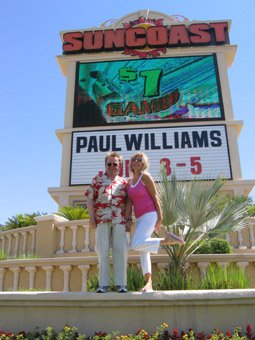 Paul with his wife Mariana and David outside the Suncoast
Last Updated 10th July 2005
Seeing Paul Williams in concert was the highlight of the 2 1/2 week trip which my wife Ann and I made to the US from our home in Wales. Although I had been fortunate to meet Paul a number of times, (See here for details of those meetings), I had never seen Paul perform a full concert.
Our trip started in San Francisco. We decided to spend a week there recovering from the jet lag and exploring the sites of the city. Due to the cooling coastal breezes it was not too great a contrast to our weather in Wales.
| | | | |
| --- | --- | --- | --- |
| | | | |
| A San Francisco cable car on it's way to Alcatraz and Fisherman's Warf | Lombard Street | Ann and I at the Golden Gate Bridge | The Japanese Gardens in Golden Gate Park |
We spent a lot of time walking around the city....exhausting but always the best way to explore.
The next stage of our trip took us to meet one of my Paul Williams friends June (J.J.) and Ron Jones in Phoenix. I had got to know JJ through our Paul Williams web pages (see here for JJ's web page) and when we were both officials of the now closed 'Official Paul Williams Fan Club'. JJ is also the list manager of "The Rainbow Connection Mailing List".
Neither Ann nor I had been to Phoenix or met JJ's husband Ron. We were in for a fun filled weekend, from the streets of Phoenix to the town of Payson to the rocks of Sedona. We had the most wonderful weekend walking, talking and driving. Ron and JJ were such wonderful hosts.
| | | | |
| --- | --- | --- | --- |
| | | | |
| The rocks of Sedona | Sedona at Sunset | Ann and I during our drive through the Sedona valley | Our friends Ron and JJ with Ann and I in Payson |
No sooner had we returned from Phoenix than we were off to Yosemite National Park. I had heard that it was a very special place with it's bears and tall sequoia trees. Both Ann and I were not anticipating the mass of amazing waterfalls and green valleys. The snows were still melting and so the falls were in full force. Nature at it's best.
| | | | |
| --- | --- | --- | --- |
| | | | |
| The snowy mountains over the Nevada and Vernal Falls from Glacier Point | Bridalveil Falls | Yosemite Falls from the flooded valley floor | Ann and I walking through a sequoia tree |
And so on to Las Vegas, the gambling capital of the US and where we were to finally see Paul in person. What can one say about Las Vegas? Loud, brash and fascinating....a place to visit, but not too often for me...I prefer the splendour of mother nature.
| | | | |
| --- | --- | --- | --- |
| | | | |
| Towards the Mirage Hotel with it's erupting volcano | The Star Ship Enterprise in the Hilton Hotel | Pegasus in Caesars Palace | Inside the Venetian Hotel |
At the end of long days of walking around Vegas Ann and I were glad to get back to our hotel. We stayed at the Suncoast Hotel, where Paul was performing. I have never stayed anywhere like it, with it's 24 hour gambling floor surrounded by numerous eating places with every kind of food.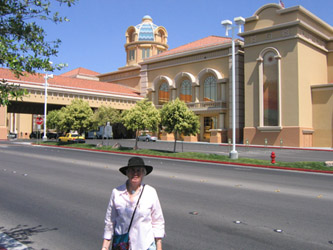 Ann outside the Suncoast.
Although not a gambler myself, I enjoyed the art of 'people watching'. Every kind of person was there from ardent gamblers to first timers trying their luck.
And so to the highlight of our stay. Paul's concerts and the chance to chat with Paul, Mariana and Paul's amazing band. Ann and I attended Paul's show on the Friday (3rd) and Sunday (5th). Both shows were such fun. Paul has such a way with an audience even when things go wrong....like the audio visual on the first night which did not work, and Paul forgetting the odd word....
Rosanne and Elaine have described the shows so well here that there is not a lot more for me to say. The highlight for me was Paul dedicating a song to me which I had requested when I first knew I would be going to Vegas. Look What I Found (Java 'PopUp Lyrics' here) was a song written for a music festival in Japan in 1973 and was a minor hit single here in the UK (See details of it's original release here). It was one of the few of Paul's songs which have never been released on an album....a real treasure. Since the song was so obscure, none of Paul's band had ever heard of it, and so the production of the song was done from the words and music alone...different from the original, but still a memorable performance...Thanks Paul.
PAUL WILLIAMS AND HIS BAND
| | |
| --- | --- |
| | |
| Paul Williams with his band | Paul Williams with Chris Caswell (Kaz) on piano and John Lee Sanders on saxophone |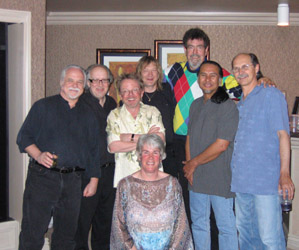 Ann and I with (from lt to rt) Bob Terry, John Lee Sanders, Paul, Chris Caswell, Rick Alegria and Lothar Struff.
After the show Ann and I got the chance to meet up with Paul, as well as Mariana and the members of the band.
| | |
| --- | --- |
| | |
| Paul & Ann at the end of a long evening | Paul & I.....Brothers in Arms |
Finally a big thank you to Paul and everyone involved in making it a truly memorable experience for both Ann and I.
See other reviews of Paul Williams in Vegas in 2005 here.
See other reviews from Paul Williams appearances in 2005 here.
---
READ ALL ABOUT PEOPLE'S WONDERFUL EXPERIENCES OF SEEING
PAUL WILLIAMS
Go to Paul Williams - Personal Experiences Index Page

Return to Paul Williams' Music and Acting Home Page
Email me, David Chamberlayne, at:
Davidswebpages@paulwilliams.co.uk