PAUL WILLIAMS LIVE IN 2005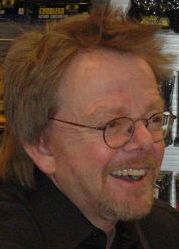 Paul, whilst signing autographs at 'Spin Street', following his concert performance at Mohegan Sun, CT on 12th February, 2005.
Last Updated 12th August 2005
MOHEGAN SUN, UNCASVILLE, CT - 10TH / 11TH FEBRUARY 2005
SPIN STREET, UNCASVILLE, CT - 12TH FEBRUARY 2005
SUNCOAST, LAS VEGAS, NA - 3RD - 5TH JUNE 2005
AREO THEATRE, SANTA MONICA, CA - 28TH JULY 2005
Read an account of Paul's appearance at a "Phantom of the Paradise" screening and Q & A session
---
UNCASVILLE, CONNECTICUT
1Oth / 11th FEBRUARY 2004
by Claire Carpentier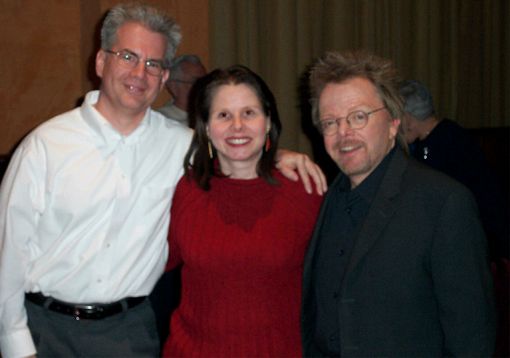 Claire, with husband Marc and Paul

Last Updated 19th March 2005

When I heard that Paul was going to perform at the Mohegan Sun Casino on CT I was so excited. It was only an hour away from where I lived, and I knew from past experiences that it was going to be a special couple of days. This would be the first time I saw Paul perform by himself on stage with a full band, and I knew from other personal experiences on David's website that I was in for a real treat.

The first performance I attended was on Thursday the 10th. I arrived early with my husband Marc and my son Josh. Josh and I were going to the show while Marc was going to do a little gambling. Josh had expressed interest in meeting Paul and seeing the show so I took him. Marc was going to attend Fridays show with me along with his parents. On our way to eat we bumped into John Lee Sanders. It was so nice talking to him and seeing him again. He's such a wonderful sax player and all around great guy.

At about 6:30, an hour before the show the doors opened, Josh and I went in and were amazed at the Cabaret Theater. It seats about 350 and is a cozy little room. There are oblong table and chairs right in front of the stage. The table is against the stage (width side) with chairs in both sides of the tables facing each other. I sat at the table right of the center. The center table was reserved for High Rollers. The chair that Josh and I sat on was the one closest to the stage that we could put our arm on the stage and lean on it. I was on one side of the table and Josh was on the other side. We couldn't have gotten any better seats without actually being on the stage itself. As the seating went further back there were square tables behind us and further back were round tables with a curved like sofa seating. The set up was great and no matter where you sat you had great seats. You could see him from the back of the room so there really wasn't a bad seat in the house.

Just before 7:30 out came John Lee Sanders-Sax, Chris Caswell-piano-arranger, Ricky Allegria–drums, Lothar Struff-base and Robert Terry-guitar. Then down came a screen which had clips of Paul's music and acting career. I won't tell you what was in the mini movie that spanned Paul's career because when you experience it for the first time it just sets up the tone of the show to come, and I don't want to take that experience away from anybody. I'm also not going to go into too much detail of Paul's show for the same reason. There is nothing like seeing Paul perform for the first time on stage solo with his band...and I don't want to take that away from anybody as it's a fantastic show with great music, stories and jokes that span his career.

After the clips were done the band started singing Just an

An Old Fashioned Love Song (Java 'PopUp Lyrics' here)

(A cappella). Then an announcer came on and introduced Paul and he came out (then the instruments kicked in) singing Just an Old Fashioned Love Song. When he noticed me (which I was a little surprised as my hair color had changed back to natural) he came over still singing and shook my hand. He also shook the hands of some of the other fans that were in the front row. It was great to see him again and he looked great. After Just an old Fashioned Love Song he went right into

I Won't Last A Day Without You (Java 'PopUp Lyrics' here)

. He welcomed everyone to the Mohegan Sun and praised the casino and said how much he has enjoyed being here, and what a wonderful room this is. He kept the show moving with his humor and intro into the songs. The next song he sang was

Rainy Days And Mondays (Java 'PopUp Lyrics' here)

. The sax solo by John Lee Sanders was magnificent.

Ordinary Fool (Java 'PopUp Lyrics' here)

was his next song and he sounded great as did the band. But the piano solo by Chris Caswell (Kaz) was out of this world. Everyone was having a great time on stage and they were so much fun to watch.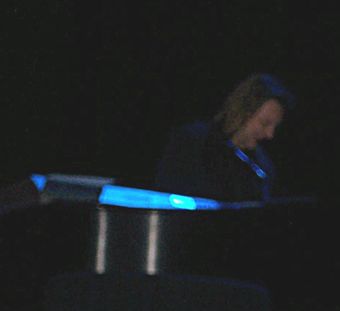 Chris (Kaz) Caswell

The next song was a medley. It's a medley that will never be heard together outside of his concert and both start with the word love. The medley was of

The next song he sang was a hit for Three Dog Night. "

Out In The Country (Java 'PopUp Lyrics' here)

" was a wonderful song to hear him sing live. It just brought me back to those days where I would listen to his album Life Goes On for hours on end. The next song he was to sing was a new one written with JD Martin. He started talking about his recovery and how this March 15th will be his 15th anniversary of sobriety, and how he called a doctor in a black out and his road back to recovery. The song

It May Not Be Today (Java 'PopUp Lyrics' here)

is about his road back and his struggle to over come the obstacles. The words are as beautiful as is the meaning behind them, and each time he sings the song it has a different meaning as well as touches each person that hears it.

It May Not Be Today

words and music by
PW and J.D. Martin

I've been lost,
I've been broken
beaten by the road
searching for a willing hand
arms to share my load
I am a true believer
I hope to find my way
Hold me faith ... it may not be today

Now, my enemies are nameless
voices in my head
memories that track me down
find me in my bed
If I could just embrace them
they might fade away
Hold me faith ... It may not be today ..

In my dreams .. I'm a warrior for the light
In my dreams .. The way is always clear
but here tonight .. I question everything tonight ....
I am lost ..

Now I stumble over choices and the wreckage of my past
Life has brought me to my knees, I've learned to pray at last
I am a true believer, I know I'll find my way ..
Hold me faith .. It may not be today
Hold me faith ... It may not be today

The next song he sang was a song he wrote with Ivan Lins and he dedicated it to his now wife Mariana.

Love Dance (Java 'PopUp Lyrics' here)

was the song and he said it's their song and after he finished singing it he said for you Mariana my Angel.

The next song was another Three Dog Night hit called The Family Of Man (Java 'PopUp Lyrics' here) and it was my son's favorite song of the evening. After the song he talked about how he wrote co-dependent anthems and said lets face it "I Won't Last a Day Without You" is not a healthy thought…I spent some time on the couch…I know…he then proceeded to sing

You And Me Against The World (Java 'PopUp Lyrics' here)

and it sounded great. Originally recorded by Helen Reddy whose version was sung to her son (something which I can relate to) but I do like Paul's version better. He then proceeded to do the intro to the next song. The song

We've Only Just Begun (Java 'PopUp Lyrics' here)

will always be Karen's song and he sang it beautifully as always and when the song ended he said the applause is for you Karen. Everyone applauded as well as Paul who applauded upward toward the sky.

When the band started to play the

Rainbow Connection (Java 'PopUp Lyrics' here)

I knew the show was just about over. He always liked to end a performance with The Rainbow Connection and said he wrote this next song for his favorite performer Kermit the Frog. After he finished the song he said thanks everyone you've been great. He came over and shook my hand and said thank you and left the stage. Everyone gave him a standing ovation and he came back out to do a few more songs. He asked for any requests and I guess someone asked him earlier to play Traveling Boy (Java 'PopUp Lyrics' here) so he did a few verses of that and it sounded wonderful. It was just him and Kaz and Paul said after he sang the song I can't believe you remember that. One of the requests from the audience was

Nice To Be Around (Java 'PopUp Lyrics' here)

. Written with John Williams for the movie Cinderella Liberty, and nominated for an Academy award, it has always been one of my favorites and I enjoyed his performance of it immensely. The last song he sang was as he put it how he feels about us (the audience)…Let Me Be The One (Java 'PopUp Lyrics' here) you come to…Let Me Be The One you run to…when you need someone to turn to…Let Me Be The One…After he finished the song and said goodbye one more time and left the stage…then an announcer came on and said that Paul will be signing autographs at the end of the room in a few minutes.

But before I go on about the rest of the evening and tomorrows show I have to say about this performance is there is nothing like hearing the songwriter sing his own songs. Actually there's nothing like hearing Paul sing his own songs. So much emotion and feeling that goes into his performance he's so genuine… the real deal, and that's why his shows are so entertaining and top caliber and so special...not special but magical. It's what he and his band members bring to the stage at each performance. They're not only great entertainers but also great men as well. All of them have a heart of gold and are so easy going. They are the best at what they do, and everyone that attends a Paul Williams concert a fan or no will come out with an experience of a life time and a better appreciation of the man, his music and those he surrounds himself with. I know my 17 year old son really liked it and after years of Paul in our lives Josh finally understands what I like and love about Paul, and I was so happy to share that with him.

Josh and I were first in line waiting for Paul to come out. He came out and we hugged and he met Josh. He asked Josh how he liked the show and he said…not bad…Paul laughed and said why you don't wait till I do this and we can talk after. I said sure so we sat down as Paul talked to people and signed autographs. I had front row seats to another amazing show…watching Paul interact with his fans that love him so much. Talking about how they first saw him and how much they love him. Paul was so gracious and you could see that he loved talking to everyone. It was a sight to behold watching fans who have never met him meet him for the first time. Believe me I know that feeling all to well. After the line ended we talked for a few minutes and he invited me and Josh to have breakfast with him the next morning along with another fan and friend Bill Lauderbach and his finance' Barbara. Josh begged me to go as he had school the next day and I said you only want to go to get out of school he said no I would go even if it was on a Saturday. But I caved and said he could go…this is once and a lifetime thing for him since he'll be going into the air force when he graduates high school in June.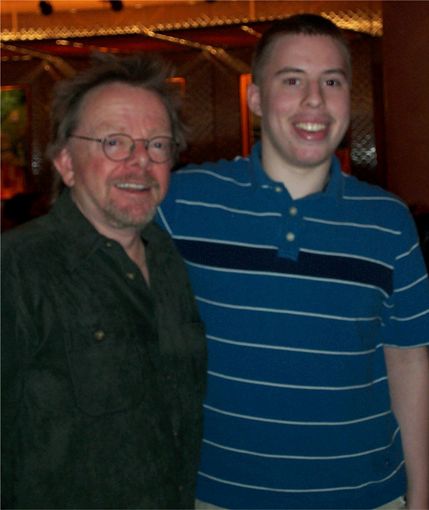 Paul with Claire's son Josh

Friday, February 11, 2005

The next morning we had breakfast with Paul and it was great talking to him and Bill again. Felt just like old friends catching up on the happenings of each others lives. Talked about Kaz and how I didn't' get a chance to talk to him the night before but planned on talking to him after tonight's show. I asked how his children were doing and he said great. Sarah had one more year of school and might go on for her Bachelors degree and his son was on location filming a big movie with Charlize Theron. He plays Charlize love interest in a flash back. Paul's doing great and he's never been happier. Marianna was arriving on Saturday so she wasn't there. But I know she is a big part of his happiness, and I could not be happier for him. As all good things must come to and end so did the breakfast. We took a few pictures of Josh with Paul and of the three of us, and then we said goodbye to Paul, Bill and Barbara and we went our separate ways.

I arrived early again this time with my mother-in-law Barbara, father-in-law Ed and a cousin Jeanne. My husband Marc will be arriving later. We ate and as they went to gamble I headed in line. I was first in line so when the doors opened we had great seats. The night before we were on the right side table of the center...tonight it was the left side. When Paul came out to the same intro as the night before he spotted me and shook my hand, Marc's and his mother's hand…like I said before most of the songs were the same but played with perfection. As the previous night the band was the tops. Marc asked me which night was better and I couldn't' choose. I thought they both were great. He mixed in different jokes and stories to go along with his songs. One song he sang that he didn't' sing the night before was '

You're Gone (Java 'PopUp Lyrics' here)'

. It was written with Jon Vezner and was a hit by Diamond Rio reaching # 4 on the country music charts.

After Paul's last song and we gave him a standing ovation he was on his way out and said I'm not going to put up the pretense of leaving and coming back to do a few songs. Any requests… someone yelled out Dream Away (Java 'PopUp Lyrics' here)…Dream Away was a song that was also recorded by Frank Sinatra. Paul sang it with so much heart as he does all his songs but in my opinion he sang it better than Ole' Blue Eyes and like I said before there is nothing better than a songwriter singing his own songs. Then he finished the evening with Let Me Be The One.

After the show he was signing autographs as the night before. We were waiting till the end and started talking to the band members. I introduced them to my family. It was great talking to Lothar, Bob, Ricky, John Lee and Kaz. Kaz and I have been friends for a few years and he came and gave me a hug and shook Marc's hand. By this time all the members of the band was there. Kaz and I were catching up and asked If I heard Bob's and Lothar's CD Postcards From…Lost in Blue. I said no and Lothar gave me his and Bob's CD. Kaz said the CD is out of this world and Bob and Lothar are wonderful singer songwriters in their own right. I did listen to the CD and it's wonderful. You have to get this CD…it can be purchased at www.StruffandTerry.com simply wonderful. After awhile Kaz had to leave to talk to his daughter on the phone. She was just about to get home from school and it was report card day. But it was nice talking to him and all the band members. They are all not only wonderful musicians but also great songwriters, singers and anything artistic. Check out John Lee Sanders website it will just amaze you at the talent of this man his website is www.johnleesanders.com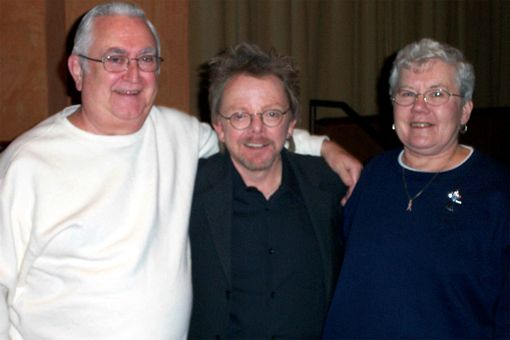 Paul, with Claire's father-in-law and mother-in-law, Ed and Barbara
Then Paul was finished signing autographs it was our turn to talk to him. He shook everyone's hand and we had so much fun. My Father-in-law is a character and told Paul it will cost you $5.00 to have your picture taken with me and Paul laughed and said I'll pay it. We took pictures of everyone there in a few combinations. Paul was so patient as always…I wanted a picture of Marc's parents and Marc with Paul so as I was taking the picture Ed gave Paul a kiss on the cheek and Paul said now that's worth $5.00. Though
The picture didn't come out too well as a few others didn't come out either. I did manage to get a good picture of Marc/me/Paul, Ed/Paul/Barbara. The rest of them came out blurry. My camera is so sensitive that the lightest shake makes it blurry. Oh well at least I got some pictures…then we hugged and said goodbye. It was really great seeing Paul again and I'm so happy I was able to share the experience with my family. My mother-in-law was really impressed with the concert. She thought it was excellent and my father-in-law also enjoyed it as well, and so did our cousin Jeanne. As for Marc he is an old hat at this but he has never seen Paul perform with a band before so it was a new experience in that aspect for him. He told me later that he liked the show, and was thoroughly entertained.
Spin Street is a record store that was selling Paul's CD's and on Friday night they had his DVD (Read all about Paul's DVD here). Well just one disc of the DVD. Paul wanted it for sale so he can autograph it so inside is a card where we have to mail to get the other disc mailed to you. I of course bought it and the disc they have right now is just like a CD. It plays all the music from the DVD. I also have an order for the same DVD online but when I saw this I had to have it. I figured I won't open the one from online and will play the one I bought at Spin Street. But I did see a demo of the DVD. It's about 6 min. long and it was just wonderful. I can't wait to get the DVD having had a taste of its content. Believe me its well worth the money. I think any Paul Williams fan should have one in their home whether they have a DVD player or not. But of course I could be prejudice. If you would like to purchase the DVD (they are taking orders and will arrive in a few weeks) just go to http://www.aixrecords.com/catalog/paul_williams.html
Claire Carpentier
or as Paul calls me Lady C
---
UNCASVILLE, CONNECTICUT
12th FEBRUARY 2005
Pictures supplied by Brian Smith, Vice President
Last Updated 19th March 2005
On 14th February I received the following email from Brian Smith the Vice President of Spin Street Music Store:
"I thought you might like to see some photos from Paul's instore you so graciously publicized for us on the site. It was a blast!"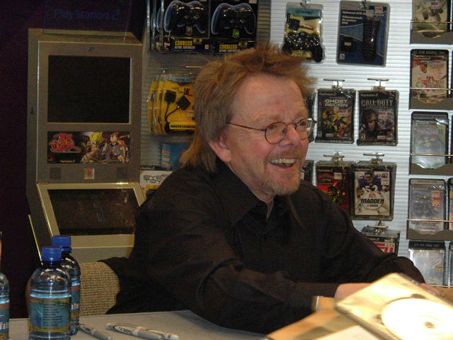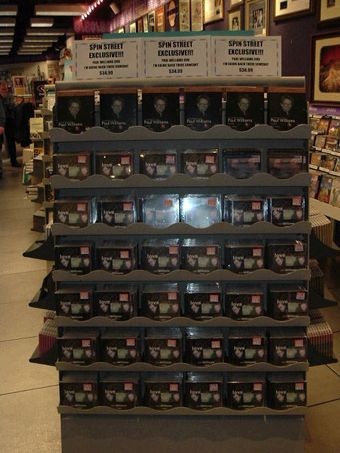 Paul's live album 'Love Wants To Dance' on sale
Thanks Brian for some great pictures.
---
READ ALL ABOUT PEOPLE'S WONDERFUL EXPERIENCES OF SEEING
PAUL WILLIAMS
Go to Paul Williams - Personal Experiences Index Page

Return to Paul Williams' Music and Acting Home Page
Email me, David Chamberlayne, at:
Davidswebpages@paulwilliams.co.uk