PAUL WILLIAMS
LIVE AT THE SUNCOAST HOTEL & CASINO, LAS VEGAS
3RD - 5TH JULY, 2005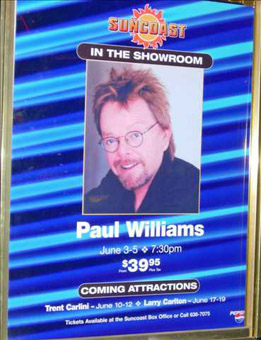 Last Updated 10th July 2005
ELAINE MANNING'S ACCOUNT - 3RD JUNE 2005
ROSANNE GALLETTA'S ACCOUNT - 4TH JUNE 2005
DAVID CHAMBERLAYNE'S ACCOUNT - 3RD & 5TH JUNE 2005
---
SUNCOAST HOTEL & CASINO
Las Vegas, Navada
3rd June 2005
by Elaine Manning
Paul Williams with Elaine after the show
Last Updated 10th July 2005
Where did the year go?? It seemed like only yesterday when I was seeing Paul Williams at The Suncoast Hotel last June 2004. I even was in the SAME seat that I had last year. (See here for Elaine's report from last year)

I went to the first show on Friday. It was a comedy of errors right from the start! The show was supposed to start at 7:30 P.M. ... around 7:15 P.M. sirens started going off and lights started flashing in the showroom, and this "mechanical" voice started saying AN ALARM HAS BEEN DETECTED IN THE CASINO - PLEASE WAIT FOR FURTHER UPDATES ... etc, etc. NO WAY!! I didn't care if the hotel WAS on fire -- there wasn't any way I was going to leave that showroom 15 minutes before a PAUL WILLIAMS concert. Fortunately, the alarms stopped.

Then - SHOWTIME!! 7:30 P.M. -- A movie screen descended, and the projector started running a video of Paul Williams ... the video portion of the show went blank after a few seconds, and the audio continued for a minute or two until a voice from the wings said "...STOP THE TAPE!..." Out walks Paul ... shaking his head in amusement and slight annoyance ... Then he started laughing and said "...first we have a fire drill, and now a video that I spent thousands of dollars on to promote myself DOESN'T WORK! O.k. - let's start this show OVER and you can pretend I never was out there -- SO I EXPECT A HUGE WELCOME when I walk out again! :)

The band started playing - Paul walked out to THUNDEROUS applause - and the show was redeemed. Paul had some special guests in the audience that evening, including David Chamberlayne all the way from the U.K. -- Paul made it a point to introduce David and to sing a song that he had requested called Look What I Found (Java 'PopUp Lyrics' here)

Paul made it a point of telling the audience about his 14 February marriage to the lovely Mariana -- and said "I'm the luckiest man in the world!". It was easy to see that Paul is definitely IN LOVE with his lovely bride.

The set list included Evergreen (From The Film: "A Star Is Born") (Java 'PopUp Lyrics' here) (From Evergreen) and a LOVE BOAT theme -- Look What I Found (Java 'PopUp Lyrics' here) --

It May Not Be Today

words and music by
PW and J.D. Martin

I've been lost,
I've been broken
beaten by the road
searching for a willing hand
arms to share my load
I am a true believer
I hope to find my way
Hold me faith ... it may not be today

Now, my enemies are nameless
voices in my head
memories that track me down
find me in my bed
If I could just embrace them
they might fade away
Hold me faith ... It may not be today ..

In my dreams .. I'm a warrior for the light
In my dreams .. The way is always clear
but here tonight .. I question everything tonight ....
I am lost ..

Now I stumble over choices and the wreckage of my past
Life has brought me to my knees, I've learned to pray at last
I am a true believer, I know I'll find my way ..
Hold me faith .. It may not be today
Hold me faith ... It may not be today

--

This Time (Java 'PopUp Lyrics' here)

-- The Family Of Man (Java 'PopUp Lyrics' here) -- Dream Away (Java 'PopUp Lyrics' here) -- You And Me Against The World (Java 'PopUp Lyrics' here) -- We've Only Just Begun (Java 'PopUp Lyrics' here) (dedicated the song and the applause to an "angel" named Karen Carpenter) -- and one of his favorites

Rainbow Connection (Java 'PopUp Lyrics' here)

....

When he got to the last lines "the lovers, the dreamers, and me" He smiled and said and if Las Vegas Gamblers aren't the biggest dreamers around - I don't know who is!!

He took a bow -- started to walk off-stage and said "Oh never mind -- the way things are going -- if I left now the lights probably wouldn't work when I came back!". And he sang his final song of the evening -- With One More Look At You (From The Film: "A Star Is Born") (Java 'PopUp Lyrics' here) ...

He left the stage to a standing ovation. And after the show was kind enough to come out to sign autographs and take photos with audience members. He also had his LOVE WANTS TO DANCE CD from Japan and the new DVD for sale.

COME BACK AGAIN SOON PAUL!!

Love & Light, Elaine Manning :)

Thanks Elaine for the account and photo. It was good to have the chance to meet you in Vegas.

----------------------------------------------------------------------------------

SUNCOAST HOTEL & CASINO

Las Vegas, Navada

4th June 2005

by Rosanne Galletta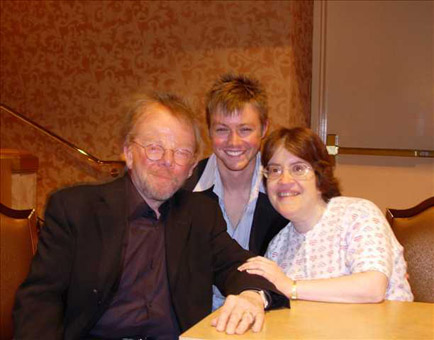 Rosanne with Paul Williams and his son Cole
Last Updated 10th July 2005
Seeing Paul Williams in concert at the Suncoast Casino in Las Vegas, Navada was a really quick trip for me, out Saturday and back Sunday, but WELL worth it! I wish I had been able to be out there for all 3 shows but it just wasn't possible this time.
| | |
| --- | --- |
| | |
| Rosanne with Paul and his wife Mariana | Rosanne with Paul, David and Ann Chamberlayne |
It was so great seeing Paul and Mariana again, and hearing him introduce her as his wife during the show! It was also a special treat to meet Paul's son Cole and our own David Chamberlayne and his lovely wife Ann from Wales!! Mariana sat behind me during the entire show, so that was really fun. At the beginning of the show, a video was shown with clips of Paul from various TV shows and movies. That was fun to see! I didn't write down the songs, and I think each show was a little different, as Paul took requests toward the end of the show. He did two songs I'd never heard before, Hollywood, and Look What I Found (Java 'PopUp Lyrics' here).

GREAT songs! Let's see how many more I can remember: We've Only Just Begun (Java 'PopUp Lyrics' here), Waking Up Alone (Java 'PopUp Lyrics' here), You're Gone (Java 'PopUp Lyrics' here), Traveling Boy (Java 'PopUp Lyrics' here), You And Me Against The World (Java 'PopUp Lyrics' here), Evergreen (From The Film: "A Star Is Born") (Java 'PopUp Lyrics' here), The Hell Of It (Java 'PopUp Lyrics' here), Old Souls (Java 'PopUp Lyrics' here), Love Boat, and I know there were lots more, but I'm drawing a blank right now. Maybe David will remember more of them.
| | |
| --- | --- |
| | |
| Paul and Mariana talking with fans | Paul's son Cole with Paul's musical director Chris Caswell |

After the show, Paul signed autographs and posed for pictures and they had the new DVD for sale. I was able to visit with Paul, Mariana, Cole and Chris Caswell (Kaz) after the show. Oh, Chris' son was also there at that show, but I didn't get a chance to meet him unfortunately.

Well, like I said it was a whirlwind trip for me and there's not much more to say.

Wish you all could have been there. Here's to Happy Days!!

Rosanne
Thanks Rosanne for the account and photos. It was good to have the chance to meet you in Vegas.
See my review of Paul Williams in Vegas in 2005 here.
See other reviews from Paul Williams appearances in 2005 here.
---
READ ALL ABOUT PEOPLE'S WONDERFUL EXPERIENCES OF SEEING
PAUL WILLIAMS
Go to Paul Williams - Personal Experiences Index Page

Return to Paul Williams' Music and Acting Home Page
Email me, David Chamberlayne, at:
Davidswebpages@paulwilliams.co.uk