PAUL WILLIAMS
THE ODD COUPLE
EPISODE 101 OF 114
FIRST AIRED 7TH NOVEMBER 1974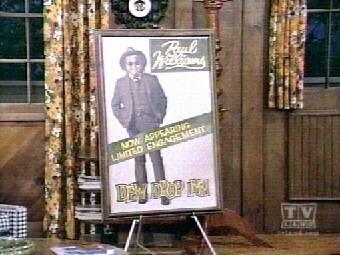 Last Updated 6th March 2001
INTRODUCTION
Back in the 1970's Paul Williams appeared in an episode of the sit-com 'The Odd Couple'. For those like me who have not seen 'The Odd Couple', it is about two divorced guys forced to room together. The episode with Paul Williams in is particularly memorable because of the song 'The One Who Loves Ya' which Paul sings to Felix's daughter Edna. I have included the lyrics below.
Recently  TV Land, a cable channel in the States, re-ran the 'The Odd Couple', albeit in the middle of the night. Judy and Joe Reboy kindly sent me some images from the show, along with a synopsis of what it was all about. Here is what they sent me. I hope those of you who have seen the show will enjoy this trip down memory lane, and those who haven't will enjoy pictures of Paul .
(Judy herself interviewed Paul back in 1998 for ANiMATO magazine. At the time Judy sent me a synopsis of the interview which you can find on my web pages here)
After Judy's account of the show you will see Paul Williams own recollections of the show here and the start of The Picture Gallery here
(When you click on one of the images below you will be taken to a larger image of the same picture)
---
THE PAUL WILLIAMS SHOW
(aka "Edna and the Rock Star")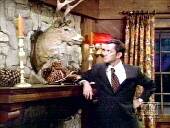 Photographer Felix Unger (Tony Randall) is very overprotective of his visiting teenaged daughter Edna (Doney Oatman). When she decides that she wants to spend the night waiting in line for Paul Williams concert tickets, he forbids her.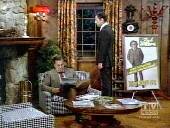 Felix's best friend and roommate, Oscar Madison (Jack Klugman), met Paul a year before while doing an article on gliding. He tries to mend the rift between Felix and Edna by calling Paul and asking him for tickets.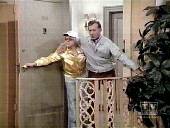 **The next day, Paul brings a shaky Oscar back from a gliding session. Edna is too awestruck to speak, even when Paul gives Felix the concert tickets. Felix invites him for dinner the day after the concert, but Paul declines because he has to play a gig at the Dew Drop Inn, a small club in Albany where he got his start.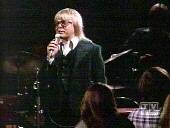 Edna comes down with a fever, and Felix forbids to let the heartbroken girl go to the concert. When she recovers, she sneaks out of the house and follows Paul to Albany. Felix and Oscar follow to bring her home.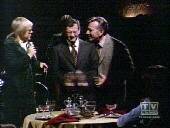 They arrive toward the end of Paul's show, and he makes some good natured jibes at their expense before finishing his set with "Old Fashioned Love Song." After the show, Felix notices that the beautiful waitress at the next table is Edna.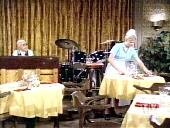 Oscar tries to reason with her, but she refuses to come home. She plans to follow Paul's concert tour, not because she is in love with him or wants him to love her, but because she feels, after hearing his songs, that he understands how she feels about life.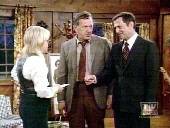 A despondent Felix writes a note to Paul explaining the situation and his feelings for his daughter.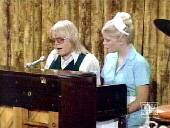 When Paul reads the note, he agrees to help. As Edna cleans up before the next show, he asks her to listen to a new song he wrote, "The One Who Loves Ya," that was inspired by a note he'd received from a father about his daughter. 
THE ONE WHO LOVES YA
(Lyrics & Music by Paul Williams)

The Spoken Intro
Sit down a minute will you. I've just finished a new song. I'd kind of like to get your opinion of it. Sit down.
A fellow gave me a note, I read it, it kind of inspired me. It said what I'd want to say to my daughter if I ever have one.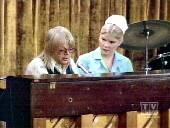 The Song
And even though I'm not around to pick you up the times your down
You know I think about you each and every day
And even though I feel a love for you that's always growin', always new
The things I'm quick to feel I'm sometimes slow to say.

And so I lay awake and worry are you hungry are you warm
Why there's nothing in this world too good for you
And then I turn around and make a list of things that you can't have
I only hope my good intentions still show though
You know the ones who love ya expect the most from you.

Once I held a perfect baby, you slept soundly in my arms
Now a women is awakening in you
And I'll probably be jealous when your first love rolls around
I guess that calls for extra understanding too
We'll order up a cup of tolerance for two
You know the ones who love ya expect the most from you.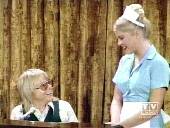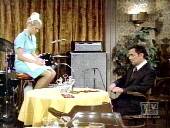 When Edna is touched by it, Paul tells her that it was her father's words that inspired it. Paul and Oscar leave Edna and Felix alone to talk, and Edna agrees to come home. 
**The TV Land version is missing a scene of the glider, with Paul singing "You and Me Against the World."  
---
PAUL WILLIAMS OWN RECOLLECTIONS OF THE SHOW
Hi David..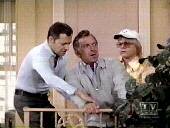 Great addition....I loved flipping through the pictures and text. I loved working with Jack and Tony .. They were both charming and authentic and so much like the characters they played .... Jack was gruff but sweet.. we were already friends ... and Tony was one of a kind. Never too big to make fun of himself.. he was really demanding of the writers. He brought out the best in everyone. He used to tell me I had to change my singing style. That I was `Pure Glottal Shock!!!' We became friends on Hollywood Squares and I still love them both.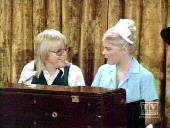 I wrote the song the day we shot the show. They kept changing the story line .. Different endings ... and I couldn't write the song till I knew where the plot was headed. 
It was great fun ... directed by my friend Harvey Miller who passed away last year .. Harvey 
actually used my story about going gliding with Jimmy Webb as the visual for 
the opening of the episode. 

PW
6th March 2001
---
THE PAUL WILLIAMS - THE ODD COUPLE 
---
Finally I would like to thank Judy, Joe and Paul for all making this trip down memory lane so special
---
Email me, David Chamberlayne, at:
Davidswebpages@paulwilliams.co.uk

Return to Paul Williams' Music and Acting Home Page
Sign and View the Latest Paul Williams Music And Acting Page Guestbook
From 1st September 2005



View the Paul Williams Music And Acting Page Guestbook
From 1st September 2004 to 31st August 2005

View the Paul Williams Music And Acting Page Guestbook
From 20th April 2004 to 31st August 2004


View the Paul Williams Music And Acting Page Guestbook
From 1st January 2004 to 19th April 2004


View the Paul Williams Music And Acting Page Guestbook
From 1st June 2003 to 31st December 2003


View the Paul Williams Music And Acting Page Guestbook
From 1st July 2002 to 31st May2003


View the Paul Williams Music And Acting Page Guestbook
From 1st January 2002 to 30th June 2002


View the Paul Williams Music And Acting Page Guestbook
From 1st July 2001 to 31st December 2001


View the Paul Williams Music And Acting Page Guestbook
From 1st January 2001 to 30th June 2001


View the Paul Williams Music And Acting Page Guestbook
From 15th October 1999 to 31st December 2000


View the Paul Williams Music And Acting Page Guestbook


From 15th October 1998 to 14th October 1999