PHANTOM OF THE PARADISE
HORROR'S ULTIMATE ROCK OPERA?
A Shiver Feature
by
Don Kaye
SPRING 2001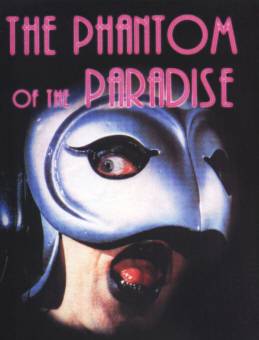 Last Updated 25th August
(The following appeared as a 2 part article by Don Kaye in issues #89 and #90 of SHIVER - 'The Magazine Of Horror Entertainment'. The black and white photos were courtesy of Williams Finley, whilst the 'Swan Song' original poster artwork was provided by Don Pressman. The copywrite for the articles are © Visual Imagination Limited 2001 ).
WE LOOK BACK TO BRIAN DE PALMA'S ROCK
REWORKING OF THE PHANTOM OF THE OPERA –
A SHIVERS FEATURE BY DON KAYE
'T WAS THE mid-Seventies when a low-budget, independent film came along that both celebrated and satirized two of pop culture's most beloved staples: rock music and Horror movies. The film borrowed liberally from Horror and Science Fiction classics, predicted the then nascent glam rock scene, and playfully targeted the he­donistic drugs-and-sex lifestyle of the time. A highly stylized Horror rock mu­sical comedy, the film flopped upon its initial release, but in the intervening dec­ades, has found a devoted cult follow­ing that keeps its memory alive and well to this day.
LOVING SATIRE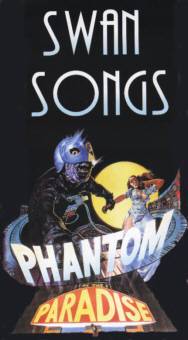 No, the film in question is not The Rocky Horror Picture Show. It's Phan­tom of the Paradise, writer/director Brian De Palma's oddly timeless 1974 spoof that is a distant cousin to the more popular Rocky, yet, its fans maintain, is the better film. Certainly the two films share many common elements, the big­gest being their rock scores and loving satire of many of the Horror genre's ar­chetypes. But whereas Rocky never quite rises above its campy beginnings, Phantom has a sharper, more tragic edge, its satirical jabs are more pointed, and the end result is ultimately a bit more unsettling. It's also clearly the work of a truly gifted film-maker who, even at this early stage of his career, was just beginning to flex his directorial muscles.
"I think it holds up really well," says actor and De Palma regular William Finley, who essayed the role of Wins­low Leach, the doomed composer who becomes the title character. "Phantom had so much depth which nobody saw at the time - a few critics did, but not many - and it goes through so many different things. It goes through King Kong, Hunchback of Notre Dame, Frankenstein, Beauty and the Beast, Faust, and The Phantom of the Opera of course, and it manages to do this all in the context of a musical comedy. Then it takes an immense tragic turn where everything goes horribly wrong. So the ultimate impact is very big, very ambitious, very beautiful, and very tragic. I think that next to Obsession
and maybe Blowout, it's the saddest of De Palma's movies."
KALEIDOSCOPE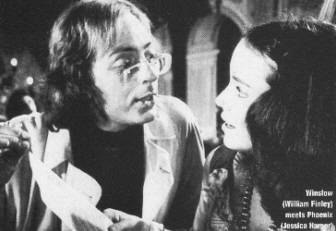 In kaleidoscopic fashion, Phantom of the Paradise tells the story of Winslow, a naive young songwriter who comes to the big city to get his massive rock cantata, based on the legend of Faust recorded. He snags an audition for shadowy rock impresario Swan (real-life pop singer/songwriter Paul Williams) who, in classic music biz tradition, plots to steal Winslow's music, alter it, and use it to open his new rock theatre, The Paradise. Sneaking into Swan's foreboding mansion - where he meets a beautiful young singer named Phoenix (Suspiria's Jessica Harper in her screen début) - Winslow is beaten by Swan's thugs, framed, and sent to prison, where his teeth are replaced by stainless steel in a grotesque 'hygiene' experiment.
A LAD INSANE
Driven insane when he hears one of his songs on the radio, bastardized by Swan's pet singing group, The Juicy Fruits, Winslow breaks out of jail and makes for the pressing plant of Death Records, Swan's label. He attempts to destroy Swan's recording of Faust, but is shot in the throat by a guard and falls into a record pressing machine that unfortunately sears the Death Records logo across one half of his face. The gravely injured Winslow vanishes and is pre­sumed dead, but of course, he finds his way into the Paradise - as well as a nifty leather suit and hawk-like silver helmet - and is reborn as The Phantom.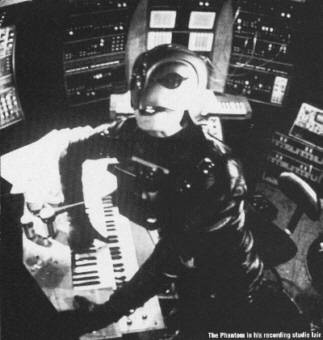 Sabotaging the rehearsals of Faust, Winslow confronts Swan, who demands that Winslow finish rewriting the score. Winslow agrees with the stipulation that Phoenix sings the lead, and signs a contract with Swan in blood. Swan, naturally, has no intention of giving Phoenix the lead; instead he hires Beef (Gerrit Graham), an androgynous, wildly flam­boyant glam-rocker. The Phantom escapes Swan's studio prison and electrocutes Beef onstage on opening night; the crowd loves it, and also loves Phoenix, who goes out to sing in his place. Sensing that he has a new star on his hands, Swan immediately makes diabolical plans for Phoenix, while the Phantom discovers the true nature of his contract with Swan and realizes that his Faust is closer to the truth than he could have possibly imagined.
Originally titled Phantom of the Fillmore, until rock promoter Bill Graham refused to let the film-makers use the actual Fillmore Theatre as a set­ting, the movie was one of two early pictures that De Palma made with producer Ed Pressman, whose credits range from Das Boot and Wall Street to genre of­ferings like Conan The Barbarian, The Crow franchise, and the recent movie American Psycho. Their first collaboration was the psychological thriller Sisters, itself a cult favourite, and recently released on DVD
.
FALLING OUT
"I was in Toronto, working on another picture, when Brian called and said that he had had a falling out with Ray Stark, who owned Sisters and Phantom," recalls Pressman. "He asked if I'd be interested in buying Ray out so that we could do the pictures. We acquired both screenplays from Stark. I loved Phan­tom, most of the two. I liked them both, but Phantom was the more ambitious and complicated film to make. So we did Sisters first because it was easier to do."
BUDGET CUTS
Pressman placed both films with American International Pictures, and after Sisters proved a success, Phantom began pre-production with funding from the former movie's profits. But AlP began asking for budget cuts, leaving De Palma's little rock musical in limbo. Fate intervened in the shape of a wealthy real estate developer named Gustave Berne. "He and his partner had done a couple of pictures already, like The Taking of Pelham 123," says Pressman. "I told him about this terrible situation on Phantom with the money being gone and no deal. So he checked Brian and I out, and the next day met us for lunch and said he'd finance the film for $750,000." Pressman recalls the film's final budget as somewhere around $1.1 million.
GREAT SONGWRITER
With Phantom moving forward again, De Palma scored a coup by getting Paul Williams, one of the biggest pop songwriters of the Seventies, to write the film's songs. "I got involved through a guy named Michael Arciega at A&M Records," says Williams. "He set up a meeting for Brian and I to talk, and Brian initially asked me to write the songs for the movie. That was it. And then as we got to know each other a little bit, he said, 'You've got to play Winslow'. That was the original thought, for me to play Winslow. Then we got into rewrites on the script, and I wasn't sure if I could act behind a mask so it seemed like the right idea to play this slimy mogul, Swan!"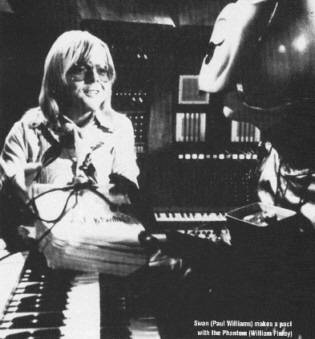 "Paul wanted to be involved in the movie and be in it as an actor, and the trade-off was that he'd let Brian and Ed Pressman have the music for very little money," says Gerrit Graham. "The first part that he chose for himself to play was The Phantom, which would have meant that I would have played Swan - which was the first part Brian talked to me about - and that Bill Finley, for whom the part of The Phantom had been written, would be excluded unless he played Beef. Brian told me at one point that they were thinking of Peter Boyle for Beef. At some point, however, Paul Williams changed his mind and decided he'd rather play Swan." William Finley recalls that Jon Voight was considered for Swan at one point and musical group Sha Na Na were almost The Juicy Fruits!
TRIAL BY FIRE
"I remember the first day of shooting quite well because it was the first time I had ever shot anything in my life, so it was sort of trial by fire," says Harper, a New York stage actress who beat out rock diva Linda Ronstadt for the part of Phoenix. "It was the first audition scene where I first meet Bill Finley. I'd hear 'Hit your marks,' and I'd be like 'What?' I really didn't know anything. So I sort of just faked it!"
"I thought the whole idea of recreating Phantom of the Opera in rock terms was a fabulous one," Harper reflects. "There were so many people who were devoted to making this little independent picture work. The early Seventies was really the beginning of this whole group of new directors and new cinema that was just starting to explode, and it was very exciting to be working with Brian since he was definitely part of that group and had his own unique vision."
Phantom was shot over the winter of 1973 in New York, on soundstages in LA, and for the scenes inside the Paradise, at an abandoned theatre in Dallas called The Majestic.
UNIQUE IMAGE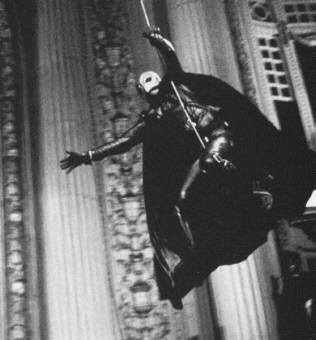 The Phantom's own thoroughly unique image, recently immortalized in Japan by a 12-inch action figure, was a collaboration between Finley and costume designer Rosanna Norton. "I came up with the idea of what the helmet should look like, which was influenced by the whole bird motif, the whole idea that all these characters were some variety of bird," says the actor "She realized all these things into really beautiful costumes, given the budget... I had this idea of what kind of creature the Phantom would be. I wanted it to be somewhere between a sort of bird of prey and a little bit of an alien, the notion of a human being transforming into something totally different.

"
"The headpiece was hell. I couldn't hear and it was really hard to get directions. Finally we had a little transmitter that they stuck that in one ear so I could hear. Like the rooftop scene, which is one of my favourite scenes, the only way that Brian could get directions to me before the walkie-talkie was to scream at the top of his lungs. With the rain and lightning, I couldn't hear a damn thing, that's when we decided on the transmitter."
"I remember that it was a difficult shoot," says Pressman. "We had a lot of difficulty keeping on schedule, because it was a very ambitious film for the money we had. There were a lot of production problems, but not within the creative group... the scene where the Phantom is watching Swan and Phoenix in bed through the skylight, in the rain, had to be reshot because it didn't work the first time. So that was a big financial burden..."
The tight schedule and budget of the movie meant that the actors had to record their song vocals after shooting. "We'd shoot during the day and go into the re­cording studio and do vocals at night, then I'd do rough mixes for playback," says Williams. "It got so exhausting that I couldn't remember my lines."
SHOWER SONGS
All but Gerrit Graham did their own vocals; Beef's big death scene number, 'Life at Last', was sung by Ray Kennedy, a friend of Williams. As Williams explained; "I knew exactly what I wanted Beef to sound like, and Ray was perfect for it. But if I had to do it over, I'm not sure I'd do that, Gerrit sings in the shower scene. He's good; he could have done it. Shooting that whole performance of 'Life at Last,' Gerrit had a fever and he could hardly stand, and you'd never know it by looking at the footage. He's an amazing, talented guy."
Graham's character only appears in the film for about 15 minutes, but arguably steals that entire quarter-hour with his outrageous lisp, over-the-top make-up and costumes, and the indelible image of his electrocution by neon lightning bolt. "At the time, you had to use code words like 'flamboyant' and 'eccentric' for gay," says Graham. "They wanted the character to be gay, but they didn't want to say so"
GLAM ROCK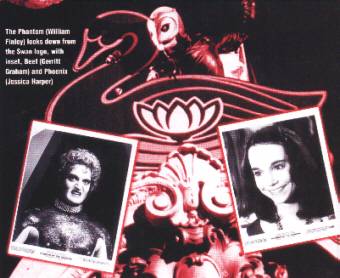 Graham also asserts that Beef, and The Juicy Fruits' reinvention as The Undead in the film's second half, anticipated the glitter rock scene: "Within the next year or two, Kiss appeared with their faces painted like The Undead. In LA, I was taken backstage to meet a band called the Tubes. Fee Waybill, the lead singer, told me 'I based everything I do on Beef!'"
Besides commenting on trends that were really happening in rock music at the time, Phantom collided with the real-life music business in other ways. Aside from the runin with Bill Graham over the title, "Swan's record company was originally called Swansong Records,"chuckles Graham. "I remember picking up an issue of Rolling Stone and seeing a story about how Led Zeppelin and their very scary manager, Peter Grant, had just started a record company called Swansong Records. I showed it to Ed and said, 'don't you think this is gonna be a problem?' and he said, 'nah, don't worry about it.' But now, anywhere that Swansong appears in the film, it's been hand-painted out of every frame!"
MIXED RECEPTION
Once production was completed - the initial seven-week shoot stretching to ten -Twentieth Century Fox picked the film for up for release. "I remember getting a call from Fox when it opened," remembers Pressman. "The first results were disappointing. I don't think the reviews were bad or great, just sort of mixed. The film did develop a following, but it was pretty small. I think we still believed in it, so we made a deal with Fox after the first go round to let us re-release the film. They tried it out in LA and it didn't work, so they gave up on it."
"We did a new campaign with a new poster that Richard Corben did, created our own TV spots and trailer that were directed by Jack Sholder (The Hidden), and we started in either Little Rock, Arkansas, or El Paso, Texas. We went into both eventually. We tried out a campaign in both cities with pretty heavy television, because they were small cities and television didn't cost as much. And it did great. The reviews were good, the whole film took on a new life."
SUCCESS AT LAST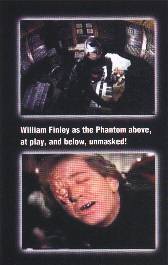 Indeed, that second run proved worth­while, although the film hardly established the same large-scale following as Fox stable-mate Rocky Horror. Outside the US, however, the results were somewhat different. "I began to realize that it was not a success here, and began to appreciate the places where it was a success" muses Williams, whose score received an Oscar nomination, but lost to The Great Gatsby. "It ran in Paris for 12 years or something (18, according to Pressman), it was huge in Canada - we wound up getting a gold record for the soundtrack from Canada, for the sales from Winnipeg alone!"
"Nowadays there is a cult following. The people who love Phantom really love it, and we're really touched. I've met people in the business who tell me that their first real scare was Phantom which is funny, because I don't think of it as frightening."
All the principals (Brian De Palma, shoot­ing a film in France, was unavailable for comment) share the same affection for their oddball Horror-rock musical. "I saw it recently for the first time in 20 years and I was impressed," says Finley, who has turned to writing and producing since last appearing in 1994's Night Terrors "It's a comedy that turns into a tragedy, which is unusual. I think that that's one of the reasons it didn't do well. Everybody's dead at the end or overextended themselves, just like in a Greek tragedy. They're all slaves to their ambitions."
Although Phantom of the Paradise isn't strictly a Horror film, Paul Williams suggests that one satirical aspect of the plot is a grim reality in modern times. "The heart of the picture for me is one line, when I'm standing in the stairwell and Philbin asks me, 'I can understand you wanting to kill her, but why with the whole world watching?' And I say, 'An assassination live on coast-to-coast television - that's enter­tainment!' I love the idea there is this the­atrical violence and the kids think it's part of the show."
"I did not realize its resonance until recently, when I learned a lot of things that I never knew, like the cult following and the Internet life in which people are talk­ing about this movie," says Pressman, who, along with Finley and Graham attended a screening of the film in New York last February as part of a retrospective of his work. "I thought it was forgotten here I was pleased to see that there was still a following, and even more pleased to see how welt it played."
QUEEN JESSICA!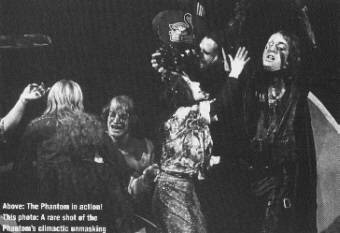 "I just have a special feeling about that movie," says Harper, whose later roles in films like Dano Argento's classic Suspiria (and, ironically, Shock Treatment, the Rocky Horror sequel) has earned her the unofficial title of 'Queen of Cult mov­ies'. "And proud of it!" laughs the actress, who spends most of her time these days working on children's books and records "It's better to be the queen of cult movies than to not be the queen of anything. I think cult movies are some of the best movies, so it's okay with me."
There's a small, but devoted, legion of Phantom of the Paradise fans, who, 25 years after the 'other' Horror rock musical was released, would say the same thing.
From SHIVERS #89 & #90 – The Magazine Of Horror Entertainment
© Visual Imagination Limited 2001
---
Click on one of the headings below to find out more about the
"Phantom Of The Paradise"
Track Listing For This Paul Williams Album
- What's It All About? - My Review Of The "Phantom Of The Paradise" Album
- Sleeve Notes From "Phantom Of The Paradise"
- "Phantom Of The Paradise" Songbook Biography by Gerrit Graham - 'Beef'- (including 'The Introduction,' 'The Story,' 'The Songs,' 'The Singers,' and 'The Big Shots')
- Interview (Dated 1975) with Brian DePalma, The Director of "Phantom Of The Paradise"
- The 'Lost' Tracks From "Phantom Of The Paradise"
- Paul Plays Piano In "Phantom Of The Paradise"
- Where To Get The Sheet Music For "Phantom Of The Paradise"
- See Pictures Of Paul Williams As Swan In The "Swan Picture Gallery"
- List Of Other Web Pages About 'Phantom Of The Paradise'
Hear some rather fun (and rather short) extracts from
'Phantom Of The Paradise' in "The Daily .Wav"
(Thanks to Sarah for telling me about this page)
---

Return to Paul Williams Music and Acting Home Page
Email me, David Chamberlayne, at:
Phantom@paulwilliams.co.uk
Background image by