PAUL WILLIAMS
SOMEDAY MAN
1970
APRIL 2005 - NOW AVAILABLE FROM COLLECTOR'S CHOICE MUSIC ON CD HERE
1970 Sleeve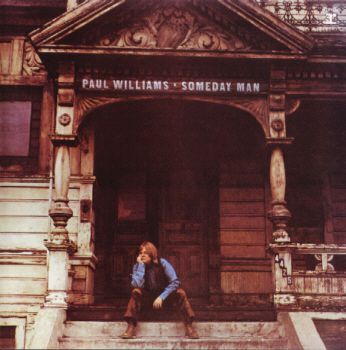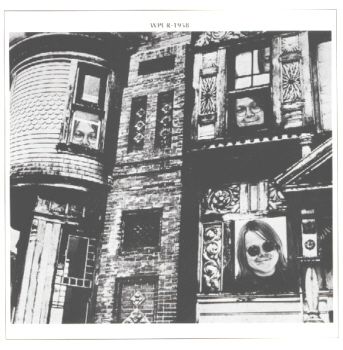 2005 Sleeve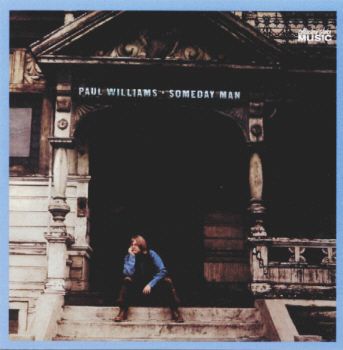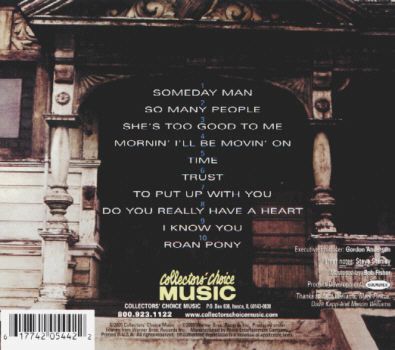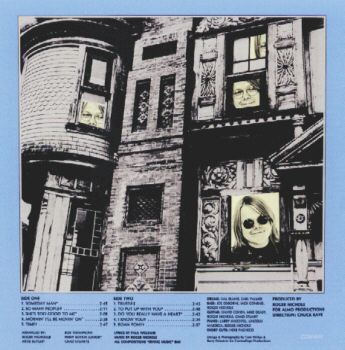 Last Updated 22nd April 2005
Track Listing For This Paul Williams Album
ADVERTISING PUBLICITY FROM 2005 US CD RELEASE
The most famous thing about this 1969 album is its title track, which was covered by the Monkees, but if you're into late-'60s orchestrated pop a la "Pet Sounds" or "Forever Changes," you have to check this out!
First of all, "Someday Man" marked the first major collaboration between Paul Williams and Roger Nichols, who were to team on a bundle of early-'70s hits for the Carpenters and Three Dog Night among others; then there are the musicians, who included such giants as Hal Blaine and Larry Knechtel among their ranks.
But it's the songs that really make this album a marvel, seamlessly mixing the topical, personal and spiritual, they belie Williams' tender age of 29. Includes "Someday Man," "So Many People," "She's Too Good to Me," "Mornin' I'll Be Movin' On," "Time," "Trust," "To Put Up with You," "Do You Really Have a Heart," "I Know You," and "Roan Pony."
-----------------------------------------------------------------------------
NOTES FROM THE 2005 CD RELEASE
There are very few albums that seem to define the genre in which they are created, yet simultaneously defy classification; albums that contain beauty that reveals itself in new and exhilarating ways with each listening; albums that feature their creators at the peak of their game; albums that make the listener think and feel and laugh and cry, all within the space of thirty minutes; albums so perfectly short and sweet that they beg the question "Is the 80-minute length of a compact disc a boon, or a bane?" Countless rock critics continue to hail the few deserving but obvious albums that have managed to achieve all of these artistic criteria: the Beach Boys' Pet Sounds, Love's Forever Changes, Marvin Gaye's What's Gain' On.
To my mind, Paul Williams's Someday Man belongs right up there with them.
Someday Man is the only com­plete album born of the fertile collaboration between Paul Williams and Roger Nichols, two songwriters responsible for some of the most culturally indelible and hugely successful pop songs of the last century, including "We've Only Just Begun," "Rainy Days And Mondays," and "Let Me Be The One," all monster hits for the Carpenters. Someday Man doesn't include any material as well known as these three tunes, but it does feature some of the most emotionally com­pelling songs the duo would ever produce. Lovers of "sunshine pop" have long considered Someday Man a collectible treasure in the genre, but the music easily transcends this narrow categorization to appeal to everyone who simply loves a well-written, heartfelt song. The LP also features some of the finest arrangers and studio musicians working at that time, making it all the more lamentable that more people aren't familiar with this lovely gem of an album.
For this first-ever American CD reissue of Someday Man, we'll take a look at the making of this seminal album, aided by the fresh recollections of Paul Williams and Someday Man co-writer and Producer Roger Nichols.
In late 1967, Paul Williams was a struggling singer, songwriter and actor who had previously played bit parts in a few commercially unsuccessful films. He had worked as a staff writer for White Whale Records until the label's owner fired him, telling Paul that he essentially had no future in the record industry. Not long after, while writing comedy material for The Mart SahI Show, Paul met Biff Rose, a composer who specialized in unusual comic songs.
The two began collaborating, and they managed to place one of their efforts, "Fill Your Heart," as the flip side of Tiny Tim's "Tip-Toe Thru' The Tulips With Me" 45. In November of 1967, Biff Rose went and auditioned for A&M's head of publishing, Chuck Kaye. In that audition, Rose performed several songs he had co-written with Paul, including the aforemen­tioned "Fill Your Heart." Intrigued by the lyrical ability of Buff's collaborator, Kaye had a separate meeting with Paul the next day and signed him.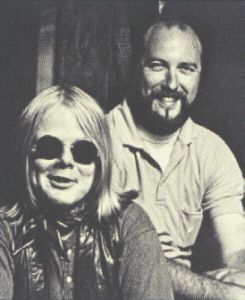 Paul Williams with Roger Nichols
Soon afterwards, Kaye introduced Paul to the man with whom he would write his most celebrated material: Roger Nichols. A talented A&M staff writer who had just released his own Tommy LiPuma-pro­duced LP Roger Nichols and the Small Circle of Friends, Roger was keen to work with a new lyricist as his present wordsmith of choice, Tony Asher, was becoming increasingly unavailable due to his day gig in advertising. Roger recalls his first meeting with Paul as an immensely enjoyable experience. He found Paul to be "a character" and "a fun guy to be around"; the two hit it off instantly, and their collabo­ration commenced immediately. Roger handed Williams a melody at this first meeting; Paul returned to A&M the following day and hesitantly handed Roger his lyrics for "It's Hard To Say Goodbye." Roger recalls that Paul was tentative and thought the lyrics needed another polish, but Roger thought they were great and brought them to Tommy LiPuma, who said he loved the song as well, and promptly gave it to Claudine Longet to record the next day. The Nichols/Williams songwriting team was less than seventy-two hours old, and they already had their first record.
Throughout 1968 and 1969, Roger and Paul wrote at a prolific pace, turning out at abundance of qual­ity songs that were recorded by an assortment of tal­ented acts. Unfortunately, they hadn't yet come up with a hit single. Undaunted, in early May of 1969, the duo embarked on recording an entire album of their collaborative efforts.
Paul was a relative newcomer to the album-recording process. His short-lived sextet the Holy Mackerel, had recorded one eponymous LP for Reprise Records in 1968. The Holy Mackerel (CCM­543) was a fantastically eclectic album that featured Paul's brother Mentor on guitar, Dewey Martin of the Buffalo Springfield on drums, and ex-Jefferson Airplane bassist Bob Harvey, but by the time it was released in early November of 1968, the band had already been broken up for several months due to a common music-industry setback, "artistic differ­ences." Paul reflects: "I'm not sure if I even appreci­ated at the time that I was being given a chance to go in the studio and be a part of that amazing cre­ative process. To spend that much time and that much money in the studio with a giant like Richard Perry... He's had a magnificent career and I'm really grateful that he started my career as a recording artist."
Still owing Reprise one more album, Paul com­menced work on what would become Someday Man at American Recorders in Los Angeles, with Roger acting as producer. Armed with a treasure trove of Nichols/Williams originals, the pair utilized the crème de la crème of L.A. session talent including Hal Blame and Earl Palmer on drums, Mike Deasy and David Cohen on guitar, Joe Osborn and Jack Conrad on bass, and Lincoln Mayorga and Larry Knethtel on piano. Along with the warm and distinctive vocals of Paul Williams, however, perhaps the most important musician on Someday Man is Roger Nichols, who adds his own guitar, bass, and piano to various tracks. Paul offers: "In a lot of ways, it always kind of felt like Roger's album to me. I think it was really his creative voice. It was our songs, of course. But the choice of the musicians and the arrangements... Roger just grabbed the bull by the horns, jumped in and did an amazing job. I've always had that extreme respect for him as a composer but I don't think I appreciated Roger then as some­body making records, as a producer and as an arranger, as much as I do now.
The songs on Someday Man feature some of Paul's finest lyrical offerings to date. Today, both Paul and Roger feel especially proud of "So Many People," a piece of timeless social commentary that cleverly avoids the clichéd trappings prevalent in many other songs of the time. Paul expounds: "The reference in the lyric to Martin Luther King I'm really proud of. 'We killed a man for careless dreaming'; I wrote that (inspired by) his 'I Have a Dream' speech. I love the tension in the music. That's Roger playing almost everything there." Roger adds: "I played gui­tar and bass on 'So Many People.' That was kind of our demo. I always liked the feel of it, so I said, 'Let's go with this and sweeten it.' That's the one Warner Brothers liked. That's the one that I felt had a chance,"
Another track about which Paul has strong posi­tive feelings, one with a decidedly spiritual bent, is "Time." A hymn-like exploration of the boundaries of mortality, "Time" is perfectly buoyed by Bob Thompson's gorgeous arrangement, which is high­lighted by a lovely sitar part that seems to metaphor­ically represent the fragility of life. As Paul express­es it, "I listen to 'Time' now and I realize that I wrote that in my late twenties, and there is an awareness of stuff in that lyric that sometimes I'm not sure that I was actually the writer I think someone was using me. It's a fairly accurate observation on what life feels like, looking back on it so many years later."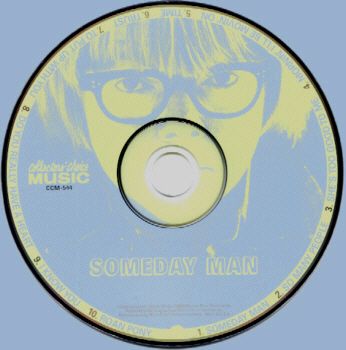 With recording completed in September of 1969, the two embarked on the task of mixing the tracks, which, according to Roger, took a while to complete. Released sometime in the spring of 1970, at roughly the same time as Jethro Tull's Benefit LP (Reprise 6400) and Ry Cooder's eponymous debut LP (Reprise6402), Someday Man (Reprise 6401) was largely ignored by record consumers, in a scenario sadly similar to that of Paul's earlier recorded effort, The Holy Mackerel. Reprise failed to promote the record with anything resembling energy or effort, and the LP was practically relegated to the cutout bins upon its release. Paul opines: "I think the promotion was lim­ited and I think the album was a write-off. I don't think (Reprise) thought they had anything on their hands." The fact that the Monkees had previously recorded the lead-off single from the LP "Someday Man," had given the writing duo some hope for a hit with the song, hope that unhappily turned out to be unfounded. Paul offers: "Our hopes for (the song) 'Someday Man' were in the Monkees' (rendition). They released it as a single and we were out spending the money in our minds. It just made it into the bottom end of the charts. I think the flip side ('Listen to the Band') got more airplay than our song."
A matter-of-fact Roger says of the album: "Someday Man is right when we were about to launch the bigger songs. These were the prelimi­nary songs before we really scored big. Also, I have a feeling that if someone like Richard Carpenter had taken an interest in any of these songs, they would have become much bigger songs. Timing is every­thing."
Despite this commercial disappointment, Williams and Nichols were just a few months away from having not one, but two, compositions of theirs simultaneously in the upper reaches of the Billboard charts: "We've Only Just Begun" for the Carpenters, and "Out In The Country" for Three Dog Night. Both as a unit and individually, Roger and Paul went on to achieve farther chart successes before parting ways as a songwriting team in 1972.
Although Someday Man's sales were less than spotty at the time of its release, and it remained out of print in the U.S. for well over thirty years, the album has recently begun to develop a cult (and beyond) following. Bob Stanley (no relation to this writer) wrote an eye-opening MOJO magazine arti­cle in April 2001, aptly expounding the virtues of this shining pop artifact. Paul reflects: "When MOJO discovered Someday Man as a lost treasure a few years ago, it blew me away. I couldn't believe that it was being honored like that because at the time, it was pretty much ignored." (Read the MOJO review here.)
Recently, Paul and Roger reunited to write new material. "This is Love" was the result exhibiting all of the musical and lyrical trademarks evident in many a classic Nichols/Williams composition. Their songs continue to be covered by a wide array of artists. Paul marvels, "I had no idea that REM cut 'Out in the Country.' Johnny Mathis just did 'Rainbow Connection.' I've got the opening cut on the new Tony Bennett album. (We've been covered by everyone) from Tiny Tim to David Bowie, God bless them."
Paul thoughtfully sums up his approach to his craft. "I think that my songwriting was at its best when it was authentic; when I was writing about what was going on in my own chest. I've always said that I write in American instead of English, you know. 'Love, soft as at easy chair' is not exactly Keats," he laughs. "But it's my own voice. And when I'm authentic to what I feel, other people seem to relate to it. When I write honestly about what I feel, and other people respond to it, I'm not alone."
-Steve Stanley
Los Angeles, CA February, 2005
The author would like to thank Pau1 Williams, Roger Nichols, George Hiller, David Ponak, Julie Brunnick and Eric Dawson for their invaluable research assistance.
Thanks to Valerie Watson for copy editing and proofreading.