"I've always found that 'no' was a gift, if I didn't get something I wanted," muses Paul Hamilton Williams II today. And in 1967, hearing "no" from White Whale made Paul available to hear "yes" from future platinum record producer Richard Perry.
Perry had produced Tiny Tim's 1968 Reprise LP God Bless Tiny Tim, which contained the Billboard Number 17 pop hit, "Tip-Toe Thru' the Tulips With Me." The flip side of that 45 was "Fill Your Heart," a song Paul co-wrote with offbeat songwriter Biff Rose. After working on this song, Perry saw talent worth mining in the then-unknown Williams, and made Paul the offer of a lifetime. Says Paul: "Richard decided that he wanted to cut an album with me. And I was offered a contract at Reprise. The idea of going in and recording an album was... there was no way in the world that I was gonna do that alone."
Armed with a batch of songs, Paul decided to put together a band with whom to record them. He recruited his brother, Mentor, on rhythm guitar, ex-Jefferson Airplane bassist Bob Harvey, guitarist George Hiller, flautist Cynthia Fitzpatrick, and ex-Turtle drummer Don Murray. With Paul handling lead vocals, this group of musicians became the Holy Mackerel.
While Paul was working with the Mackerel, he was also beginning a writing partnership with Roger Nichols, who had just released his first and only LP for A&M, late 1967's Roger Nichols and the Small Circle of Friends. Chuck Kaye, then A&M's head of publishing, and coincidentally the roommate of White Whale's Lee Lasseff, took a liking to Paul's work with Biff Rose, and put Paul and Roger together. Paul recalls: "Biff was my first collaborator. He went and played A&M everything he'd ever written; they liked his songs, and the ones that I'd written as well. When he told them this guy Paul Williams had written the lyrics, they said, 'We want to meet him.' They were really looking for that lyricist for Roger."
The Holy Mackerel began recording their eponymous LP in March 1968 at L.A.'s leg­endary Sunset Sound Studios. The first two tracks cut were "The Golden Ghost of Love" and an early version of the Nichols/Williams song "To Put Up With You," which Paul was to record again for his 1970 album Someday Man. Later that month, the band moved oper­ations over to United Studios, adding other musicians, including bassist Steve LeFevre.
During the spring 1968 recording of the album, Perry schooled the newly formed Mackerel on the myriad possibilities of the recording studio. "One of my favorite things on the album was a serendipitous moment," Paul remembers. "We were sitting in the stu­dio recording the strings on the ending of '1984.' Either Richard Perry or the engineer reached over and accidentally punched out the drums, and it was a great accident. We pulled out all the other rhythm instruments and went, 'Oh, my God.' It was wonderful; all of the sudden it had this space odyssey kind of feel to it." Paul continues, laughing, "There are times when (the album) almost sounds like a 'family album,' there's such simplicity. I can almost hear (it) in my broth­er's vocals... 'Wow, we're in the studio!"'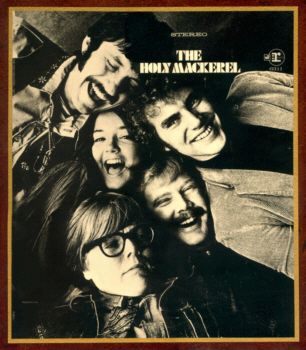 The original first album cover for Holy Mackerel
Recording continued through the spring and summer. An album jacket was designed picturing the Mackerel's original lineup; however personnel problems necessitated that new cover photos be taken before the album's release. Bassist Bob Harvey wrote only one song, one of the most overtly psy­chedelic cuts on the LP (the electric sitar-laden "Wildflowers") then left the band before the album's completion. The Mackerel soon replaced Harvey with studio whiz and future Elvis Presley bassist Jerry Scheff; then drummer Don Murray was replaced by Michael Cannon. George Hiller explains: "Don wanted to go play in nightclubs and we couldn't imagine why. I guess he didn't feel comfortable with the ease with which (the Mackerel's album) all came together." (Buffalo Springfield drummer Dewey Martin also played on The Holy Mackerel although it's unclear on which cuts.)
A confluence of styles is immediately apparent upon listening to the completed LP. There's the Springfield-informed country rock of "The Somewhere In Arizona At 4:30 AM Restaurant Song (And Now I Am Alone)" and "The Wild Side of Life," and the bluesy "Nothing Short of Misery," all sung by Mentor. There's the infectious sunshine pop of "Bitter Honey." There's the soft psych of "1984" and "Wildflowers." There's even the spoken-word, spoonerism-based cut "Prinderella," an odd track featuring the voice of Bob Harvey and the piano and harp­sichord accompaniment of Michel Rubini. Musically, the album had something for everyone, but sadly, few of them would get a chance to hear it.
Sandwiched in the Reprise catalogue between Hendrix's Electric Ladyland (Reprise 6307) and Neil Young's first solo LP (Reprise 6317), The Holy Mackerel (Reprise 6311) failed to make a big splash with record buyers. Perhaps it was because the album's early November release date virtually assured that it would be lost in a sea of Reprise's higher-priority Christmas '68 releases, or because without having per­formed any significant gigs, the Mackerel had no ready-made following eager to snap up a release from the band. In any case, nei­ther the LP nor any of their three singles managed to chart. About the album, Paul laments: "I'm not sure if even my family bought it." Despite receiving a "Special Merit Pick" in Billboard, the eclectic LP was barely promoted by Reprise, and remained a virtual secret to the music world at large, which turned out not to be that big an issue, since by the time The Holy Mackerel was released, the band had actually already been split up for a few months. George explains: "Jerry (Scheff) got his job playing bass with Elvis. Each of us really had different goals and objectives... I think probably (the main reason for the breakup was) Paul's feeling enough confidence (at that point) that since he put together this group of songs for our album, he could probably go out and do an album on his own. Paul really was the heart and soul of the (Mackerel). He's just a genius, a pretty multi-talented person."
Today, Paul describes his experience with the Mackerel this way: "What hap­pened was we kinda wound up in the studio before we were really a band. We were a band trying to form. It's me kind of looking for my musical voice. I was a huge Buffalo Springfield fan; you can hear that in some of the stuff. I was a big Beatles fan, and you can hear bits and pieces of that, too. My brother really loved country, and I ended up writing a couple of country songs, (but) I think they were written from the point of a dilettante. They're not bad songs, but they're not quite me being me yet. They're indicative of the craftsman more than the artist."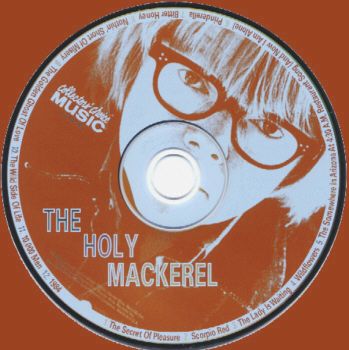 Despite the LP's shortcomings, there are tracks of which Paul remains particularly fond: "I find myself most drawn to '10,000 Men' and '1984.' There's an underlying phi­losophy, a kind of old-souls thought that I think is older than my years at that point. You have to realize that it was 1968. 1984 meant Big Brother, George Orwell's 1984, the oppo­site of what all of us hippies were dreaming about. And with 1984 being decades away," he says, laughing, "it was never actually going to get there; it was so far in the future. The lyric expressed such hope for a simple world."
Mentor Williams, the successful writer and producer of "Drift Away" for Dobie Gray in 1973, closes with these comments about his talented brother and Holy Mackerel bandmate: "Paul's dedicated his entire life to the arts: to writing poetry, to acting, and to music. I have nothing but admiration for my brother. He's kind of been my mentor all these years. What an incredible example for me."
-Steve Stanley
Los Angeles, CA February, 2005