PAUL WILLIAMS 

MEETING PAUL WILLIAMS IN DUBLIN -
AUGUST 2003
Last Updated 15th September 2003
(When you click on the red/green below you will be taken to a page with more detailed information.)
---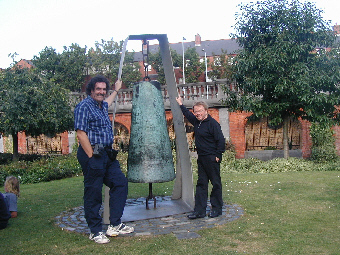 Last Updated 13th September 2003
Meeting Paul again in Dublin was a real delight. (You can read all about my first meeting with Paul in Dublin here).
It had all been such a surprise out of the blue. On 3rd August I got a message from Paul that he was coming to Ireland the following week for an ASCAP meeting and would I like to meet up. You can imagine my surprise and absolute delight. It had been a couple of years since we had last met in New York and so there was so much to catch up on.
Ann, my wife, and I set off early from our house in Conwy, Wales to catch the ferry over to Dublin where we had arranged to meet up with Paul. A journey of 1 1/2 hours. Fortunately the sea was calm as I'm not the best of sailors :)
When we arrived in Dublin we made our way excitedly to the hotel where Paul was saying. Fortunately it was a short train journey from the ferry so the wait was not too long.
On our arrival we were greeted by a beaming Paul who introduced us to his friend Mariana who had accompanied him on his trip.
As we chatted over coffee, I realized how wonderful it was to see Paul again and to catch up on all our news. It was great to just be around him again. For me Paul gives off a feeling of caring and tranquility. So much had happened over those 2 years for both of us, that Ann and Mariana were left getting to know each other, whilst Paul and I caught up.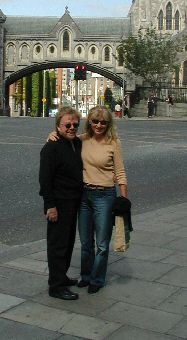 Since it was a sunny day, we decided to do some sightseeing and shopping around Dublin. None of us knew Dublin that well so we thought we would start with an open topped bus tour round the city, getting off at various sights on the way.
As we traveled into Dublin in a taxi, Paul talk excitedly about his current projects. The new live album, which was shortly to be released (See here), from his tour of Japan, and his forthcoming tour round the US with Melissa Manchester. (For the dates of this see here)
Our first port of call on the bus was Dublinia with it's bridge linking it with Christ Church Cathedral. Dublinia is an exhibition portraying life in medieval Dublin from the coming of the Anglo-Normans in 1170 to the closure of the monasteries and the Reformation circa 1540. Outside the entrance were the old stocks where Paul found a way of reducing me to his height :).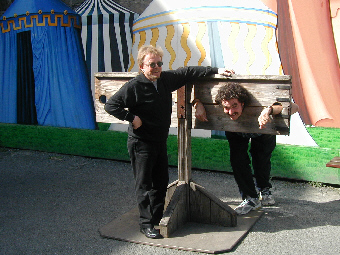 Having seen how the Irish lived those many years ago, we then took a walk along the Liffey River back into Dublin for lunch. This gave Ann and I a chance to get to know a little more about Mariana. Mariana lives in LA and works as an events organizer and author. Ann and I found her to be a charming woman and good fun to spend time with.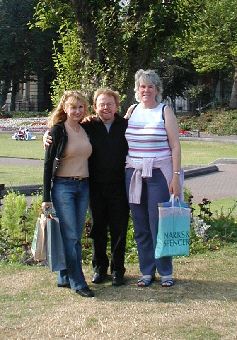 Following lunch we decided to look round some of the many antique shops in Dublin, before visiting the imposing St. Patrick's Cathedral and then sitting and relaxing in the park next door. (By that time we were all exhausted).
As time was moving on, and Ann and I had to return to get our ferry, we adjourned back to Paul's hotel for a bite to eat before saying our sad farewells and catching the ferry back to Wales. It had been a lovely day and great to be able to catch up with my 'little' friend again :)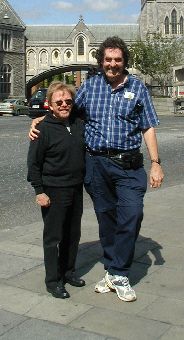 Thanks Paul.
---
READ ALL ABOUT PEOPLES WONDERFUL EXPERIENCES OF SEEING
PAUL WILLIAMS

Return to Paul Williams' Music and Acting Home Page
Email me, David Chamberlayne, at:
Davidswebpages@paulwilliams.co.uk