PAUL WILLIAMS 
TOUR OF URUGUAY 1980
Last Updated 14th December 2000
(When you click on the red/green below you will be taken to a page with more detailed information. If you click on the song titles mentioned, you will be taken to a list of Paul Williams' albums/singles/TV shows where that song appears.)
---
PAUL WILLIAMS ARGENTINEAN CONCERTS - 2000
GO HERE FOR REPORTS ON THE TOUR
---
PAUL WILLIAMS - IN CONCERT
MONDAY, 13th OCTOBER 1980
MONTEVIDEO, URUGUAY, SOUTH AMERICA
Last Updated 14th December 2000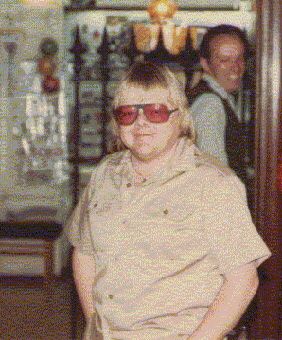 Back at the end of July 2000, a woman called Analia, from Uruguay South America, left the following message on my guest book;
"Montevideo, Uruguay. October 13, 1980. My friend Fernando and I entered into the theatre to enjoy one of the greatest musical experiences of our lives: Paul Williams in concert, alive, in our hometown!!! It was a show we'll never forget"
Ever one for a story about peoples personal experiences of Paul, I emailed her and asked whether she would like to share her memories with a wider audience. Analia was only too happy to do so and was delighted to be reminded of that happy time in her life 20 years ago, when she was still a teenager.
This therefore is her account. It is followed by some personal memories of Paul Williams himself of his time in Uruguay along with the lyrics from a song called It's All Been Said Before (Java 'PopUp Lyrics' here ) which Paul sung at the concert in Montevideo. It is a beautiful song, which I had not heard before, and has a lovely romantic origin. So enjoy the ride...
ANALIA'S MEMORIES
Monday, 13th October 1980. Montevideo, Uruguay, South America. My friend Fernando picked me at home at about 5 PM .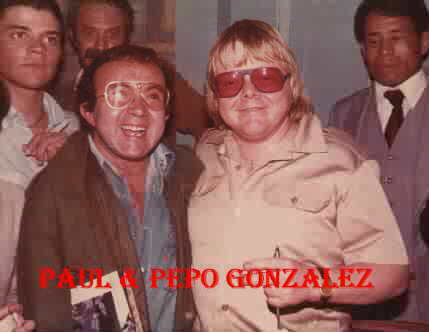 Together we went to pick up his cousin Elsa. Then the three of us took the bus to the theatre, carrying my big tape recorder and all our excitement. Being High School students we could only afford the cheap tickets, so we were on the queue for a long while before managing to get our seats on the upper tray of the theatre. We sat down, got ready the recorder and the tape, and prepared ourselves to enjoy the unforgettable experience. Today, almost 20 years after, I'm able to confirm we never forgot what we lived that evening.
In 1980 the word globalization was not in fashion, and our country was very far away from anywhere. Foreign music stars just didn't come down here, so we couldn't believe when we heard on the radio that Paul Williams was coming to Montevideo. He had recently made the Phantom Of The Paradise , he was at top of his career, he had composed so many beautiful songs we were dancing every weekend (sung by himself or by Karen Carpenter, for example), and he was going to play in our hometown!!!
Paul's fans were so excited with the news, that people went to welcome him at the airport and escorted Paul and the band up to the hotel. I'm sure he had never thought that, being so far away, we could be so in love with his music. Paul surely never knew that he was always referred to as "el pequeño gran genio" ("the little great genius") by the most popular radio station at the time, Radoimundo (and still nowadays under the name of Oceano FM), that acted as commercial agent of the show. Paul surely never knew some of his songs were known among us as "hymns to tenderness". Paul surely never knew that many people had seen the Phantom Of The Paradise movie several times and it was already a cult movie for us.
We already loved him but, after that concert, he became a kind of hero. After the press meeting that was held that afternoon before the concert, Paul, his band members and some people of the radio station just went to have some hotdogs at a bar by the hotel.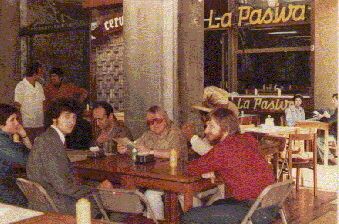 Imagine what pedestrians walking by a bar in Montevideo downtown must have thought: "that guy there having a hot dog looks like Paul Williams. I'm hallucinating!!!" But it was certainly Paul, who was asking for no "star treatment".
During those days, Paul was always wearing pink glasses, and when asked by Pepo González (a well-known radio programmer) why, Paul replied that he liked to see life in pink. That reply became a kind of classic for those who were teenagers at that time.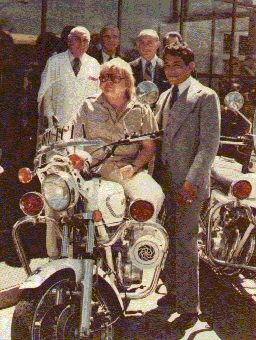 During the press meeting as well as during the concert, Paul spoke Spanish most of the time; if he couldn't find the accurate words he would ask for assistance, but he really made the effort to speak our language, and that attitude gives a good idea of the kind of man Paul Williams is. It would have been much easier to speak English and get a translator, like ALL stars do. Instead, he did his best to speak a foreign language and still he managed to show his great sense of humour. He was referring to himself as "el chiquitito" ("the tiny one") so he and us, we were all laughing at the joke.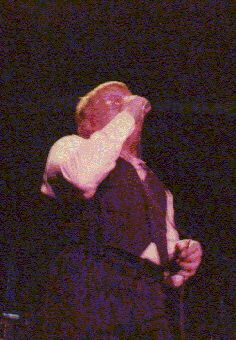 During the show Paul repeated many times "muchísimas gracias" ("thank you very, very much"). God, he was thanking US for being there! He was introducing a song and the audience started clapping. Do you know what Paul Williams said? "No es necesario, estamos amigos, no es necesario" ("There's no need, we're friends, there's no need"). He was telling us there was no need to clap because, after all, that was a friend's reunion.
Paul even had to act as a kind of school teacher with some guys of the audience, who were impatient. They were expecting to see Swan on stage, and Paul was singing Rainy Days And Mondays (Java 'PopUp Lyrics' here), so they were making noise. Paul told them to be quiet and wait, to enjoy the music and wait, since he would be certainly singing those songs they wanted. That made me feel rather ashamed because I would have liked everything to be perfect, but Paul made me (and everybody) laugh when he told the boys "no estamos animales, estamos hombres" (a very funny translation of "we're not animals, we're men"). Those guys obviously didn't know Paul is not Swan, or at least he's not only Swan. He was certainly under Swan's skin when he shot the Phantom Of The Paradise , and being under Swan's skin Paul wrote two of his most impressive songs, Old Souls (Java 'PopUp Lyrics' here) and Faust (Java 'PopUp Lyrics' here).
But Paul Williams is the guy who wrote Waking Up Alone (Java 'PopUp Lyrics' here) , Evergreen (Java 'PopUp Lyrics' here), We've Only Just Begun (Java 'PopUp Lyrics' here) , Loneliness (Java 'PopUp Lyrics' here) , Nice To Be Around (Java 'PopUp Lyrics' here), and some of the most beautiful ballads ever composed.
He's the guy who makes me cry everytime I listen to That's Enough For Me (Java 'PopUp Lyrics' here). On that 1980 evening he said that song was one of his favourite, though it was not very famous. I was seventeen at that time and the words did not really reach my heart. It took me twenty years to appreciate that song as one of the best love songs ever written. It is so touching that I really cry when I listen to it, because I feel Paul reflects my own feelings in his words.
Yeah, it was true: Paul Williams was once in Montevideo to perform. He sang his beautiful songs, he was speaking our language, he was making jokes, he behaved just as an ordinary guy, he was very humble when treating the audience, he made us laugh and dream. He gave us the unforgettable gift of a great artist's performance and, even more, of a great human being's presence, and we'll remember that magical evening for ever. He gave the kind of show after which you feel yourself really thankful to the artist for what you have received.
He will always be "the little great genius" in Uruguay. We'd love to see him in concert some other time, who knows? I wish Paul knew he'd been warmly received in our country if he decides to come back one day.
Thanks Analia for your wonderful account and thanks to Pepo for the images which go with the report.
-------------------------------------------------------------------------------------------
PAUL WILLIAMS MEMORIES
Last Updated 6th September 2000
When I mentioned to Paul Williams that Analia had written to me he sent me these memories of his time in Uruguay.
"Hi David..
What a great letter. Yes, of course I remember the trip to Uruguay. It was the last stop on a South American tour and I was treated like visiting royalty. Police escort with sirens blaring and lights flashing. It was actually a little embarrassing. My band members and I kept looking at each other and giggling.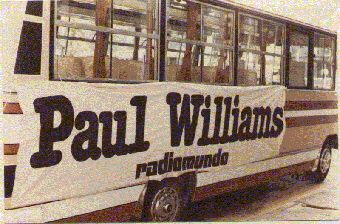 Although I'd been warmly received around the world it was different in South America. I had several car loads of armed bodyguards and in Buenos Aires we actually had a three car wreck involving my security troops.. Nobody was hurt in the wreck .. we were very
lucky..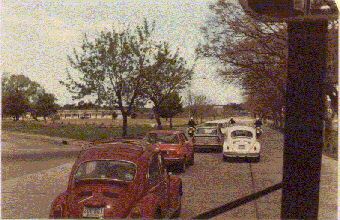 In Uruguay the pomp and circumstance were over the top. I felt like a King and I'll never forget the way the fans responded. It was one of the best experiences I ever had on the road... Thanks to Analia for reviving a great memory.."
Thanks Paul. It sounds like a good time was had by one and all.
-------------------------------------------------------------------------------------------
Last Updated 6th September 2000
During Paul's concert in Montevideo he sang a song with lyrics by Paul himself, and music by Paul's long term pianist Chris Caswell, which as far I know has never been recorded. It is a beautiful love song called:
IT'S ALL BEEN SAID BEFORE
Not my only love and not my first
These emotions have been well rehearsed
Who can satisfy a common thirst
Only a fool would try
Borrowed phrases that are mine to give
Stolen maybe but they're mine to give
Others felt it, no one's meant it more
And it's all been said before
For the moment let's be lovers
We have love enough to give
Take the moment, make the memory
Cross you heart and hope to live
Lovers passion isn't wrong or right,
Classic love affairs can last one night,
Leave tomorrow, as an open door,
'Cause it's all been said before
Yes it's all been said.....
These are Paul's memories of how the song came about:
"I wrote the lyric to Chris's melody on a flight from Los Angeles to Sydney Australia. Chris had given me a tape of the tune to listen to while he was busy chatting with a beautiful flight attendant that had caught his eye. I thought about the love he was looking for and it led me to the lyric I wrote on plane that day..
Incidentally the flight attendant and Chris have been married for years and years now.. and have a gorgeous daughter who's almost 11 ...."
Chris and Paul are still working together.
He's a picture of Paul and Chris singing 'It's All Been Said Before' in August 2000.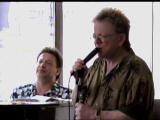 Thanks to Claire Carpentier for allowing me to use this photo.
-------------------------------------------------------------------------------------------
PAUL WILLIAMS IN URUGUAY - THE WORD SPREADS
Last Updated 9th September 2000
Today I had another email from Analia, my Uruguay correspondent :).
"Hi David..
Ha, my friends are calling me today, since they're mentioning my name on the radio. I e-mailed the station (Oceano FM) yesterday to tell everybody there that the report and the picture were on the webpage, and they have been mentioning that on every show. They're airing out songs by Paul when speaking about this subject, so Paul's copyrights account will be increased !!!!
Pepo called yesterday, and he said he wouldn't be able to wait until next Monday when he has to go back to work, so he was going yesterday night to the station to enter into your page and see everything. He also said that on Monday he'll start working on the special they will air out on next October 13. I just cannot wait until I listen to that!!!
Best regards
Analía
-------------------------------------------------------------------------------------------

PAUL WILLIAMS ARGENTINEAN CONCERTS - 2000

In November 2000 Paul returned to South America to do three concert in Argentina. To see an interview with Paul about the tour, reflections from band member Lothar Struff and memories from 'Fans' go HERE.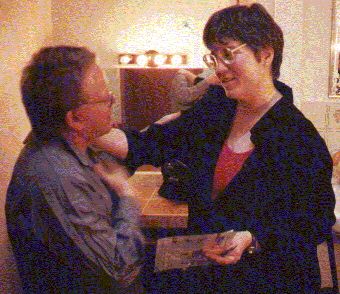 Paul with Analia - 7 November 2000
---
READ ALL ABOUT PEOPLES WONDERFUL EXPERIENCES OF SEEING
PAUL WILLIAMS
Go to Paul Williams - Personal Experiences Index Page

Return to Paul Williams' Music and Acting Home Page
Email me, David Chamberlayne, at:
Davidswebpages@paulwilliams.co.uk