JIMMY WEBB AND PAUL WILLIAMS
SING WEBB AND WILLIAMS
7TH - 24TH NOVEMBER 2001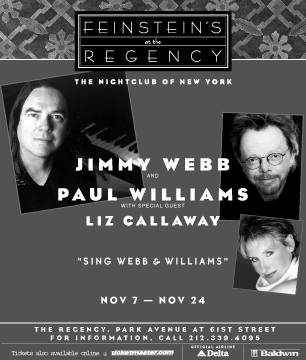 Last Updated 30th November 2001
(When you click on the red/green below you will be taken to a page with more detailed information. If you click on the song titles mentioned, you will be taken to a list of Paul Williams' albums/singles/TV shows where that song appears.)
Between 7th and 24th November 2001 Paul Williams appeared with Jimmy Webb and Broadway star Lisa Callaway at Feinstein's Nightclub in New York. Paul himself was bowled over by the wonderful reception he received:
"Hi David
The shows have been a joy to do. Jimmy and I have been friends for over thirty years and never once shared the stage. To have him playing (along with Kaz - Chris Caswell - Paul's longtime musical arranger and friend) and singing each others lyrics has been really fun.
And New York seems to love us. We're getting delightful reviews and standing ovations and my heart is opening wider and wider with respect for New Yorkers. I'm amazed at the courage and grace of the people in this city.
:) PW"
Below you will find an account by Hannah, of her experience of seeing Paul at Feinstein's.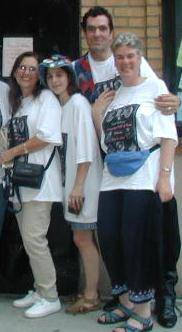 (l to r) June (J.J.) Jones, Hannah, David (that's me), and my wife Ann at the Loser's Lounge back in June 2001 (Read all about the Loser's Lounge concert here)
---
15TH NOVEMBER 2001
by Hannah Dougherty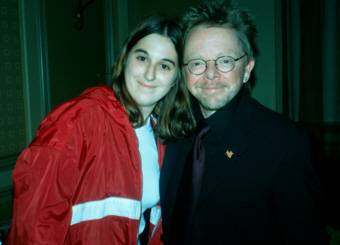 Hannah with Paul
Last Updated 30th November 2001
After entering Manhattan via the Lincoln tunnel, my mom and I found ourselves peering over the map my sister had printed for us from yahoo.com to find the fastest route to the Regency to see Paul perform. I had reserved a table for the two of us for the 6 o'clock seating. My mom had not driven around Manhattan in about 20 years but was pretty sure of where we were going. After about 20 minutes of driving (and not getting lost once) we found the corner of 61st St and Park Ave where the Regency was located and a parking garage behind it.
Unfortunately, they were running behind schedule and we were not seated until nearly 7. ( I later found out that the sound guy did not show) To kill time we walked around the block and had a couple of sodas in the lounge. However, mom and I were the first seated. (It pays to tell the host how you are a huge fan of Paul's) We sat at one of the two tables that the performers i.e. Paul, Liz Callaway, Jimmy Webb, and Chris Caswell walked between to get to the stage.
They served us dinner first, which was excellent but I was too excited to eat much. When we had finished the dinner, the waiter brought us both dessert and cappuccino. Afterward, the show began. Chris accompanied Paul and so did Jimmy Webb.

Paul and Jim did turns singing songs and Liz came on and her and Paul did a duet version of one of my favorite songs "What Would They Say" (click here for the lyrics of this song). Paul also performed a brand new song This Time (Java 'PopUp Lyrics' here), which I absolutely loved. It contained a powerful metaphor in it, "We all run with scissors so there's patches on our dreams."
Liz performed a few songs including some songs that were performed by the Fifth Dimension. Then, Paul came back on and Jim, Liz, and Paul all sang the "Rainbow Connection" (click here for the lyrics of this song). Of course Paul was wonderful. Liz is a great vocalist as well as Jim, and Chris was superior on the keyboard.
When I told Paul that I was coming he told be to drop backstage and say "Hi" after the show. After my mom explained to our waiter that Paul had invited me, he showed us the door that led to the back stage area.
When he saw me across the room, Paul came over to me with a big smile on his face and told how glad he was to see me (and a little surprised, he had thought that I meant next Thursday in my email).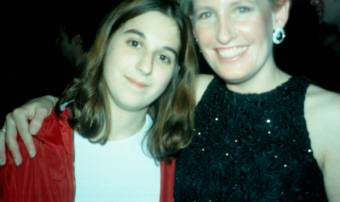 He gave me a great big hug and asked me how I was doing. He introduced me to Liz and Chris. I had seen Liz perform in Cats and loved her voice as the grown daughter, Kiara, of Simba in the Lion King II. I had met Chris very briefly at the tribute.
Hannah with Liz Callaway
I also met Jimmy Webb who seemed to think that I was a friend of Paul's children. Oh, well comes with being the youngest member I guess. And yes Sandy I gave him a hug for you!
I introduced Paul to my mom who had driven through Manhattan traffic in the La Sabre to take me. She took my picture with him and he autographed a postcard I had gotten at the Regency as well as a bookmark. (At least I think that what they were!)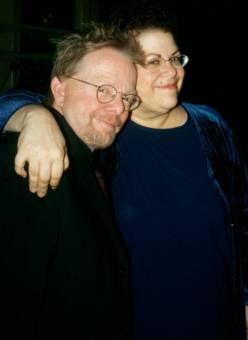 Paul with singer Phoebe Snow
My mom and I were all right getting home. We only got lost once trying to find to the Lincoln tunnel! It certainly was a night that I will remember forever.

Later,
Hannah

Thanks to Hannah for sending your great report and pictures. What a wonderful evening you had.
I'd love to 'post' any reports, and pictures, from those who were there. You can email me at:
Davidswebpages@paulwilliams.co.uk
---
READ ALL ABOUT PEOPLES WONDERFUL EXPERIENCES OF SEEING
PAUL WILLIAMS

Return to Paul Williams' Music and Acting Home Page
Email me, David Chamberlayne, at:
Davidswebpages@paulwilliams.co.uk
>