PAUL WILLIAMS
WORDS AND MUSIC BY PAUL WILLIAMS
PRE 1969?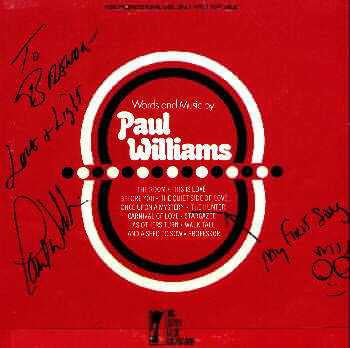 Track Listing For This Paul Williams Album
(This album sound as if it is a very early 'Demo', probably pre the 1969 album "The Holy Mackerel". If anyone knows any more about this "Demo" album I would be interested to know more about it.)  
Email me, David Chamberlayne, at:
Davidswebpages@paulwilliams.co.uk
(Thanks to Brenda Brubaker for providing me with information on this
"Demo" album which was put out by Big Screen Music Corporation.)
Read Brenda's account of her meeting with Paul Williams at The Los Angeles Tribute Concert. It was there that Paul signed the above record sleeve "To Brenda - Love & Light - Paul Williams". He also underlined the album track "The Hunter" saying: "My First Song"
---
Return to Paul Williams Discography 1969 to 1974
Email me, David Chamberlayne, at:
Davidswebpages@paulwilliams.co.uk

Return to Paul Williams' Music and Acting Home Page