PAUL WILLIAMS
SONGS
(DEMO ALBUM)
1999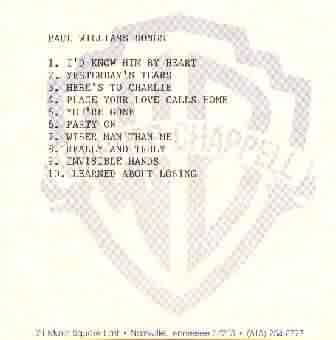 When you click on an underlined song title below you will be taken to the lyrics for that song. For those of you who have your Java enabled you can see the lyrics in the form of a Java 'PopUp' box. Click on where it says 'here' after the song title.
This album, performed by session musicians, was produced by Paul's record company 'Warner / Chappel Music - Nashville' in 1999. It's great that Paul is still writing such wonderful songs. Some of you may recognise a couple of the songs.
The beautiful ballad 'I Know Him By Heart', which was on Ally McBeal in the late 1990's and is on the album "Heart and Soul - New Songs from Ally McBeal - featuring Vonda Shepard" (buy it here) and 'You're Gone', which was a hit for Diamond Rio in 1998 and appeared on Paul's own "Back To Love Again" album in 1997. Below are Paul's personal comments about the songs on these demo tracks.
--------------------------------------------------------------------------
Know Him By Heart (Java 'PopUp Lyrics'
here), '
Yesterdays Tears
,'
'You're Gone'

(Java 'PopUp Lyrics'
here) and '
Wiser Man Than Me
'
are all songs I've co-written with Jon Vezner. The only singer I know is Mia Sharp who sang 'I Know Him By Heart'. (David Kelley, producer of Ally McBeal, asked Paul and John Vezner to write a song for the final episode of the year (May 1999). He was so impressed with 'I'd Know Him By Heart' that he named the episode of the show after the song).
'Place Your Love Calls Home' I co-wrote with Jim Photoglo. He's a wonderful writer and singer and is currently cutting the song for his own album.. as well as another song of ours called 'Maybe In A Dream'.
'Party On' I wrote with Karen Taylor Good and it was a single for Neil McCoy. It made it into the forties on the country charts and then stalled out.
'Learned about Losing' was the first song I wrote in Nashville when I started writing again. I wrote it with Gene Nelson who used to sing background for me in the late Seventies. He quit to become a full time songwriter and has done well. His biggest hit is a country classic called 'Eighteen Wheels and a Dozen Roses' which is a great song...
'Invisible Hands' was written with JD Martin.. an LA writer. A wonderful man and all our songs seem to have a strong spiritual message. He seems to bring that out in me lyrically.
'Really And Truly' was started by Will Robinson and my friend Kent Robbins who was killed in a car wreck last Christmas. It was a terrible loss and his wife and publisher asked if I would finish the song with Will. It was an honor and the song is on Paul Brandts latest album called 'That"s the Truth'
Last but not least 'Here's To Charlie' is just a song that I wrote with a new writer in Nashville. Her name is Roxie Dean and she's terrific. It hasn't been recorded yet but I've got a good feeling about this one."
Paul Williams
---
Email me, David Chamberlayne, at:
Davidswebpages@paulwilliams.co.uk