PAUL WILLIAMS
WE'VE ONLY JUST BEGUN
SONGS COMPOSED BY ROGER NICHOLS & PAUL WILLIAMS
1970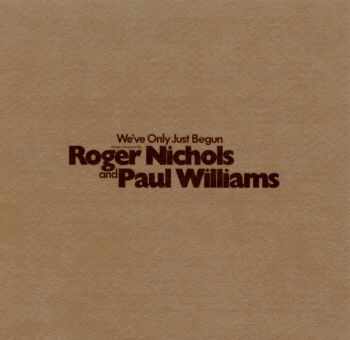 Track Listing For This Paul Williams Album
Last Updated 7th May 2005
This album is an early 'Demo'. Of the tracks that appeared on later releases, these are different versions of many familiar songs.
'We've Only Just Begun' was released on CD on 8th December 2001, on remastered import from Japan, and can be purchased from Amazon here.
SLEEVE NOTES FROM THE REMASTERED CD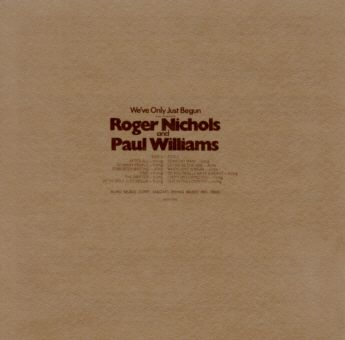 I was sitting in my office at A&M records one day when Chuck Kaye, our publisher, walked in with Paul Williams. He introduced us and said "Why don't you try writing together.". Although Paul was short in stature, as we talked, I was taken by his personality, both humorous, kind and sincere. Curiously we were born just 2 days apart, Sept 17th and l9th and I felt instinctively after meeting him for only a few minutes, I had met a friend in Paul Williams.
I gave him a melody to fry and he came back the nest day with the finished lyric to 'It's Hard To Say Goodbye', our first song. I was impressed with his words. We cut a quick demo which I played for producer Tommy LiPuma and he said he liked the song and wanted to cut it on Claudine Longet's new album he was working on.
So we had immediate success . . . and that was the beginning of our writing partnership. Chuck Kaye was an integral part of our success in getting our material exposed, and as time went by we had sparked the interest and recognition of many artists and producers who looked for our material. Although we had not had a chart single yet we kept getting our songs recorded.
And then came The Carpenters'. They became interested in our songs and with We've Only Just Begun' their 2nd smash single, we finally got a huge chart record. (In my opinion it is one of the greatest records ever made. Fantastic production and vocals() 'Rainy Days and Mondays', 'Let Me Be the One', 'I Wont Last A Day Without you' and 'I Kept On Loving you' became part of their repertoire as signature songs. Richard and Karen both asked us for material when they were recording. The Carpenters made some of the most beautiful and successful music of our time, and became a worldwide phenomenon. I feel we were a great part of their success.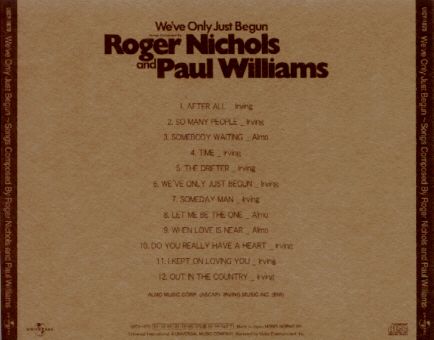 At the same exact time as 'Begun' was released, 'Three Dog Night' had recorded and released 'Out In The Country' and both records were climbing the charts simultaneously . . . so we went from famine to feast in 1970.
The songs on this album were made as 'demos', usually not taking more than three to four hours each to record. We were using initially 4 track recording and eventually Band then 16 track recording... so some of these were made in the very early stages of recording techniques and equipment, and most are mono recordings.
On all of these songs I played guitar, bass and piano. I did background vocals on We've Only Just Begun'. On 'So Many People' we took our demo and just sweetened it with strings, oboe and drums, which was done for Paul's album, 'Someday Man'. 'Somebody Waiting' was written for a documentary film about cerebral palsy and this film won an Academy Award Nomination.
I think many of Paul's vocals are so spontaneous they are exceptional in their infancy. They are the first vocals ever on all of these songs. His inner soul, which is deeper than anyone will ever know, is clearly present on this album and the music, although embryonic, rings true and is heartfelt by me.
Roger Nichols Nov. 2001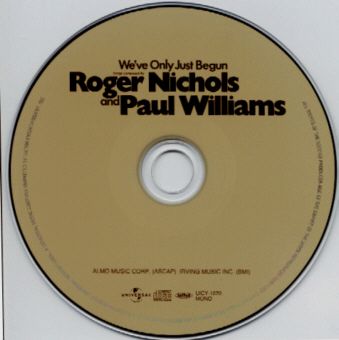 In 1967 I was an out of work actor who'd begun to write songs for his own amusement. A series of marvelous events led me to A&M Records publishing company where I was introduced to the amazing Roger Nichols. Physical opposites . . (he towers over me) we saw eye to eye creatively from the very beginning.
The songs Roger and I wrote were recorded by a great variety of artists . . . Looking back I wonder if the younger Paul Williams appreciated how quickly the songs were snapped up. They were album cuts and B-sides for the first few years. It wasn't until 1970 that we began to enjoy the thrill of hearing our songs on the radio. Perhaps the greatest joy of all was to experience my words being written into history by the magical Karen Carpenter.
Roger and I are still friends and writing together again. This collection of demonstration records was never really meant br public consumption. They were created as a way to present the songs to the producers and artists that we hoped would record the songs. I hope you enjoy them in their - raw' unproduced form. They are our children and hopefully have brought some pleasure into your lives.
It's been an honor to write with Mr. Nichols.. .Thank you.
Paul Williams Nov. 2001
(Thanks to David Inquieti for providing me with information on this
"Demo" Album which was put out by Irving Music Inc./Almo Music Core.
David has his own HEAD web page dedicated to the music of 'The Monkees'.)  
---
Return to Paul Williams Discography 1969 to 1974

Return to Paul Williams Music and Acting Home Page
Email me, David Chamberlayne, at:
Davidswebpages@paulwilliams.co.uk